Convenience + History + Personality = The Beautiful Betton Hills
Betton's Tale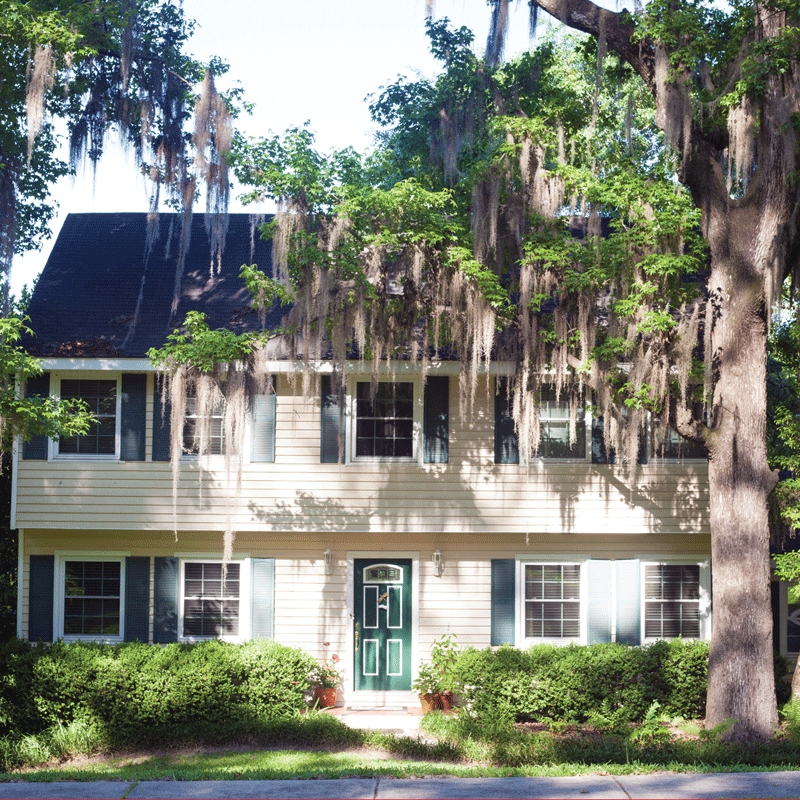 Tristin Kroening
Betton Hills
Canopy-covered roads, lush parks and proximity to vibrant Downtown happenings aren't everyone's cup of tea. For most people though, it's just the thing that makes Betton Hills' 800 homesites oh-so-coveted.
The neighborhood itself is a timeless beauty, with "soft" borders running north of Seventh Avenue, west to Thomasville Road, east to Centerville Road and finishing at Woodgate Way.
To simply drive through this friendly community is to love it. In Betton Hills, birds chirp, children laugh, Labradors retrieve, lawns are freshly mowed and homes are always the perfect combination of traditional and contemporary. Seriously. This is the stuff Hollywood dreams are made of.
Twenty years ago, it was just the right brand of charm to attract Bonnie Gaughan-Bailey and her family to the area.
"It was an established neighborhood that had an abundance of parks and lovely gardens and rolling hills," reminisced Gaughan-Bailey. "The first time I drove through the neighborhood with my Realtor I just knew. It was a place that seemed to be a real community."
Tristin Kroening
Today, Gaughan-Bailey is co-chair of the Betton Hills Neighborhood Association, a group dedicated to upholding the integrity of the place she fell in love with all those years ago. Responsible for typical neighborhood concerns as well as coordinating community events, in the past BHNA has established community gardens, orchestrated family-friendly block parties and even commissioned a sidewalk or two.
"I think it's probably more of an assurance role that we serve through our communication channels — people letting us know of emerging issues that need to be resolved or discussed," explained Gaughan-Bailey of the association's mission.
According Jason Nauman, owner of The Naumann Group and a resident of Betton Hills, there are a host of reasons why people decide to call his neighborhood home. Convenience generally ranks at the top of the list.
"Betton Hills draws all sorts of clientele," he explained. "Older people love the convenience to Tallahassee Memorial Hospital and doctors offices. Young families love the large home sites and parks that the community has to offer.
Naumann Group
A Betton Hills' Pearl
This stately home was built by Jeff Drake in 2000. Chock full of upgrades, today the property includes a private brick-paved courtyard, two fireplaces, 10-foot ceilings, a chef's kitchen and hardwood flooring throughout. According to public record, the land sold for $300,000 in 1998. In 2007, the home sold for $710,000. In 2014, it was listed for $599,900 but was quickly reduced to $575,000.
---
"Another thing that I love so much about Betton Hills is that as change occurs the neighborhood is able to maintain that nostalgic, ageless feel that people are drawn to."
Beyond aesthetics, Betton Hills' residents have the unique privilege of living in an exceptionally historic area — with ties as far back as 1825, when President John Quincy Adams offered up 23,000 acres of land, known as the Lafayette Land Grant, to the Marquis de LaFayette in thanks for his aid during the American Revolution.
As for the name "Betton" itself — it seems to have originated from an 1841 purchase of 940 acres by Turbut Betton. Though the property has changed hands several times since then, it was finally developed in the 20th century by the late Guy and Pat Winthrop, the namesakes of the esteemed Winthrop Park.
Quick Look
Address: 2118 E. Randolph Circle
For Sale: $575,000
Year Built: 2000
Square feet: 2,865 sq. ft.
Bedrooms: 3
Bathrooms: 3
---
All statistics listed below pertain to sales in March 2014 and are provided by the Tallahassee Board of Realtors, Florida Realtor and the National Association of Realtors.
LEON COUNTY
Leon County closed 199 single-family home sales — 50 were paid in cash. 138 were traditional sales, 52 were foreclosures and 9 were short sales.
On average, Leon County's single-family home sales received 92.2 percent of their original list price.
There were 408 new listings, a 12.4 percent increase over March 2013.
The median sale price for single-family homes in Leon County was $173,000 — a 4 percent decrease since March 2013.
Single-family home inventory (active listings) in Leon County increased by 4.2 percent between March 2013 and 2014.
FLORIDA
Florida closed 20,081 single-family home sales — 9,146 were paid in cash.
14,354 were traditional sales, 4,336 were foreclosures and 1,391 were short sales.
On average, Florida's closed single-family home sales received 92.5 percent of their original list price.
The median sale price for single-family homes in Florida was $173,000 — a 12.1 percent increase over last January.
NATIONAL
Nationally, existing-home sales were essentially flat in March. The total for existing family home sales was 4.59 million in March, a decline from the 4.60 million sold in February. It was also a 7.5 percent drop from the 4.96 million-unit pace in March 2013.
The national median existing-home price for all housing types was $198,500 in March, up 7.9 percent from March 2013.
Compiled by Chay D. Baxley