Conscious Capital City Residents Board Beekeeping Bandwagon
Beauty is in the eye of the beeholder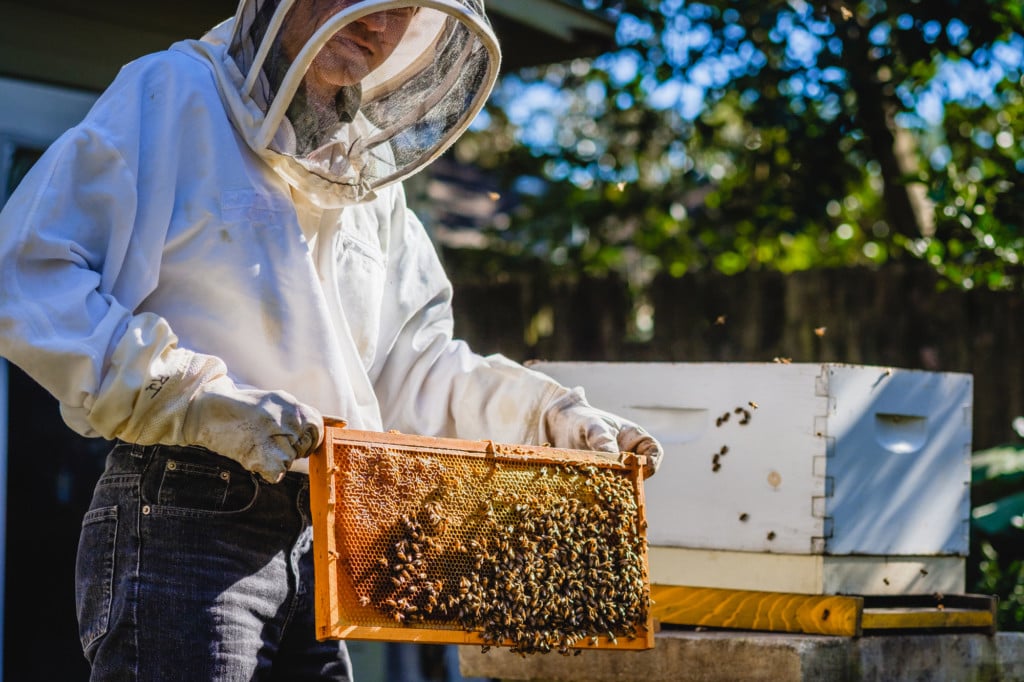 There's a buzz about town, and it has nothing to do with haircuts.
It has everything to do with honeybees, and there's almost certainly a hive cropping up near you.
"It's huge here," said Tallahassee beekeeper Lisa Lazarus.
Teenagers are doing it. Retirees are doing it. Radio personalities are doing it. Your neighbors are doing it. They're beekeeping.
Ask them about having gotten the bug, and they'll tell you they've been stung.
Experienced beekeepers hardly question why.
Through its myriad blooming plants, the Capital City maintains a nearly year-round source of nectar for bees to carry to their hives and make honey.
The city also boasts a good share of well-educated people who are environmentally conscious and just plain curious, they say.
They visit a hive and suddenly get caught up in the miracle and the mystery of these little creatures that spend their lives devoted to their hive and queen.
"They're just fascinating … so industrious," said Michael Callan, who keeps bees and sells honey in Indianhead Acres.
"They have a compulsion to just work, work, work. They're just so intent on what they're doing — that's all they care about. You definitely develop an affection for them."
Leon County is home to more than 125 registered beekeepers, according to the Florida Department of Agriculture and Consumer Services.
And the Tallahassee-based Apalachee Beekeepers Association, which serves Northern Florida and Southern Georgia, boasts about 175 members.
Statewide, the number of registered beekeepers increased 800 percent in 12 years to around 4,900, the agency said late last year.
Citing a need for research, many threw their support and lobbying efforts behind creation of the Honey Bee Research and Extension Laboratory, which opened last year at the University of Florida.
Some suggest the growth in beekeeping has helped the state recover from so-called colony collapse disorder, a mysterious phenomenon that appeared more than a decade ago.
Beekeepers reported that adult worker bees would abandon their hives, leading to the hives' deaths. That sparked widespread alarm, given honeybees' role in pollinating food-producing plants.
The U.S. Environmental Protection Agency says such reports have "declined substantially" in recent years, yet beekeepers nationwide have continued to report significant losses.
Some attribute the most recent losses to diseases and parasites such as the Varroa mite. That helps keep beekeepers vigilant and at work on their hives.
The plight of bees got Rian Jackson interested in beekeeping at age 11. He'd gone with his mother and brother to see "Queen of the Sun: What Are the Bees Telling Us?" at the Tallahassee Film Festival.
The documentary explored colony collapse disorder and the "mysterious world of the beehive," according to the film's synopsis, and it featured beekeepers and scientists who offered solutions.
"I saw that movie, and I was like, 'This is it,' " Jackson said.
"I said, 'No way in hell,' " recalled his mother, Kimberly.
She said she later brought Rian and his brother Owen to an "Introduction to Beekeeping" short course that the Apalachee Beekeepers Association gives every spring.
Rian started a beehive, and his brother and mother eventually would do the same. In 2012, the brothers started Buzz Box Apiary, whose website promotes the brothers' honey sales and beekeeping services, plus educational outreach.
"When you see your kids' passion and interest and curiosity, you can't say no to that," said Kimberly Jackson, a geographic information systems manager at the Florida Department of Environmental Protection. "Now the whole family is knee-deep in bees."
The brothers keep multiple hives on property of friends outside of their neighborhood.
Rian, now 17 and a senior at Leon High School, calls it an adventure.
"It's the idea that there's always something changing and always a challenge to overcome," he said. "It's never the same thing twice. I think that's what draws me in."
As they make some money selling honey, the brothers do presentations and demonstrations at high schools in Leon County and the surrounding area but don't plan to expand their enterprise, Owen said.
"We're just trying to keep the bees alive," said Owen, 15, a sophomore at Leon High. "That's pretty much it."
To some, bees are big business. That's certainly the case southwest of Tallahassee along the Apalachicola River, where big producers trumpet Tupelo honey for its distinctive flavor and appearance.
James Rish, owner of Rish Tupelo Honey in Wewahitchka, said the river features a concentration of Tupelo honey producers "like nowhere else in the country."
The Florida Department of Agriculture and Consumer Services touts the state's honey industry as a top-five U.S. producer.
But to many backyard beekeepers, it's more about the bees than the bucks.
"I never started it thinking I could make money," said Frenchtown beekeeper Rick Flagg, a longtime Tallahassee-based radio journalist. "I just wanted the bees."
Flagg, owner of Frenchtown Beez, sells his honey on Saturdays at the Frenchtown Heritage Market. He said he gives away lots of it and figures that he breaks even financially.
"People just love getting honey," he said. "It's such a cheap way to make people happy."
Flagg said he got started several years ago after he observed a friend's hives and got addicted.
He has 10 hives on his property on Old Bainbridge Road, where passers-by see him in his beekeeping suit and wave.
"They just call me Bee Man," he said.
In Indianhead Acres, several residents keep bees, and neighbors embrace them for the fruit of their labor, says Grant Gelhardt, president of the Indianhead-Lehigh Neighborhood Association.
Beekeeper Michael Callan and his wife, Shelly Hatton, sell their honey on the neighborhood's Facebook page and often receive sweet reports from neighbors.
"They'll say, 'Your bees were on my bottlebrush this morning,' " Callan said. "They're so proud to report it."
Likewise, beekeepers fly their pollination flag proudly. Ask them about bees and beekeeping, and they'll talk until you beg them to stop.
But you won't do that. You might take them up on their offer to come and meet their bees. You then might catch the fever, maybe even soon break out the hives.
"We're always trying to bring new people into the field," said Flagg, of Frenchtown Beez. "We're the best ambassadors for the bees, and we all take that very seriously."
"For a community that's environmentally conscious, socially aware, well-educated, we want to be stewards of the earth," beekeeper Lisa Lazarus said.
"The very structure of bees is so fascinating, how they're structured, how they behave, how smart they have to be, the way they take care of their social stratification. It's just amazing."