Concerts at Your House
You Provide the Venue and Traveling Musicians Will Provide the Entertainment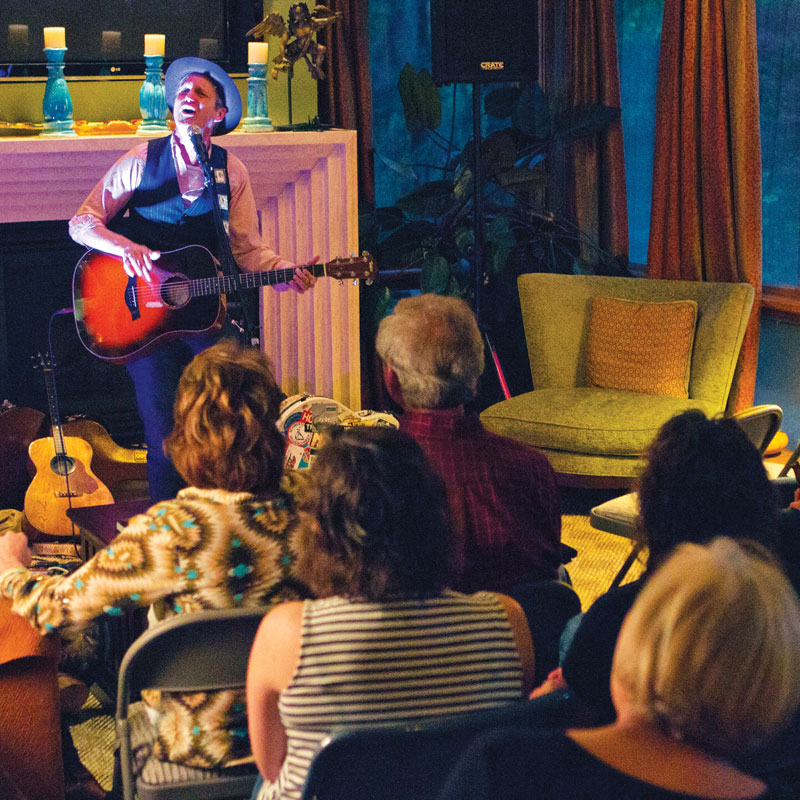 They say necessity is the mother of invention. For Fran Snyder and his website, ConcertsInYourHome.com, this was absolutely the case.
Two decades ago, Snyder was drummer in a Florida band whose members found themselves in the state of Washington with nowhere to sleep. 
"There were informal ways of contacting people who could house us," Snyder said. "But there was nothing official in place."
After that experience, Snyder decided to create a website where touring musicians could contact homeowners. In exchange for a private concert, the musician could receive a roof above his or her head and maybe even a warm meal. 
The tradition of live music in the home goes back to the time of Beethoven, who would travel to country estates and play for wealthy families. But hosting an artist in your home is not limited to the upper class. 
Snyder said he was thinking of Jimi Hendrix and artists of the '60s who saved money by sleeping on a stranger's couch when he developed his idea. With the birth of the Internet, Snyder was able to create a niche for music lovers dissatisfied with loud, crowded concert venues. 
"Having a concert in your home is cheaper than going to a bar where you can't hear," said Kim Sash, local resident who recently hosted her first concert featuring a traveling singer-songwriter. "When Erin sang in our house, she didn't even need a microphone," she said. "I live out in Havana, and I think it's amazing we can have this experience here in Gadsden County."
Hosts live all across America and abroad, offering homes in Germany, Australia and the United Kingdom. This gives up-and-coming artists the chance to appear before an audience they normally might not reach. 
Tallahassee is a great stopping point for artists traveling from Nashville to Orlando or from Atlanta to Miami. That, along with Tallahassee's musical proclivities and laid-back atmosphere, makes the city a haven for house concerts. 
Scott Holstein
Troubadour Steve Poltz serenades an appreciative audience at an intimate concert hosted in the home of Lou and Calynne Hill.
Snyder describes his website as "eHarmony for house concerts."
"Both the artist and the hosts make profiles," Snyder explained. "Artists looking to tour will search host profiles and send them an email with a link to their profile, where hosts can review recommendations." 
He believes the recommendation system builds a mutual trust between the artists and the hosts. Both parties are required to review their experience after the house concert, ensuring transparency for other users. 
Now, hosting musicians in your home is easy and safe. Designed for paramount safety, the website vets new users before allowing them to join. The artists are screened by a team of hosts and staff members. 
"We look for a touring history, to see if they have traveled before," Snyder said. "And we require two videos of them performing, so we know they can play without a band behind them."
A membership fee of $300 a year also weeds out amateurs. 
"We have people making five to ten thousand dollars a year on the site, so $300 isn't that much," Snyder said. 
Concerts in Your Home is serious about quality control; they only accept one-fifth of the artists who apply to the website.
Potential hosts are also interviewed, ensuring that safety and respect flows both ways. 
"After you sign up, someone from Concerts in Your Home calls you. You chat for about 45 minutes or an hour to make sure you are serious about hosting and to make sure that you aren't a serial killer," Sash said. 
Joining the website is completely free for hosts. There is a guide for every host to download, and Concerts in Your Home vows to help new hosts with the process. 
Courtesy Fran Snyder
Once a touring musician himself, Fran Snyder created the Concerts in Your Home website to match traveling performers with patrons.
"There are a million reasons people want to be hosts," Snyder said. "It's a good time, and people want to be patrons. Music lovers are dissatisfied with their status quo experiences at clubs and bars."
Therefore, the host's main responsibility is creating a listening environment, a place where the artists can be heard.
"Most of the artists are songwriters first," said Calynne Hill, who has hosted multiple concerts in her home. "So they want you to listen to their message."
For hosts, this is the easy part.
"You don't have to put in a lot of effort. You turn your house, your living room at the very least, into a venue," Sash said. "We had to move furniture and fill the living room with chairs."
"Sometimes the artist will ask for a chair or a barstool to sit on," said Hill. "Besides that, they provide everything they need."
Hill noted, "I let them stay, but you don't have to host them overnight."
There is no specific formula for a house concert. "Every concert is an agreement between the artist and the host," Snyder said. "They email back and forth to set the terms."
This means you can spend as much or as little time with the artist as you desire. Hill has hosted artists overnight, while Sash has not. Both agree that it depends on what the host is comfortable with and what suits the artist.
"Getting 25 people is the hardest part," according to Sash. She made a pot of chili and asked guests to bring their own beverages and a small donation for the artist.
"You can't require people to pay, so I set out a jar for donations and suggested $10-$20,' Sash said. "Most people also bought a CD, so she made out pretty well."
In return, Sash received one enjoyable night of music and merriment with friends. She has already scheduled more concerts with more eager artists. 
"Most people think patronage is writing a $6,000 check to the opera," Snyder said. Concerts in Your Home provides another way to be a patron. "You don't need a lot of money to support music and the arts."