Completing a Historic Quartet
First Baptist Church established solid footing before the Civil War, joining three other downtown churches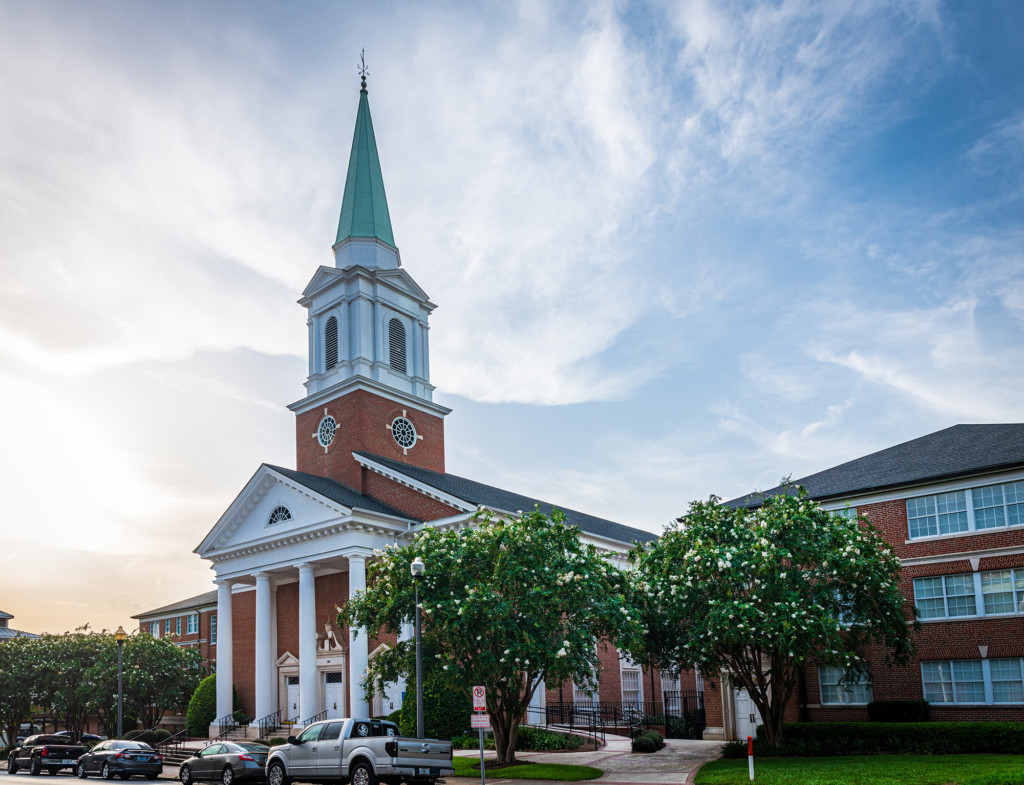 This was Indian territory.
So begins "Window to the Past: A Chronicle of First Baptist Church, Tallahassee, FL."
This was 1823 when William P. DuVal, governor of the Florida territory, commissioned John Lee Williams of Pensacola and Dr. W.H. Simmons of
St. Augustine to establish a compromise location between those two cities for meetings of the territory's legislative council.
They chose a "high, rolling, and well-watered location" smack between the two, the book said. "A more beautiful country can scarcely be imagined," Williams said of the location.
The next year, Tallahassee would become capital of the Florida Territory.
By 1849, four years after Florida became a state, Tallahassee boomed with almost 1,800 inhabitants and three churches, which we know today as Trinity United Methodist, St. John's Episcopal and First Presbyterian.
As for First Baptist Church of Tallahassee, "This is where our story begins," according to "Window to the Past." Five women and four men, including Theodore W. Brevard and Mrs. C.E. Brevard, organized the Baptist Church of Tallahassee on Nov. 10, 1849.
Five years later, its membership reflected seven white and 258 black members, the book said. On July 4, 1858, it dedicated its first building on the south side of College Avenue, on a lot purchased for $500, the church says.
First Baptist Church of Tallahassee today consumes a city block, with a College Avenue entrance into its sanctuary and Duval Street and Adams Street entrances into its Welcome Center. It boasts what senior pastor Dr. Gary Shultz describes as a "multi-generational, multicultural church."
And it completes a quartet of historic downtown churches, all established before the Civil War and all still within short walking distance of each other.
Here are highlights from our conversation early this year with Rev. Shultz, who became senior pastor at First Baptist in July 2018. We edited for length and context.
On the church's history in Tallahassee …
"Thankfully we have members here who've been members 60, 70 years in some cases. Every year, we're able to celebrate golden anniversaries where you've been a member of the church for 50 years. We have a Heritage Sunday — we usually do that around Veterans Day in November. … That's pretty rare in this day to have that kind of continuity, but every year, we have a few more members who come to that. So they've been great resources as far as the history of the church, telling you about what's been going on in the history of the community."
On the congregation …
"I would say we are a multigenerational, multicultural church. We have every demographic. We have all kinds of different ethnicities. We have people of all different kinds of backgrounds who've come together. So I would say we're a diverse congregation unified around the belief that Jesus Christ is Lord, that he is God, that we're called together to worship him. We give our lives to him."
On the church's ideas,

tenets and beliefs,

including heaven

…
"Ultimately, we believe that God is in control of all things, God doesn't cause evil but that God works good out of evil. We believe that's the Christian message. We believe and preach the Kingdom of God. It's understanding that God is bringing about His kingdom, that God is bringing about a time of world peace, of where goodness and justice dominate instead of evil and sin and death. We are in that sense proponents of life. God is the giver of life. As far as the afterlife, we certainly believe that Jesus has defeated death on our behalf, that he brings us into eternal life. … We are called to believe in Jesus Christ as the way, the truth and the life. Repentance is the just the idea that we turn from other ways of belief and commit ourselves to Jesus. Following him implies the idea that we do so with everything that we are, our whole lives."
On internal events that have proven a challenge …
"It's probably harder for me to answer that because I am new. I know in recent history, the transition between pastors can be a challenge, and so there was a longtime pastor, and then there was an interim period of about two years, and then a pastor who came who was here I think close to three years, and then another interim period between him and I think that was about 2½ years. That kind of transition period and uncertainty, I think, can really wear on a church. I don't know if recovering is the right word, but we're still moving forward from that and working through some of what's happened in those interim periods where there wasn't that pastor, that recognized leader of the congregation."
On the church's work to make a difference in society …
"We're as involved as we can be to bring to bear our faith to serve our community. We support different organizations around the community as far as helping to stand up for justice, for causes of life where we can make a difference. Certainly, we see that as part of our mission. We're a benevolent ministry in that sense, by helping those who are in need, not just in our church but beyond our church."
On meeting with other churches in town to discuss the bigger picture …
"We'll participate, for example, in a Lenten series, where we gather with, in particular, other downtown churches, come together around Easter, prepare ourselves for Easter. I'm involved with the Village Square, where there's other denominations and even other faiths where we get together and have discussions, how best to serve our community, or we'll have discussions before the community to help them understand how we would work through and think through issues both in a similar and in a different way. I think those discussions can be really helpful."
On the church having to adjust to changes in society …
"We're always called to adjust to society in the sense that we want to most effectively reach you, minister to you, serve you, love you. That's going to look different depending on where culture is, where people are, where the community is as the community changes around you, and as you consider what your areas of service are, what makes you unique as a church. Any church that's really attempting to reach beyond itself is constantly having to do that or think through, 'How can we best minister to you?' I don't look at it as a message changing. I look at it as how to best communicate an unchanging message to a changing culture. And when we consider the gospel, we consider who Jesus is, trying to present him in all of his wholeness in a way that our culture will be most receptive to."
On the top issues that people are struggling with…
"How to live out their faith in … a culture where it is increasingly harder to live out your faith. Since our culture has become more diverse, there is sometimes an expectation or a demand whether implicit or explicit that we might not live out or communicate aspects of the faith. I find a lot of people are challenged: How do I live out my faith after work? How do I live out my faith just in my neighborhood in a way that won't be obnoxious or off-putting but in a way that will accurately communicate who we are as believers? When we think of issues of sin or personal struggle … those are as old as the human race. Those continue. I think people continue to struggle with issues of family, how to best love their children, love their spouse. We live in a culture where increasingly there are multiple understandings of families and how that works before God, how best to do that. Our faith makes a difference there."