Comfortable Foods
Skewered by the pandemic, party hosts make adjustments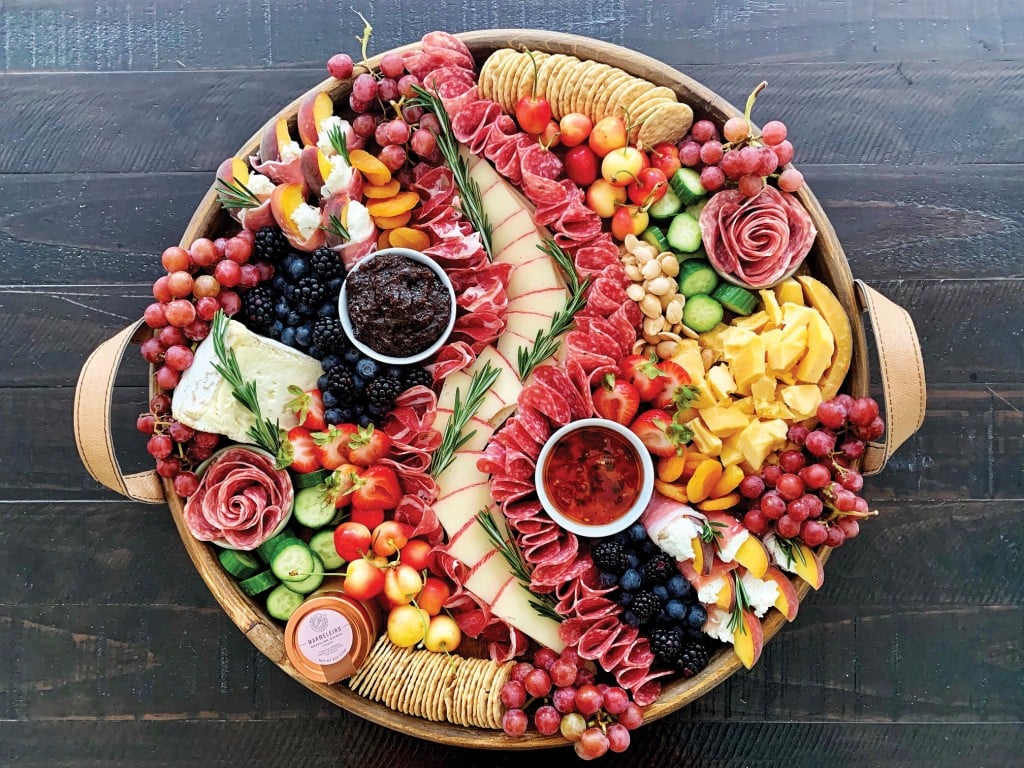 The pandemic has changed so many things in our lives, but one of the most difficult is being separated from family and friends. So it's no wonder that with the holidays coming up, we're looking for ways to celebrate the season with the people we love while staying safe.
Chefs and caterers note they're expecting smaller gatherings this year, likely outdoors with social distancing. It may be a party just for family members or close friends. No one is talking about big, glitzy events.
To adjust to the seismic shift in the party scene, hospitality experts are revising the types of foods they recommend and the manner in which they are served in order to make guests feel comfortable.
"The black bean and corn salsa that we used to serve with corn chips is now in a shooter cup, but it's still delicious anywhere," said Jenny Eason, catering director at Black Fig, a catering service with a gourmet meal to-go operation in its shop on Village Square Boulevard. "People are looking for anything on a skewer, even finger sandwiches."
Party planners may still be offering some exotic items like Hawaii's chopped fish sensation, poké, but it may be offered as an individual serving instead of in a bowl. A tip from the pros: Don't dismiss the basics this year.
"The trend is toward comfort food," said Eason.
Some of Black Fig's popular choices are onion and goat cheese tarts, tomato pies and pigs in a blanket with Bradley sausage in puff pastry with a mushroom cream sauce.
Another change is that hosts are picking up appetizers and courses they will be serving themselves without the help of staff. "Catering to go is the most popular option right now," said Eason.
Cheese and charcuterie boards are still popular but probably with adjustments, said Shannon Kolchakian, who has an Instagram blog called tallycheeseboards. Her photos of artistic, mouth-watering boards have attracted a large, devoted following. She offered cheeseboard classes pre-COVID but mostly does the boards for fun — she's not a caterer.
"It was an obsession that led to a passion," said Kolchakian.
She dreams up themes that are a creative outlet for her and her fans. Look on her site, and you'll see boards featuring a Southwestern theme with a cactus cut out of a round of brie surrounded by the fixins' for tacos or boards reflecting a season or birthday theme.
When it comes to holiday entertaining this year, hosts may want to deconstruct the board to make it more of an individualized appetizer instead of a communal meal, Kolchakian said.
"Safety is very important. If it were me, I'd really lean toward individual boxes. You can still make it beautiful."
Hosts can assemble a picnic box or cookie tin filled with items you'd pull off a cheese or charcuterie board, like a few pieces of cheese and meat, some crackers, nuts, dried fruits and jams or pickled items.
The idea is to work with colors and symmetry to create a cheese board that's not only delicious but captures the attention, said Kolchakian. "You eat with your eyes."
And that's true no matter what hors d'oeuvres you whip up.
Black Bean Salsa
Courtesy of Black Fig
1¼ cups of thawed
frozen corn
1 can (15 oz) black beans,

 

drained and rinsed

1 tablespoon sugar

¼ cup olive oil

¼ cup white vinegar

2 each finely chopped green onion

1 to 2 tablespoons chopped cilantro

¼ cup crumbled feta

Combine and serve in an individual shooter glass with a tiny spoon or it can be served in a bowl with crackers.
Creating a cheese board
Whether you're making a cheese or charcuterie board
or individualized versions of a cheese board, here are some tips.
Start with the cheeses you want. Pick at least one hard cheese, a medium and a soft cheese, said cheese board maker extraordinaire Kolchakian. Her favorite cheeses include Asher Blue from Sweet Grass Dairy and Cypress Grove chevre cheese with lavender and dill. If it's an outdoor gathering, you may want to choose harder cheeses that will hold up longer. "Cheese is meant to be eaten at room temperature," she said.

For your charcuterie or meat items, consider salami, dry cured pork shoulder, coppa, soppressata, thinly sliced meats like prosciutto and spreadable items like pâté.

For your bread picks, you can use crackers, crostini or baguettes. Accent your plate, Kolchakian said, with fresh or dried fruit, jams, pickled items, chutney, nuts and garnish with herbs.