Come Home to Frenchtown
A 'deep love' of historic neighborhood drives residents.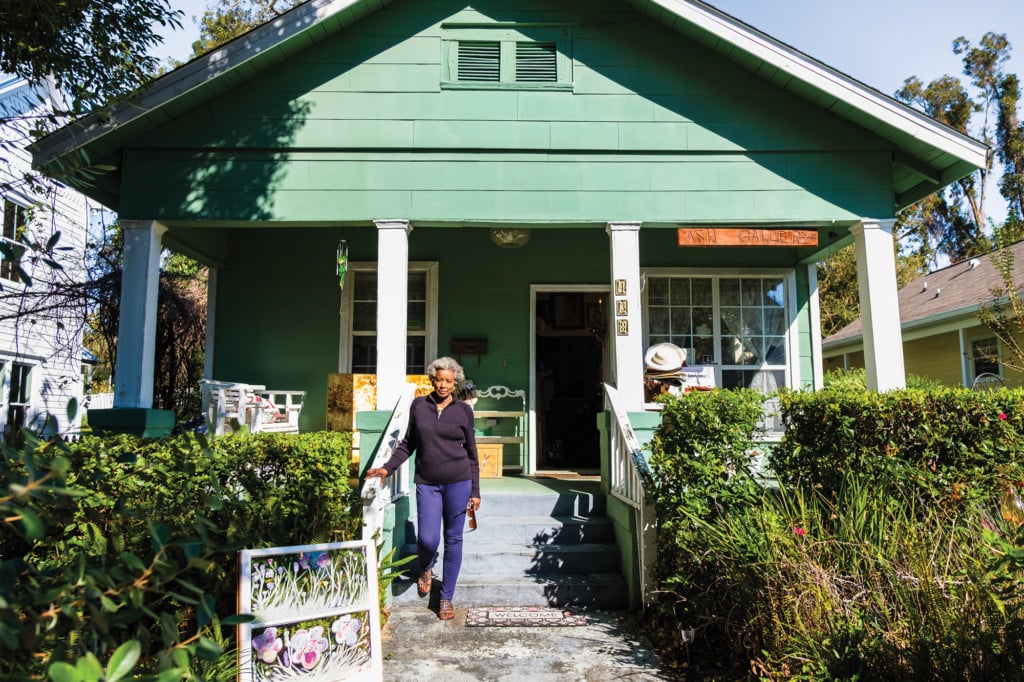 Four historic neighborhoods define the Capital City: Frenchtown a spirited and creative rebirth amid encroaching construction; Indianhead Acres an eclectic mix of homes and residents and unique street names; Lafayette Park a historic, tree-heavy setting where slow pace meets upbeat; and Myers Park a microcosm with a country club where residents unite on a cause.
We've decided to share the history, characteristics, parks, events, amenities, attributes, concerns and, in some cases, the growing pains of those neighborhoods. We share what defines them and what makes their residents proudly call them home. Here's a look at Frenchtown.
Ann Roberts has long watched history unfold from the living room window of her cozy Frenchtown home near the corner of Carolina and Macomb streets.
"I was born in this house, in my mother's bedroom," Roberts said proudly.
But her smile fades when she pulls back her lace curtains and looks at the new reality across the street: the noisy construction of The Standard, a $64 million building for nearly 1,000 students, a building she calls "a monster."
Roberts worries about the building's effect on Frenchtown, considered the state's oldest primarily black community. It's a community fighting to preserve its identity and cultural heritage. Its best asset: loyal residents who won't give up on their home.
Frenchtown's roots stretch back to 1825 when the U.S. government gave a Tallahassee township to French Gen. Gilbert du Motier, the Marquis de Lafayette, for his help during the Revolutionary War.
According to accounts, French colonists came to Tallahassee and, facing extreme elements, many moved to New Orleans or back to France while others stayed in the area that would become known as Frenchtown. But there's some dispute over whether the name is based on early farmers or another source.
After the Civil War, Frenchtown was primarily settled by emancipated slaves who brought farming skills.
In 1869, an all-black school, Lincoln Academy, opened in Frenchtown and offered children of all ages an education. It also taught vocational and trade skills to adults.
Frenchtown grew into a bustling community, and by the 1940s and 1950s, jazz and blues made it lively. The neighborhood had a place on the famed Chitlin' Circuit, a network of clubs in which black performers could play during segregation. The Red Bird Cafe on Macomb Street drew entertainers such as Ray Charles, Cab Calloway and Cannonball Adderley.
Frenchtown was "a city within a city," said lifelong resident Darryl Scott.
There was "Mr. Sullivan's grocery store," said Jim Bellamy, who was born and raised in Frenchtown. There was a 5 & Dime, a tailor, a jewelry store, a furniture store and eateries including a place serving "the best sausage sandwich," he said.
By the 1970s, following integration and urban flight, Frenchtown saw a period of decline. Businesses closed, and so did Lincoln Academy, which is now a community center. Problems ensued.
Improvements came after the 1994 distinction of Frenchtown as a historic area. A big boost came in 2005 with the groundbreaking of 23 mostly two-story homes as part of the Carolina Oaks development. Artist-educator Annie Harris, president of the Carolina Oaks Homeowners Association, opened the Ash Gallery on Georgia Street and sponsored "art walks."
There's now a community garden and a weekly farmer's market but no major grocery store.
A homeless shelter on Tennessee Street closed in 2015. Residents now wonder about the threat of gentrification.
Frenchtown's proximity to downtown and the Capitol appeals to residents and investors. It's less than a mile from Florida Agricultural and Mechanical University, a historically black university founded in 1887, and it borders Florida State University.
"Our biggest obstacle is we're too close to FSU," Bellamy said. "Where else are they going to expand?"
Residents strongly opposed The Standard student-housing project. As part of negotiations, the developer agreed to add retail space on Macomb and a setting for a historic monument, said Devan Leavins, special projects administrator at the Tallahassee-Leon County Planning Department.
To address residents' concerns, the city launched a special Frenchtown Placemaking study to define the vision and needs of the neighborhood. The study covers a larger area than historic Frenchtown.
According to the U.S. Census Bureau, the medium income in the study area in 2017 was $16,860, which includes students and elderly on a fixed income, Leavins said. More than half of the area's 5,200 residents are renters, with a medium home value of $109,494, he said.
Leavins and City Commissioner Nancy Miller met with a steering committee of about 10 residents and business owners monthly for nearly a year and a half to come up with an ambitious plan. "We were engaged throughout the entire process," said Harris, the artist-educator.
On Sept. 12, the Tallahassee City Commission adopted the Placemaking plan, which includes making roads safer, improving infrastructure, creating or rehabbing affordable housing and updating zoning codes.
The city also voted to use $485,000 from the sale of city-owned land for The Standard to help implement the plan's recommendations. The steering committee will become the Frenchtown Working Group and stay involved with bringing about what it considers desirable changes.
The Standard is among three big projects transforming Frenchtown. The new five-story Casanas Village apartments at Georgia and Macomb streets offers what it calls "affordable urban living" in a "modern and energy-efficient five-story design."
The Frenchtown Gateway proposal, still evolving, would transform an area that includes the former site of the homeless shelter on Tennessee Street with condos, townhouses, office space, retail and a much-needed grocery store.
Staying put will be the landmark Economy Drugs, which has been owned by the family of pharmacist/manager Alexis Roberts McMillan since 1951.
"We'll spruce it up, but we want to keep the same facade," said McMillan, whose mother, Geraldine Roberts, still owns the drug store. "We don't want to lose the flavor of what we have."
And that's what drives advocates.
"We have a deep love of Frenchtown," resident Ann Roberts said. "We want to stay in our neighborhood."