Color Them Expressive
Art therapy leads inmates to new identities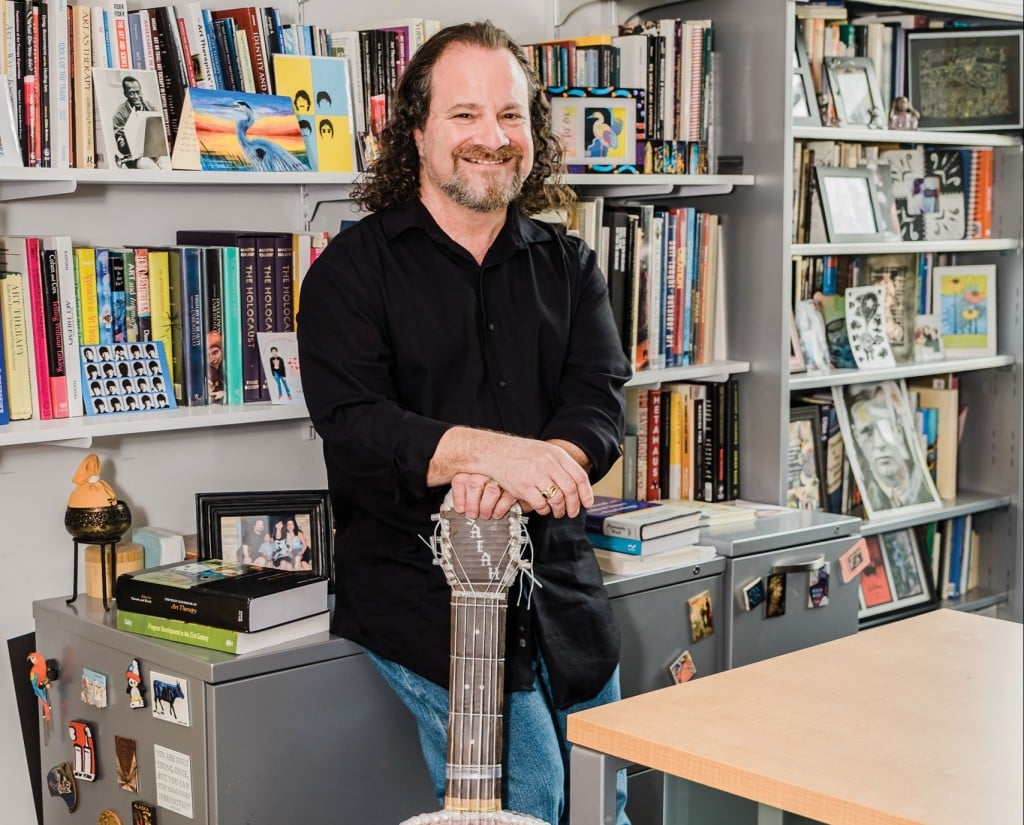 Dr. David Gussak has spent much of his life behind bars — neither incarcerated nor slinging whiskey.
Gussak is an art therapist. For more than three decades, he has worked for the most part with prisoners. Today, Gussak is putting his experience, research and passion to work as program coordinator of the Florida State University/Florida Department of Corrections Art Therapy in Prisons Program.
The program was launched in early 2020 as a first-of-its-kind partnership aimed at providing art therapy to young adult offenders enrolled in a prison General Educational Development (GED) program.
"Over many years, publications and research endeavors, we have demonstrated the value of art making and therapy, particularly in helping to decrease recidivism, increase socialization, problem solving, mood, locus of control — basically all of the components that help people succeed both inside the walls and when they get out," Gussak said.
Educational programs, like the GED, are offered by 90% of public correctional institutions in the country and have been seen to reduce recidivism. Even so, only about 25% of Florida inmates participate in such programs. Many are classroom averse.
"For a lot of them, school wasn't a positive experience," said program art therapist Casey Barlow. "They were told they were bad or stupid, so they can be really resistant to that type of structure."
Funded through the Individuals with Disabilities Education Act, the Art Therapy in Prisons Program targets inmates ages 17 to 22 who face educational challenges as a result of mental illness, injury, trauma, illiteracy or physical or learning disabilities. Despite the program's connection to the GED program, art therapy is not about grades. It's not about becoming an artist either.
"This is where people get confused," Gussak said. "When they hear that art therapy helps to create a new identity, they automatically think that they are going to become artists instead of inmates. No. They are just going to become non-inmates. We are starting to humanize them and de-objectify them."
In other words, art therapy utilizes the art-making process to explore a patient's emotions and confront their sense of self in a poignant, yet indirect way.
"Fear is a vulnerable emotion, but anger is a protective emotion," Barlow said. "It comes out to block out the vulnerability."
In the prison community, vulnerability is often equated to weakness, and the perception of weakness can lead to real physical danger for those living in close quarters. Traditional therapy often fails to get to the root cause of bad decision-making.
"In verbal communication, we have the ability to disclose some things and not disclose other things, but with art, it's pulling from so many different areas of your brain that you don't have the same filter," said program art therapist Evie Soape.
Once inmates understand emotion, Soape and Barlow can help them unpack who they are, what they value and how to reconcile identity with actions.
Both FSU graduates, Soape and Barlow were the first to join the program's ranks and were prepared to lead individual and group sessions in four facilities. After some 18 months of planning, however, Soape and Barlow got the news. They would not be allowed to enter the prisons as planned.
When the COVID-19 lockdown took effect, clinicians took to message boards trying to figure out how to provide care from a safe distance. Most practitioners planned to rely on technology, but that was not an option in the prison community. Gussak and his team had to get creative.
"We worked with what we had, which was paper," Soape said.
They developed weekly assignments for clients to complete in their cells. Then, instructors would receive the work turned in by inmates and offer feedback.
It wasn't a perfect system, but the team wasn't prepared to walk away. People all over the world felt the emotional toll of isolation, but for inmates, an already isolated population, the effects were multiplied. The Art Therapy in Prisons Program was a lifeline.
There were growing pains to overcome. Some program participants struggled to read while others worried about the quality of their work and were uncomfortable sharing their art with strangers. But as time went on, Soape and Barlow continued to provide encouragement, insights and to earn trust.
By the time the COVID lockdown was lifted in February 2021, program participants reported that art therapy had helped them "cope with things better" and that "it was good to put emotions on paper." They also thanked Barlow and Soape for being patient and understanding.
The participants mostly worked in pencil during lockdown. They were called upon to draw themselves as the world sees them and how they see themselves; to sketch their families; depict a safe place; or a difficult circumstance. Drawings spoke to loneliness, fear, frustration and the desire for a second chance.
In one drawing, a young man drew himself chained to the ground and was hitting himself over the head with a large key labeled "Key to Success." Some distance away, he depicted a car speeding in the opposite direction to represent his family.
In the fall of 2021, FSU announced that the program would double in size. It now employs four art therapists who work in nine prisons.
Barlow, Soape and their counterparts spend nine hours per day, four days per week "on the inside." They have begun to move past pencils to paint. As many of the participants' sentences near their end, Gussak, Barlow and Soape are hopeful that second chances will lead to even more art.
———————————————————————————————————
ART THERAPY
As of the 20th century, art therapy was a recognized field requiring certification and training in both art and therapy. Art therapy moved outside of mental health facilities and into other community settings such as schools, shelters, nursing homes, residential treatment facilities, halfway houses and correctional facilities. In recent years, researchers have explored the benefits of art therapy for treating a variety of physical health difficulties, according to the Michigan State University Extension service. Some of their findings show art therapy:
Helped reduce pain, decreased symptoms of stress and improved quality of life in adult cancer patients.

Improved ability to deal with pain and other frightening symptoms in children with cancer.

Reduced stress and anxiety in children with asthma.

Stimulated mental function in older adults with dementia.

Indicated a reduction in depression in Parkinson's patients.