College Town Times Three
It May Be Home to State Government, But FSU, FAMU and TCC Give Tallahassee Its Punch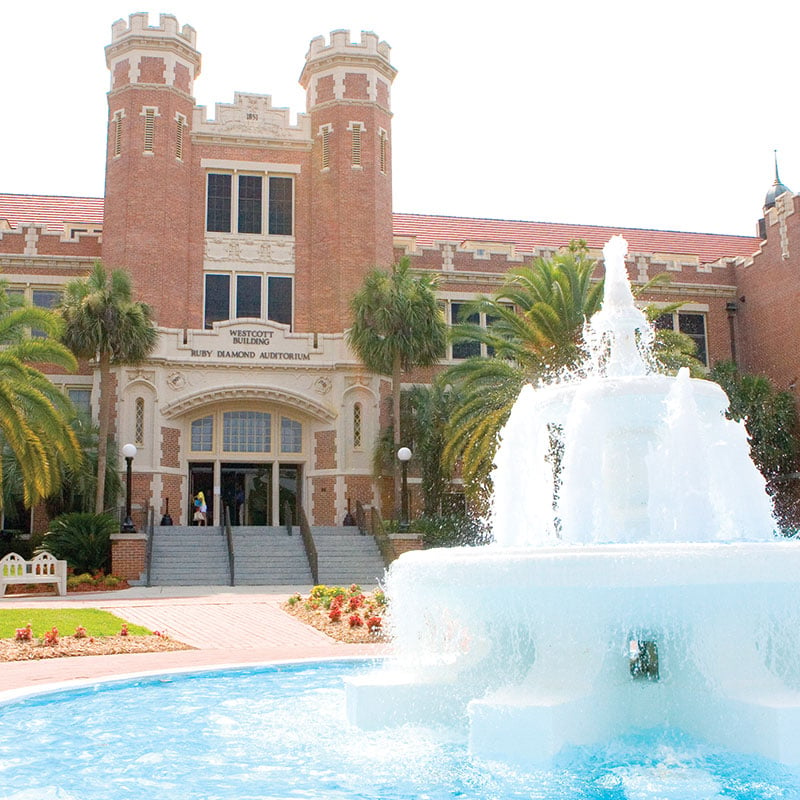 When the teams are winning, cash registers jingle, steps are brisker, clerks are friendlier, drivers are more polite and there's gaiety in the air … .
It's a little gloomier the morning after a loss.
A little bitter with the sweet. It's worth it, to live in a college town.
Think what you'd miss: the culture, arts, sporting events, visits by celebrities and just plain general excitement that comes with higher education. The dealings of state government bring our capital city its share of interesting personalities and ideas, but it's Florida State University, Florida A&M University and Tallahassee Community College that keep the city alive with innovative thinking and performances.
All three have experienced burgeoning growth in enrollment and facilities over the past three decades. Generally, public higher education fares better when Florida's economy soars and suffers when Florida's fortunes decline. There have been lean years when presidents had to live within austere budgets. During the early 1970s, for example, when the national economy was in a downturn and tourism in Florida fell, the state's public universities felt the pinch.
As Florida State Provost Larry Abele says, "When the nation gets the flu, Florida gets pneumonia." The lack of salary raises caused painful "brain drains" in the past, and Abele says he's bracing for more of the same this year.
Florida's respiratory problems preceded the nation's this year. The Legislature has cut the budgets of its public universities dramatically. How will Tallahassee's institutions of higher education meet that challenge? The evolution continues.
Florida State University: A Tradition of Excellence
It helps to be a former legislator. Florida State University President T.K. Wetherell, who served in the Florida House of Representatives from 1980 to 1992 – the last two as speaker of the House – anticipated the severe $31 million cutback the Legislature would deal the university.
FSU's 13th president, and the first alumnus in the role, had begun long-range planning almost two years ago to prevent as much damage as possible. On June 13 of this year, the university's Board of Trustees voted to eliminate more than 250 positions, limit enrollment by 2,000 students, trim student services, and defer some campus maintenance and selected programs.
Those painful cuts will reverberate well beyond the classroom, Wetherell says.
When faculty positions are cut, new faculty members don't move to town, don't buy houses, don't spend their money in the community and don't bring new jobs and revenues to Florida through research contracts and grants, he says. Each faculty position cut means the loss of an average salary of $72,500, and each staff position the loss of an average salary of $32,400. Faculty and staff positions made up approximately 47 percent of the internal reductions FSU had to make.
Wetherell estimates FSU's economic impact on the state economy at $3.6 billion. That is based on student spending, the university budget and visitors' spending at FSU, plus the 44,000 jobs FSU generates statewide.
The FSU Board of Trustees also took the unprecedented step of approving a budget plan for 2009-2010. Trustees approved a plan that holds enrollment at funded levels into 2010, begins to look at reorganizing academic units and reduces services when possible – but that continues FSU's commitment to financial aid for economically disadvantaged students.
The lack of funding already has cost FSU rising young stars and veteran faculty members who were recruited away.
Wetherell, now in his fifth year as leader of the university, has undertaken the university's most extensive construction program during his tenure, adding three new residence halls, a general-purpose classroom building, new food services facilities, parking garages, an alumni center, research facilities, massive renovation projects and a Heritage Walk system throughout campus. He also oversaw completion of the construction of a new medical school.
Approval for the med school didn't come easily. When the American Medical Association turned down the school in 2000, FSU Provost Abele and then-President Talbot "Sandy" D'Alemberte worked until 3 a.m. rewriting an appeal. Each then went home to bed. Abele was restless and got up several hours later to arrive at the office at 8:30 – only to find D'Alemberte already there, working with renewed vigor.
The appeal was successful.
In May 2001, the College of Medicine welcomed its first class. The medical school – the first to be established in the nation in more than 20 years – focuses on treating the elderly and people in rural and urban areas.
"Sandy and T.K. brought more energy to this job than anyone I've worked with," Abele says. "It's natural to each of them."
Both presidents were determined to assemble a first-rate faculty befitting a top-notch research university serving the state and the nation. Abele says that carries with it attracting top students.
"We have 6,000 freshman who are excellent students," he says.
FSU's total enrollment is 41,000.
In September 2005, Wetherell inaugurated the "Pathways of Excellence" initiative, a series of goals for the enhancements in federal grant expenditures and awards, scholarly productivity, graduate programs, faculty recognition and the number of Ph.D. graduates at FSU. Wetherell's vision for the university is to be recognized as one of the top 20 public universities in the nation, with a comprehensive research program to benefit its students and society.
FSU's sprint along the pathways of excellence actually began decades earlier.
Outstanding scholars had been hired through the years, including a young group of scientists added in 1949 who became known as the "Forty-Niners."
Hired with grants and stipends from the federal government to bolster science programs, they came from Stanford, Johns Hopkins, Princeton and Harvard. These brilliant doctoral students fresh from the nation's top graduate schools gave the right spark to the new co-ed university that had just been created two years earlier, changing the status of the small but respected liberal arts Florida State College for Women. Many of the hires would go on to be inducted into the National Academy of Sciences, a real boost for such a young faculty.
Nobel Laureate Paul Adrian Maurice Dirac, considered by many the father of modern physics, joined the Florida State faculty in 1970 "because it is a center of excellence," he said.
Florida State has an operating budget of more than $1 billion. Graduates are maturing and becoming successful financially, which means a big boost to private gifts to the university.
The nuclear science program, started in 1957, was the first of its kind in the Southeast, making FSU the only university in the Deep South with a major experimental nuclear science facility. In 17 years of federal support funds, the tandem van de Graaff nuclear accelerator – one of the first two in the United States to be installed on a university campus – has passed the $8 million mark.
In 1990, the National Science Foundation announced Florida State would be home to the $182 million National High Magnetic Field Laboratory, which began operation in 1994. The facility, operated by a consortium that also includes the University of Florida and Los Alamos National Laboratory in New Mexico, is the first national lab to be located in Florida and is the nation's top center for research on magnets millions of times more powerful than the Earth's magnetic field.
FSU meteorologist Seymour Hess helped design the weather-monitoring equipment aboard the Viking spacecraft that landed successfully on Mars in 1976. Hess gave mankind its first close-up look at extraterrestrial weather.
The arts and humanities, already strong at the Florida State College for Women, began to soar, and now are perennially among the highest ranked in the nation. FSU acquired the Asolo Performing Arts Center in Sarasota and the Appleton Museum of Art in Ocala. FSU's music college and dance school rank among the
country's top programs. Florida State launched a new film school in 1989 that has seen a meteoric rise in reputation.
When the first women were named as Rhodes Scholars in 1976, a Florida State classics major, Carolyn Alexander, was one of them.
Although only a fraction of the student body participated, political activism on campus captured most of the headlines in news coverage in the 1960s. President Stanley Marshall postponed his formal inauguration 11 months because he was so busy juggling meetings with students and defusing demonstrations.
Women's liberation, black power, radical politics, dorm visitation rights, sexual permissiveness, drug experimentation – all were concerns Marshall shared with students. He formed an administrative staff to help stabilize the chaos. Then-Gov. Claude Kirk spent a night on Landis Green talking with students. Marshall and faculty members urged students not to impede the university but to change it by peaceful means.
Marshall also faced a serious shortage of money. By 1970, Florida's public institutions were receiving so little money, it was said they were simply tax-assisted, not tax-supported.
Budget woes in 1971 dictated the phasing out of the engineering program by June 1972. Low enrollment and the high cost of operating an engineering program were critical factors. "The demonstrations caused crises," Marshall said later, "but we knew what we had to do about those. The lack of money had a more far-reaching effect on the university and required making agonizing decisions."
This inspired the birth of the Seminole Boosters. The FSU Foundation board, Marshall and Athletic Director Clay Stapleton decided to break into big-time football in the early 1970s by agreeing to play prominent teams – starting in the mid-1980s – at their home fields: Ohio State, Nebraska, Notre Dame and others. Dismal losing seasons with coaches Larry Jones and Darrell Mudra were endured. Finally, Marshall hired Bobby Bowden in the spring of 1976.
The sports picture was warming up. Bobby Bowden's team went 10-2 his second year. Mike Martin's baseball team won 51 games while losing 12 in 1980, a good enough record to send it to the College World Series.
The basketball program under Coach Hugh Durham had a banner season in 1971-1972, reaching the finals for the national championship. In 1973, veteran swim coach Bim Stults retired after 25 seasons with a record of 185 wins and 43 losses. Under Stults, six FSU teams went undefeated. Diver Phil Boggs, an All-American for three years, won the gold medal in springboard diving at the 1976 Olympics.
Women's intercollegiate athletics grew out of the physical education program. Budgets were low, coaches were part time and unpaid, but they won a fair share of their matches. The 1973 volleyball team went to national tournaments.
Women's squads were not organized for intercollegiate competition in other sports until the mid-1970s, when they added golf, tennis, swimming, basketball and softball. Marlene Furnell was hired as part-time director of women's intercollegiate competition. She helped raise money as well as coordinating the program.
In 1975-1976, the university's overall budget was $84 million; by 1988-1989, it was $322 million. In 2007-2008, the total budget was $1.1 billion. Contracts and grants totaled $213 million.
President Bernard Sliger was FSU's longest serving president, from 1977 to 1991 and one of the most popular, even returning for a stint after his successor, Dale Lick, resigned in 1993.
Sliger dressed casually and moved easily among the students, occasionally stopping to shoot a game of pool or chat. He invited them every year to the President's Home on the hill for an ice cream social that remains an annual event.
His relaxed manner was the proper antidote for easing the tensions that had built on campus during the crisis-filled years of the student unrest of the '60s and '70s and Ted Bundy's brutal murders of sorority girls in January 1978.
Sliger opened his fall address to the faculty in 1979 with optimism.
"For the first time in memory," he said, "the Legislature appropriated funds based on enhancement of programs rather than enrollment."
During Sliger's tenure and as student enrollment increased by nearly one-third, the university acquired the magnet lab, its Panama City campus and a supercomputer, and became a joint partner in the newly created Florida A&M University-FSU College of Engineering. Meanwhile, FSU rose to the pinnacle of intercollegiate athletics and joined the Atlantic Coast Conference, got money for the multimillion-dollar University Center, and first explored the idea of a College of Medicine. Construction work centered on the renovation of the original 1922-era science building and construction of the new education building. The $2.4 million nursing building was dedicated and ground was broken for a new $5.3 million Housewright music building.
Since 1999, Pulitzer Prize and Academy Award winners, dance companies, acting troupes, musical ensembles and world-premiere films have come to the campus for Seven Days of Opening Nights. Tallahasseeans look forward to the annual arts festival, but the primary goal for the event is education, so artists at the festival work with students through master classes, lectures, readings and exhibits.
It was just an idea that Sliger liked – a sports arena surrounded by classrooms and office – but it's now FSU's magnificent, $96 million University Center, which wraps around Doak Campbell Stadium and was built starting in 1993. One of the University Center's buildings is named for Wetherell, who was House speaker-designate at the time, and helped design it on a tablecloth at Anthony's Restaurant. (Fortunately, Dick Anthony is a graduate of FSU's prestigious hotel and restaurant school.)
Florida State occupies a small, 450.5-acre main campus in downtown Tallahassee – a stone's throw from the city's other public university, Florida A&M – but it also boasts an impressive array of programs around the world. FSU's Florida facilities include a Panama City campus, the Marine Laboratory at Turkey Point, the FSU/Asolo Conservatory for Professional Actor Training and the FSU/Asolo Conservatory of Motion Picture, Television and Recording Art. Programs also are operating around the world in seventeen different countries.
Florida A&M University: Marching Back to Glory
James H. "Jim" Ammons has deep roots at his alma mater, Florida A&M University, and in Tallahassee, so he's daunted but not bowed by the challenges he faces to complete the institution's triumphant turnaround.
FAMU President James H. Ammons
Larry Davidson
As FAMU provost from 1995 to 2001, he helped develop more than 22 new bachelor's, master's and Ph.D. programs. He also assisted in re-establishing the FAMU College of Law, which opened in Orlando in 2002. It's one of his proudest accomplishments.
A law school was originally established at Florida A&M in the 1950s during the presidency of George W. Gore Jr. to avoid integration at the University of Florida's law school. Florida's Board of Regents decided to open a law school at FSU in 1968; because of a law saying courses could not be duplicated between the two schools, FAMU's law school was eliminated.
"As you take a look at the 21st century, getting the law school back is just huge," Ammons says. "This really was something in the hearts and minds of so many people associated with it … It's important that Florida finally did right a wrong, and it's important to the future growth of this institution."
Ammons says he was tempted to try and succeed Frederick Humphries as president of FAMU when Humphries stepped down in 2001, but Ammons had just been named chancellor of North Carolina Central University in Durham.
"No way I could go back on my word," he explains. "When you give your word, it has to mean something."
Nevertheless, Ammons wanted desperately to be part of FAMU's rebuilding program, so he came back in the top position in 2007.
The longer you talk with Ammons, the more you realize that he could not let his beloved FAMU falter. In addition to his six-year tenure as provost, he graduated cum laude from the university with a B.S. in political science in 1974. In 1975, he earned a master's degree in public administration and a doctorate in government in 1977 from Florida State University. He taught at the University of Central Florida before coming back to Florida A&M as an associate professor of political science in 1983.
FAMU attained university status in 1953 and was admitted as a full member of the Southern Association of Colleges and Secondary Schools in 1958.
President Gore is remembered most for maneuvering the university through the Civil Rights Era. Hundreds of FAMU and high-school students participated in demonstrations and boycotts that culminated in the infamous Tallahassee Bus Boycott that brought news media from all over
the country.
A promising first had been seen in the country when Thurgood Marshall became the first black Supreme Court justice in 1967. One year later, however, America and the world were devastated by the assassination of the Rev. Martin Luther King Jr. Havoc reigned. For the first time in FAMU's history, the school was closed for safety reasons, as well as to give students time and privacy to mourn King's death.
Benjamin L. Perry Jr., the first FAMU alumnus to serve as president, was preoccupied during most of his presidency with implementing new desegregation and integration laws. Perry's overwhelming challenge, however, was to save Florida A&M from merging with the then all-white Florida State. That was a serious proposal that instigated a nationwide campaign to save the historically all-black institution and its autonomy.
It was successful.
Ammons came to FAMU and Tallahassee as a student at about this time. Perry's term, from 1968 to 1977, was one of dramatic growth. Construction and renovation costs totaled more than $14 million.
During Perry's administration, FAMU's scholastic endeavors were enhanced. In 1970, the School of Business, under Sybil Mobley, was created and the School of Pharmacy became fully accredited. In 1971 a Navy ROTC program was added and in 1975 the School of Architecture officially opened.
Ammons gave up a position as chancellor at North Carolina Central University in Durham to come back and straighten out matters at FAMU. He'd spent six years turning the situation around at that school and now had a safe, successful job.
The tug to return to Tallahassee was too strong, though.
"A new leader to any institution starts a new chapter," Ammons says. "Last year, July 2 started a new chapter for me. I had put together a great team of committed professionals. I'm proud of them for addressing the issues here and bringing us where we are."
Then, with a big smile, Ammons adds, "Before returning this year, I knew this job was not for the faint-hearted. I made sure I was ready for it and I brought some of my key people to help. I knew we had to come in with the precision of a surgeon."
With that attitude, he tackled the uphill job of restoring faith in FAMU, which had been placed on probation by the Southern Association of Colleges and Schools. On June 27 of this year, SACS announced that Florida A&M was removed from probation but that six problem areas remain unfixed.
The association had mainly faulted FAMU for poor financial accountability, leadership and controls over areas including sponsored research and inventory.
There are still some issues that need correcting, primarily in handling contracts and grants and information technology.
Ammons wants his university to regain that "College of the Year" title bestowed by Time magazine and Princeton Review in 1996. "We led in recruiting more
African-American National Achievement Scholars," he says, including several Ivy League schools.
Founded on Oct. 3, 1887, as the State Normal College for Colored Students, FAMU began classes with 15 students and two instructors. Today, it remains a predominantly black institution and, in spite of its troubles, is the national's largest producer of African-American graduates with bachelor's degrees.
Enrollment peaked in 2004 at 13,070. Today, enrollment is 12,000. Students represent 35 to 40 countries and 41 of the 50 states that make up the United States. Ammons says he would like to have an enrollment of 15,000 this fall.
FAMU became Florida's land-grant institution for African-Americans in 1891 and was moved from Copeland Street (now the site of Florida State University) to its present location on Tallahassee's highest hill. The name was changed in 1909 to Florida Agricultural and Mechanical College for Negroes. With an enrollment of 317 students, the college awarded its first degrees the following year.
Andrew Carnegie's gift of $10,000 to the college for the building of a new library has the distinction of being the only Carnegie Library on an African-American land-grant college.
In the 1950s, the school was elevated to university status, and the Legislature changed the name in 1953. University status means existing programs had to be restructured to meet the demands of quality students at the professional and graduate levels.
President Walter L. Smith, FAMU's seventh commander in chief, served the institution seven years. The university physical facilities were expanded during his tenure, with the addition of buildings to house the School of Business and Industry, the Schools of Nursing and Allied Health, the School of Architecture (the building is named for Smith), a greenhouse complex for the Division of Agriculture, and a multi-event sports complex, an all-weather track and expansions to Bragg Stadium.
The School of Journalism and the FAMU-FSU Joint Institute of Engineering were established in 1982. After a state mandate outlawed the duplication of programs at FAMU and FSU, FAMU gained an industrial arts program but lost its home economics department.
One of the university's three living presidents, Smith frequently visits the campus as a special guest, educational consultant and supporter.
President Frederick S. Humphries gets credit as the mastermind behind the "College of the Year" accolade bestowed on FAMU.
Many credit Humphries with guiding the institution through another golden age, when student enrollment reached it height and the university attracted the largest number of American-American National Merit Scholars in the nation. In 1989, bandmaster William P. Foster led the FAMU Marching 100 band onto the international stage when it performed in Paris as part of that country's Bastille Day celebration.
Humphries solicited money from private businesses by creating and personally cultivating the FAMU Industry Cluster, a group of nearly 20 Fortune 500 corporations, which grew into one of the largest corporate support groups at any historically black college or university.
Humphries planned a yearlong "Centennial Celebration" to commemorate the university's 100th birthday. The affair climaxed with the Homecoming of the Millennium Gala that honored 122 "FAMUans of the Century," along with 50 of the school's most eminent corporate supporters.
Two other lucrative campaigns were the "FAMU 21st Century Walkway," unveiled during the 1996 Homecoming celebration, and the lighting of the Eternal Flame during the 1999 Homecoming. In addition, endowed scholarships, professorships, eminent scholar chairs and the "Friends of FAMU" support group all increased considerably.
Humphries formed other academic research and technology groups. He transformed and gave more authority and independence to the Faculty Senate.
Twenty-five new facilities built or completed during Humphries' administration including Coleman Library, Cooperative Extension facilities on campus and in Quincy, parking garages, the SBI East Wing, the Student Services Center and the university's third President's House.
Expansions were made to the Aquatic Center, Gaither Gymnasium, Jones, Jackson-Davis and Lee halls, the University Commons and post office. The Perry-Paige Building was remodeled and other campus improvements were made.
The university acquired more land, including Lafayette Winery and Vineyards.
In 2000, Humphries' administration began a successful crusade to have the FAMU College of Law reinstated. It awarded degrees to its first graduates in the spring of 2005.
According to historian Leedell Neyland, when Humphries took command, the university had an operating budget of close to $60 million. At the end of his tenure, the budget was nearly $250 million. The university was offering degrees in 62 baccalaureate programs, 35 master's programs (16 added under Humphries) and 11 Ph. D. programs (10 under Humphries).
Humphries resigned in 2001 but presently serves as a regent professor at the FAMU College of Law, as well as an educational expert and historical consultant.
Immediately after Humphries left, Henry Lewis, dean of the College of Pharmacy and Pharmaceutical Sciences, was appointed interim president. Students particularly respected him because he delivered student financial-aid disbursements on time. He was so admired by students, faculty and staff that a move was made to make him permanent president. The university's Board of Trustees had to ignore the request, though, because regulations forbade interim presidents from seeking the position on a permanent basis.
Lewis reclaimed his title as dean of the College of Pharmacy.
Another alumnus, Fred Gainous, served briefly as the ninth president. After three turbulent years, aggravated by unfavorable financial audits, negative media coverage and declining enrollment, Gainous resigned. Gainous continues to serve as director of the Center for Agricultural Research Policies in the College of Engineering Sciences Technology and Agriculture.
From 2004 to 2007, Interim President Castell V. Bryant was the administrative leader. She also is a FAMU alumna and had served as the president of Miami Dade Community College. The challenges were too much for her administration, and she resigned as well.
There were some high points, however, included the granting of FAMU's first Ph.D. in physics. Even grander perhaps, is the fact that, in 2006, FAMU was named the "No. 1 College in America for African-American Students" by Black Enterprise Magazine.
This is an exciting time to be in Tallahassee and at FAMU, Ammons says. He's pleased with the Marching 100 and points out that FSU and TCC student can also participate with the group if they take the band's class.
The biggest disappointment of his presidency so far, says Ammons, is that he has been unable to give raises to faculty members and staff.
Tallahassee Community College: Educating Our Community
Tallahassee Community College President Bill Law delights in enumerating all the ways his students and graduates may affect your daily life.
Heaven forbid, but if your day begins with a car collision, the first person you see is likely to be a police officer who trained at TCC's Pat Thomas Law Enforcement Academy. That fire truck that arrives is probably driven by a firefighter who received training at TCC. If you're taken to the hospital, you'll most likely be admitted by a TCC health care graduate, and a TCC technician will take your vital signs, along with your medical information, and prepare you to see the doctor.
Law is proud that the Ghazvini Center for Health Care Education is under way, with a groundbreaking recently on a site near Tallahassee Memorial HealthCare. Donations from the Ghazvini family, TMH, the community and the college make it possible to build a state-of-the-art training facility to meet the need for more health care professionals. (By 2020, Florida will need 61,000 more nurses than are currently projected to be available, according to estimates from the National Center for Health Work Force Analysis.)
The new center will cost approximately $35 million, including $2 million for the design of the facility, $20 million for the first phase of construction and nearly $6 million for equipment.
That's just the beginning. President Law loves to talk about the computer and technology departments, the TCC arts and literature departments, the splendid sculpture scattered around its carefully landscaped campus and the four-year degree it has offered students since 2000.
He is dedicated to work force development, student success and retention and community outreach.
Law is proud of his open-door policy and his TCC Board of Trustees meetings, which are open to the public. (If you care to show up, they begin at 4 p.m. on the third Monday of the month.)
TCC has increased enrollment in programs to meet community employers' needs, emphasizing the arts and global studies on campus, and leading on behalf of the Council on Community College Presidents by working with the Florida Legislature. Law also has served as chairman of the Economic Development Council of Tallahassee/Leon County.
Law is engaged in his job and engaging. He is proud of TCC, the accomplishments of his outstanding predecessors, his own successes and campus life in general. He's generally smiling and wearing a bow tie, although he says his collection falls way short of former FSU President Talbot "Sandy" D'Alemberte.
Law reached out to local governmental and civic leadership when he first joined TCC, seeking enhanced opportunities for state employees to advance through TCC educational programs. With the opening of the Economic and Workforce Development Center, TCC began to reach its full potential in this service to business, industry and area workers.
He also led an aggressive building program and land acquisition initiative to transform the Pat Thomas Law Enforcement Academy into the nation's premier law enforcement training center. In addition, he encouraged development of anti-terrorism training help agencies respond to homeland security needs.
Law is pleased with TCC's outreach in Gadsden and Wakulla counties. To date, TCC has helped secure nearly $5 million in direct support for Gadsden County, and has submitted applications for more than $11 million to public and private sources.
The TCC Gadsden Center now is one of the best-known after-school programs in the area, thanks to partnerships with Gadsden County Schools, nonprofit organizations and parent groups. One hundred and fifty students have received expanded FCAT preparation and other academic services through weekly and Saturday sessions at the Quincy House.
In addition to helping raise academic standards, TCC is strengthening work force certification programs leading to employment of high school and college-age residents.
The Wakulla Center is TCC's newest service center. Opened in January 2006, the center is the college's first service center for residents of Wakulla County, offering professional training and development. What started 28 years ago as a small fund to help Wakulla graduating seniors continue their education has now reached the $1 million plateau – raised by a partnership between the Wakulla County Academic Boosters Association and the Tallahassee community.
Other services include partnerships with FAMU and FSU to improve health care education.
Under Law's leadership, the TCC Foundation attracted its single largest gift for scholarships and launched a $10 million capital campaign.
TCC is one of the top 10 producers of A.A. graduates in the nation. The largest feeder institution to Florida State, TCC also has an excellent relationship with Florida A&M and other universities in Florida. Nearly three-fourths of TCC graduates transfer into the State University System the next year, the highest percentage among all Florida community colleges. Studies also show that TCC transfers make grades as good as those of students who started at the university.
Nationally, TCC ranks 14th among two-year institutions in the total number of associate degrees awarded during the 2006-2007 academic year, according to the National Center for Education Statistics. Of the top 15 associate degree producers that year, TCC is one of only six who enjoyed an increase in the number of degrees awarded from the previous year. TCC also earned a No. 8 ranking among two-year institutions in the number of associate degrees awarded to African-American students – 526 in 2006-2007, compared with 488 the previous year.
The windfall Florida's lawmakers dropped on two-year colleges this session – allowing them to offer four-year degrees – won't affect TCC. The college already is partnering with Flagler College, Barry University, Embry-Riddle Aeronautical University and Saint Leo University to give TCC graduates the opportunity to pursue bachelor's and graduates degrees without leaving the Appleyard Drive campus.
Ironically, FSU President T.K. Wetherell opened up that access for a four-year degree with Flagler College in 2000 while he was president of Tallahassee Community College. Wetherell served TCC from 1995 to 2001.
When he took office at TCC, Wetherell initiated an aggressive building and renovation program, instituted a major endowment program for the college foundation and raised the college's visibility. He also worked with the business community and was a leading advocate for the community college system before the Legislature.
Law sums up what he sees as TCC's mission:
"We measure ourselves by our ability to improve the lives of others," he says. "I believe that community college education has an ever-increasing role in our communities in assisting citizens to change their lives for the better."