COCA's Art Warriors Dream Big
Despite pandemic and funding challenges, hearts must be fed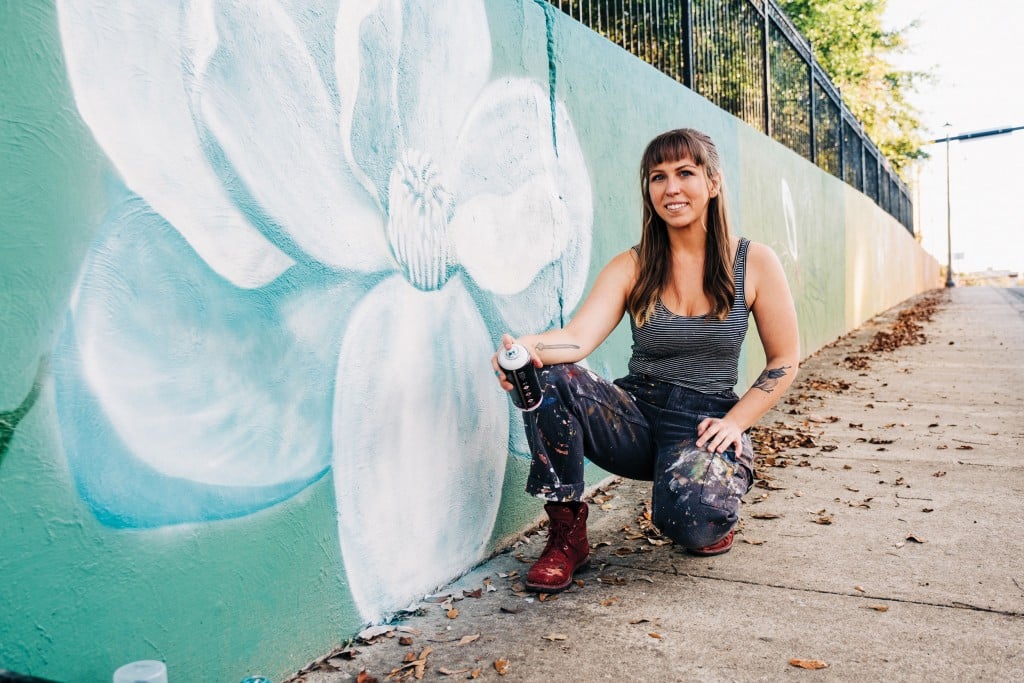 You can't actually see them, but if you're near the downtown office of the Council on Culture & Arts (COCA) on Martin Luther King Boulevard, you might sense the vibrations, feel the enthusiasm, and hear the hums of optimism that emanate from two petite, but mighty, women who step each day into their roles as warriors for the arts. And the arts are grateful.
Amanda Karioth Thompson, the assistant director at COCA, is responsible for the nonprofit's arts education and public art programming functions. Kathleen Spehar, the recently appointed executive director of the organization, brought to COCA a lifetime of experience in arts administration and collaboration with city and state entities. Together, the women are the two most prominent of the four full-time arts advocates working at COCA.
From them flows a cascade of ideas and flexible plans that they can adapt to shifting city and county priorities, variable budgets, even a pandemic. But their end goal is set in stone: to support the arts, their availability and enjoyment by as many Tallahasseans as possible. The women have built relationships that allow music, the visual arts, dance, choral music, theater and literature to thrive in the capital city at a time when funding, gifts and grants cannot be taken for granted.
Ask anyone who has been to the Tallahassee Symphony, the Tallahassee Ballet, the LeMoyne or the Riley House museums, each of which receive financial grants through COCA, or ask individual artists who see their work reproduced and biographies posted on the COCA Arts Guide, or their paintings hung at the City Hall or Airport Galleries, and you will glimpse the breadth of COCA's ability to connect the city to the wealth of art available, and to add to that supply.
For both Thompson and Spehar, a commitment to the artistic "muses" arrived early. Florida-born Thompson was raised in a household where the arts played a major part.
"My father, Gerald Ensley, was a journalist, my mother Sally Karioth, a speaker, performer and educator," Thompson said. "They say I attended my first play when I was a few days old, and 'acted' in one a few months later!"
With a grandmother who was a professional musician, a school environment filled with visual art, music and theater, and an elementary school art teacher who gave her "a voice to let me communicate what couldn't be said," Thompson knew early on that art would always be in her life in some way.
Spehar also found the world opening to her through music, dance, and choral music. She was born in Chicago and lived in Detroit, a baby boomer whose parents introduced a piano into her life.
"I was an artsy kid, in a modern dance club, playing the flute, loving choral music and even becoming a drum majorette," she said. Time only heightened her desire to participate in activities that "fed her heart." At the University of Minnesota, she earned a master's degree in arts administration, having been attracted to the variety of possibilities such a degree would bring. Thompson holds the same degree, earned in Florida. So credentialed, the two women advocate for all the arts and assist artists along the way.
Thompson began working part-time at COCA 15 years ago when the organization was already 20 years old. From assistant arts education coordinator, to later, assistant director, the dynamic Thompson said she prefers to be "the support person behind the one who is out front," sounding delighted with every project in which she's involved.
"I love that we can direct arts education grants to individual art teachers," she said. "Twelve different teachers received grants, totaling $6,000, this year. Through our online galleries, we have teacher guides and lesson plans. We have also begun a wonderful relationship with the media where I can report on art projects and awards to school-age children."
Not all plans made before the pandemic were shelved.
"COCA is working with Blueprint 2000 on a Capital Cascades Trail and on a History and Culture Trail where exterior sculpture pieces will eventually be placed," said Thompson, who clearly believes that art should be a public encounter.
Spehar brings 13 years of national and international experience working in education, and with legislatures, granting agencies and nonprofits, often advocating from an "artistic tourism" perspective.
"COCA receives funding through a public arts contract with the City of Tallahassee and Leon County, and also through the Office of Tourism, from which it receives one cent of tourist development taxes," Spehar explained. "From those sources, we then issue re-grants to nonprofit organizations which apply. This year our budget was to have been over
$1 million for re-grants. Fortunately, while the pandemic's effect on tourism has caused that to decrease over the last months, the city and county have offered additional funding through LEAN and CARES Act grant programs."
Spehar and Thompson are optimistic and filled with new plans.
"We've already worked with the restaurant industry, having poets create short works to include in each take-out order," Spehar said. "I would like to embed the arts into health care settings, perhaps in policing and de-escalation situations. And planning for the 2024 bicentennial has already begun!"
Listening is a big part of Spehar's job.
"We want to hear from the public and artists, too, about what they need to keep art in their lives. Art has always been about resiliency, now more than ever. Artists have always had it. Now we're all improvising," she laughed. "It's a good skill to have!"