Cobblers Pass Along a Waning Skill Throughout 65 Years in Tallahassee
The Sole of a Business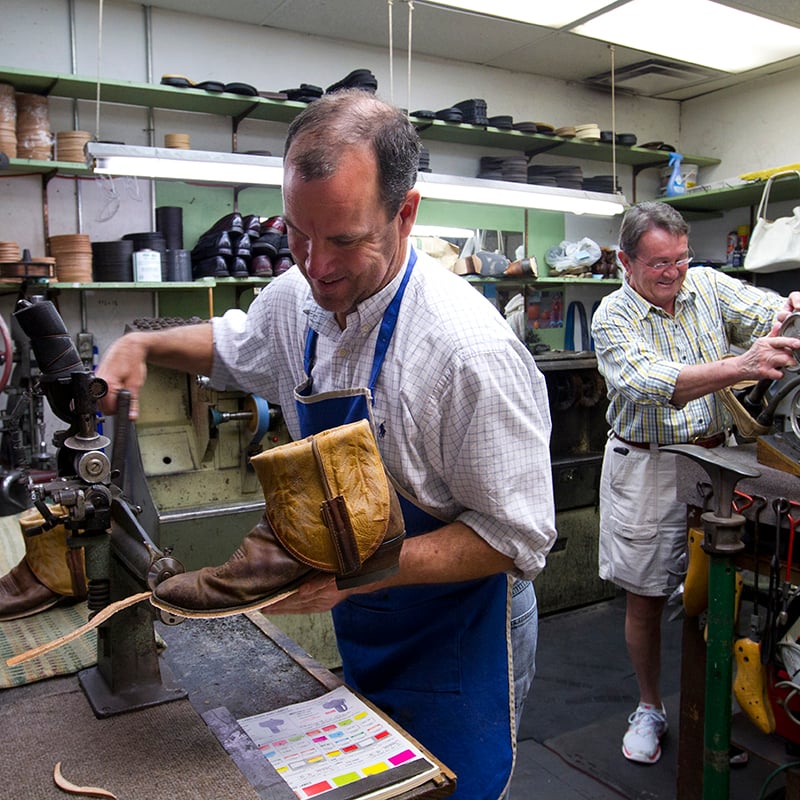 In the past, people purchased shoes from a cobbler — and then used his services to continually repair the shoes as needed. With judicious resoling, refinishing and minor repair, a single pair of shoes could last for a decade or longer. Not so anymore.
The cobbler is a vanishing tradesman. Shoes today are, for the most part, machine made, less expensive and of lesser quality. They're almost disposable, and most people replace their shoes rather than having them repaired or refurbished. Sixty years ago, there were some 70,000 cobblers in the United States. It's estimated that today only about 7,000 remain. Mass-produced shoes are driving the meticulous craft of hand-making one shoe at a time out of business. But it doesn't have to be so here. Tallahassee has The Cobbler's Shop, a leather and shoe repair business with a rich and rewarding history.
Bill Rayboun has owned and operated The Cobbler's Shop for the last 40 years. Presently located on Thomasville Road in the Duval Plaza, The Cobbler's Shop had its beginnings in the late 1930s when Melvin Thomas, an apprentice in a Macon, Ga. shoe repair store, learned the trade earning $5 a week plus room and board. During World War II, Thomas relocated to Tallahassee where he headed up the parachute shop at Dale Mabry Field. After the war he resumed his cobbling apprenticeship in a local shoe repair shop. Soon afterward, Thomas purchased an existing shoe repair business, changed the name, and in 1948 opened Thomas Shoe Service on the corner of Monroe Street and Fifth Avenue. It remained and flourished at that location for the next 23 years.
In 1958, Rayboun started his apprenticeship with Thomas under the Diversified Cooperative Training (DCT) Program offered while he attended Leon High School. Now known as the Business Entrepreneur (BE) Program, it was designed to give students on-the-job-training by allowing them to attend school part time and work part time. "I loved what I was doing, and I was learning a business," said Rayboun. "So in 1973 I bought the business outright, moved it on several occasions over the years and in 1988 made the final move to our present location." Now another changing of the guard is taking place. Enter Wray Pace, who has been training for about 12 months.
Pace, 40, learned of the business prospect from his close friend, Michael Rayboun, Bill's son, and decided to change vocations. "I saw this as an opportunity to learn the trade from the ground floor up," said Wray. "It was an established and staple-related business with a lot of history and consistency, so I saw an opportunity to continue and enhance the tradition and achieve some personal satisfaction at the same time. Lifestyles have changed, and there are fewer sustainable values in today's world than what our parents enjoyed. I saw this business as a throwback to what was 40 years ago by offering a service to customers and receiving, at the same time, instant gratification from the workmanship I could provide."
While there are several other shoe repair stores in Tallahassee, none offer the additional services available at The Cobbler's Shop, which include the general leather repair and refinishes on shoes, belts, handbags, luggage, baseball gloves, jackets and a variety of equestrian accessories such as saddles and horse blankets.
"I can remember two unique and unusual repair requests I had some years ago," remembered Rayboun. "One woman asked me to sew a combat boot zipper into her girdle, and another person asked me to make some shoes for his German shepherd. I never asked why. We also seem to stretch a lot of ladies' shoes for some reason. I guess it's because the ladies don't want to admit to large feet by purchasing larger shoes."