These Dog Treats Will Have Your Pup on Cloud K9
Here are the treats to choose when you want to spoil your Good Boy.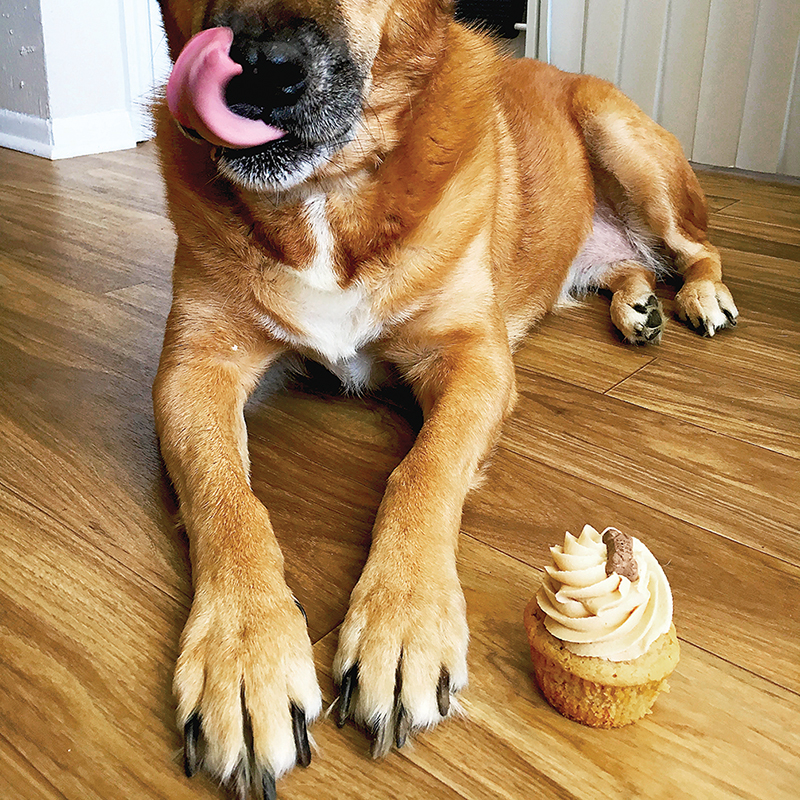 They cuddle with us when we're sad, give us kisses after a long day at work and, in return, they don't ask for much. Often, it appears that they are content with the bare necessities. But there comes a time when we must assuage our guilt, demonstrate our appreciation with more than a belly rub. We're anthropomorphic enough to believe that Fido would enjoy being pampered on occasion.
We've been cautioned, of course, to avoid giving dogs too much human food. Chocolate, especially, is said to be best avoided. But we need not limit ourselves to the kind of dog foods that come in 50-pound bags. We've got options, including many made available by local pet stores. Finding locally produced treats, however, is a little bit tricky.
Upon entering Naturally Healthy Pet on Thomasville Road in Tallahassee, I was immediately drawn to a display case filled with intricately designed dog biscuits shaped like pizzas, hotdogs and other people foods. I was overtaken by a desire to adopt a dog, just to have the opportunity to feed it these cute little treats. But, while I thought they might be local products, they had been shipped in from out-of-state companies.
"We tried finding someone local who made treats," said storeowner Basil Cousins, "and we found one woman, but she made organic treats that required refrigeration and had a short shelf-life, and unfortunately, that doesn't work for us."
Other pet store owners in the area agreed that the shelf-life issue is an impediment to stocking treats fresh from local bakeries. (Is the half-life of a dog treat somehow shorter than that of a Krispy Kreme doughnut? It seems so.)
"We are interested in finding someone locally who could make us treats, but it just hasn't worked out," said Cousins.
Buying from a display case of goodies like the one at Naturally Healthy Pet remains a great way to treat your pet and support your local pet store. Manufacturers including Claudia's K9 Cuisine and Pawsitively Gourmet create treats with your furry friend (as well as your Instagram account) in mind. From lattes to burgers, your pet will be on Cloud K9. And, as a bonus, the store carries cake mix and ice cream mix from a brand called Puppy Cake, so your pet can indulge in sweets with you.
But in Tallahassee, it's not just pet stores that provide tasty treats for our canine companions. Are you a coffee lover and a dog owner? You're in luck. The Powerplant Café Energized by Catalina Café has partnered with The Edison restaurant to bring your dog homemade dog biscuits. So the next time you go for coffee and pastries with friends, be sure to include man's best friend.
For those pet owners who just have to spoil their dogs with sugary sweets, Lucy & Leo's Cupcakery on Thomasville Road gives locals the option to custom order specialty "pupcakes." These delectable doggy treats come in a standard cupcake size for larger dogs as well as bite-size morsels for smaller dogs. Call, email or stop into the store to place your order 24 hours before you need the pupcakes. And, don't forget to get a photo of your dog's face as it lights up with excitement at the sight of its sugary surprise.