Closing in on a Cure
Tallahassee family spurs dystonia research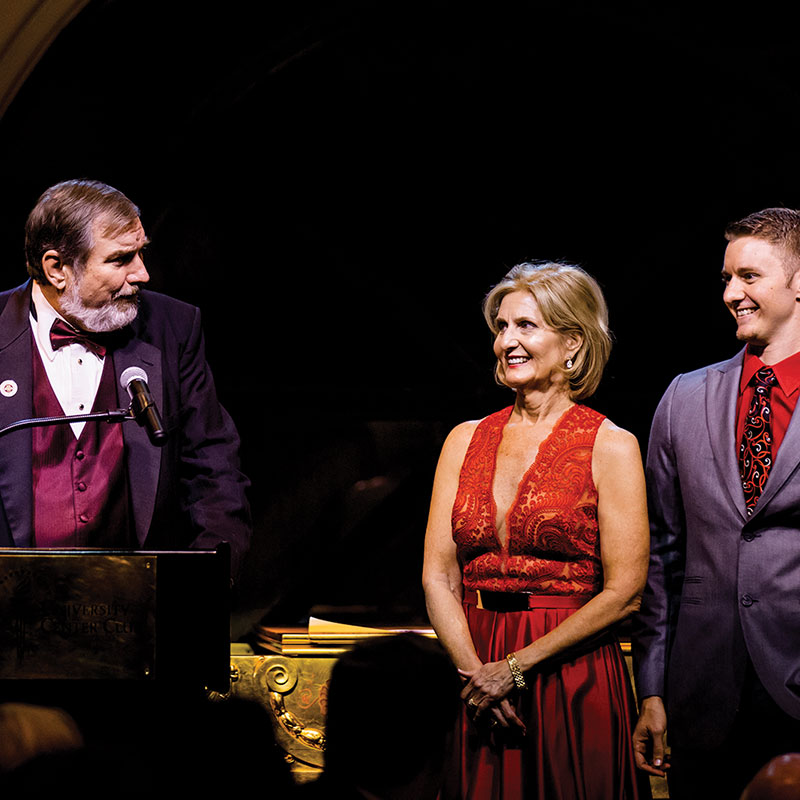 Stefanie and Erwin Jackson's son, Brian, was diagnosed with dystonia at age 15. For years thereafter, Brian tried multiple medications and procedures in hopes that something would relieve his pain. Finally, deep brain stimulation surgery alleviated his symptoms, and the Jackson family dedicated itself to working to ensure that no one would have to go through what their son experienced.
Although Brian's case had a positive outcome, it's not the same with every patient.
"We want to show our appreciation for what we're enjoying by trying to find an ultimate cure," Erwin Jackson said. The Jacksons' donation of $1 million to the FSU College of Medicine established the Brian Jackson Dystonia Research and Discovery Program in 2013.
The Center for Brain Repair at the university is working with Tallahassee Memorial Hospital in an effort to find a reliable cure. The program also provides education to students about dystonia, as well as hands-on experience with technologies related to neurobiology, behavior, neurogenetics, stem cell biology and clinical neurology.
The leader of the Center for Brain Repair, Dr. Pradeep Bideh, introduced himself to the Jackson family as someone who had long been doing research on the disease. He was on the team that discovered the first dystonia gene, and it seemed that fate dictated that he would be here in Tallahassee, working at Florida State.
Bideh told the Jacksons that he and others were setting up a dystonia program and asked if they would be willing to help. Of course, they were happy to join Dr. Bideh's efforts.
"We're helping educate physicians in this town. We had the right school, the right location, the right person," Erwin Jackson said.
The Jackson family is optimistic about the future and are pleased to know that their donation is serving as a source of encouragement to local doctors, training physicians and researchers.
"One of the messages I always try to reiterate is that progress always results from very bright people saying, 'What can we discover, what can we do?'" Stefanie Jackson said.
"A big breakthrough is on the horizon. There's something happening in Tallahassee, Florida, that is driving that research and that is so gratifying."
About Dystonia
Dystonia is a neurological disorder that causes painful, involuntary muscle contractions. Symptoms usually begin early, but can also start during adulthood. The cause of dystonia is not clearly known to doctors and scientists, but researchers believe it comes from an abnormality in the basal ganglia — a group of structures in the brain that control coordination and movement. There are several different classifications of the disease and symptoms can occur in different parts of the body.
Generalized dystonia affects most or all of the body
Focal dystonia is specific to a single part of the body
Multifocal dystonia involves two or more unrelated body parts.
Segmental dystonia involves two or more adjacent parts of the body.
Hemidystonia affects the arm and leg on the same side of the body.
Botox injections can aid in preventing muscle contractions by blocking a chemical in the body called acetylcholine. Other treatments include medications that help control specific chemicals related to muscle movements, as well as deep brain simulation.