Classy and Elegant Weddings Making a Comeback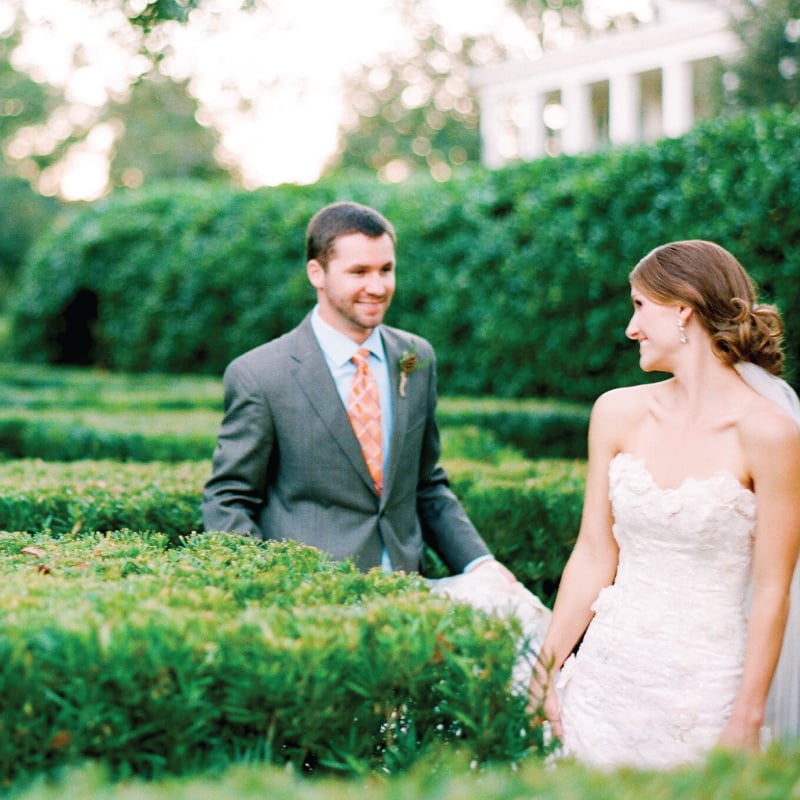 This season's avant-garde wedding is all about grace, lace and lots of leisure. Experts say elements of vintage romanticism and a sense of comfortable refinement are beginning to sink in with many of Tallahassee's betrothed, coming to life in all aspects of the planning process, from décor to delectables.
The cornerstone of this up-and-coming look is effortless glamor and remembering that, sometimes, less really can be more. It's a style that complements the natural elements of Tallahassee's terrain as well as the laidback demeanor of its inhabitants.
In other words, it's absolutely elegant. And according to local wedding professionals, that's a style that always translates well into future trends.
"I think that you can have a classic wedding, that you look back in 10, 20, 30 years, and it looks timeless," said John Gandy of John Gandy Events. "And I think that's what a lot of brides are going for right now."
Things haven't always been so simple. The switch to classic from quirky came right around the time the U.S. economy went belly-up, taking all expenditures of lavishness with it.
Necessary financial cutbacks meant, as far as the wedding planning industry was concerned, things would have to change. Unreasonably priced cakes were quickly replaced with more affordable (and adorable) cupcakes, extravagant centerpieces were streamlined and "themed" weddings, at least in their traditional sense, became a thing of the past.
"I had one father who came to me and said, 'Look, my stocks are doing horrible; I don't have the money I thought I was going to have for my daughter's wedding. But we're still going to do the best we can, and we want it to be an amazing wedding,'" said Gandy. "So, had that daughter gotten married seven years ago, it would have been a totally different event."
Today, weddings are less cluttered. For the bride in search of timelessness, designers are pushing muted hues, textured linens and romantic lighting. Keeping colors subdued allows the integrity of floral arrangements and accents to speak for themselves, giving the event's ambiance a light and airy feel.
To increase intimacy, furniture rentals are also on the rise. Strategically placed, vintage-inspired pieces permit conversation and enhance the mood and style of the ceremony and, perhaps more importantly, the reception.
According to Gandy, the act of bringing sofas, chairs and other conversation pieces into the seating arrangement is as much about creating a visually dynamic layout as it is about making people feel at ease.
"Couples want to make it more homey and more interesting," he said. "You don't want to walk into a room and see 20 round tables with white linens and the same centerpiece."
Mixing and matching shapes and textures creates the perfect balance of unique and tasteful. Some venues, including SouthWood Golf Club, offer a limited amount of staging furniture included in their price. Smart couples know to maximize their venue's existing elements before splurging on big purchases.
"The more mature a bride is, the less likely she is to over-adorn the place," said Beth Murphy, general manager of SouthWood Golf Club.
Places like Pebble Hill Plantation and Goodwood Museum & Gardens are filled with organic elements that can play into the theme of a wedding. Having the opportunity to incorporate nature is one of the biggest benefits of getting married in the South.
And as far as natural beauty is concerned, not many locales can beat our region on charm: Wispy oak trees? Check. Temperate climate? Got it. Historic backdrop? Yep, that too.
But it's not enough just to have great aspects in a venue; you have to know how to use them.
"They have things like chandeliers in trees now," said Kay Meyer of Kay Meyer Photography. "It's not over the top, but it's just such a special touch that's so unique to our area. Things like that make the event just beautiful, and it certainly makes for a great photograph."
For couples looking for a more contemporary vibe, Amanda Morrison, conference, services and events manager at Hotel Duval, knows just the place.
"We definitely love to do weddings that are boutique-chic with a more modern and contemporary look," she said. "As far as color trends are concerned, we've been seeing a lot of metal tones, and that tends to look really great in our space."
Venues and styles may differ, but every event needs an element of food somewhere in its midst. While plated dinners are the status quo of elegance, they're not the only option. Filling stations, or glorified buffets, are becoming increasingly popular. Scaling back to a night filled with heavy hors d'oeuvres and handcrafted cocktails is also a possibility for a couple looking for a party-like atmosphere.
Karen Chapman, owner of Klassic Katering, said that as of late, there's yet another option on the table for couples wanting to maintain a sense of formality without breaking the bank.
And the result is pretty delicious.
"If they can't decide if they want a buffet or to go plated, family-style is a great option," said Chapman. "That way, guests are seated, we use servers provided with oversized platters of foods that are just wonderful — very much like they do in Italy — and it's passed to each person at the table."
In general, the rule of thumb is to select your venue first, then fit your dress or gown to its backdrop.
According to Kristen Vocelle Barstow, owner of Vocelles, the bridal shoppe, things aren't quite as stuffy as they use to be. While her personal philosophy for bridal couture may be "the only rule is that there are no rules," she's still entitled to play favorites.
And right now, that means lace, lace and more lace.
"Lace is huge right now, and I think it's going to be in style for a while," said Vocelle Barstow. "Brides just love it; it's a little different and very flattering. Especially in Tallahassee with all the outdoor, plantation-style venues filled with oak trees. Lace works really well with those kind of natural elements."
Wedding Inspiration
Outdoorsy touches
Outdoor celebrations present a great opportunity for unique touches — like this quirky serving detail. Here, a canoe is used to chill drinks for an outdoor reception.
Ride away in style
Along with this year's return to elegance, film director Baz Lurhmann has secured 2013 as the year of Gatsby style. In honor of this trend, why not incorporate a bit of wild decadence in your own wedding with a classic car to whisk bride and groom away? The car pictured above is one of many classics available from A Bride's Ride.
Add a little photo fun
For a more lighthearted reception, offer guests some fun — Photo Fun. A photo booth in the reception space allows guests and party members (and, of course, the couple) to dress up and cut loose, while sending everyone home with mementos to remember the special day.
A modern wedding
Some couples prefer a more modern form of elegance over the ornate, softer looks that often characterize Southern traditional wedding style. Those couples might opt for venues like Hotel Duval as the setting for an edgier, more modern wedding and/or reception.
Family-style dining
Instead of the traditional sit-down or buffet dinner, why not try out family-style dining? Karen Chapman, owner of Klassic Katering, points out this growing trend is perfect for the rehearsal dinner, where close friends and family gather after a long day. Unwind with the people you love most, and let the good (read: yummy) times roll.
Keeping it casual
If formality is not your style, why not go for quirky? Try using food trucks as vendors for the reception, rather than traditional catering. Heavy hors d'oeuvres served at a casual outdoor reception will make your wedding uniquely, deliciously memorable. Tallahassee has plenty of options when it comes to food truck cuisine, including Big Easy Snowballs, Fired Up Pizza Truck, Lasang Pinoy Philippine cuisine, Tacos Gringos, and the Lucy and Leo's cupcake trailer.
Personalized touches
A sweet way to remember the reception's sweetest moments — from the champagne toast to the first bite of cake — is to invest in personalized touches, like forks engraved with the wedding date, or etched champagne glasses.
Compiled by Laura Bradley and Chay Baxley