Chuck's is Catching On
Downtown Tallahassee seafood restaurant has a philanthropic side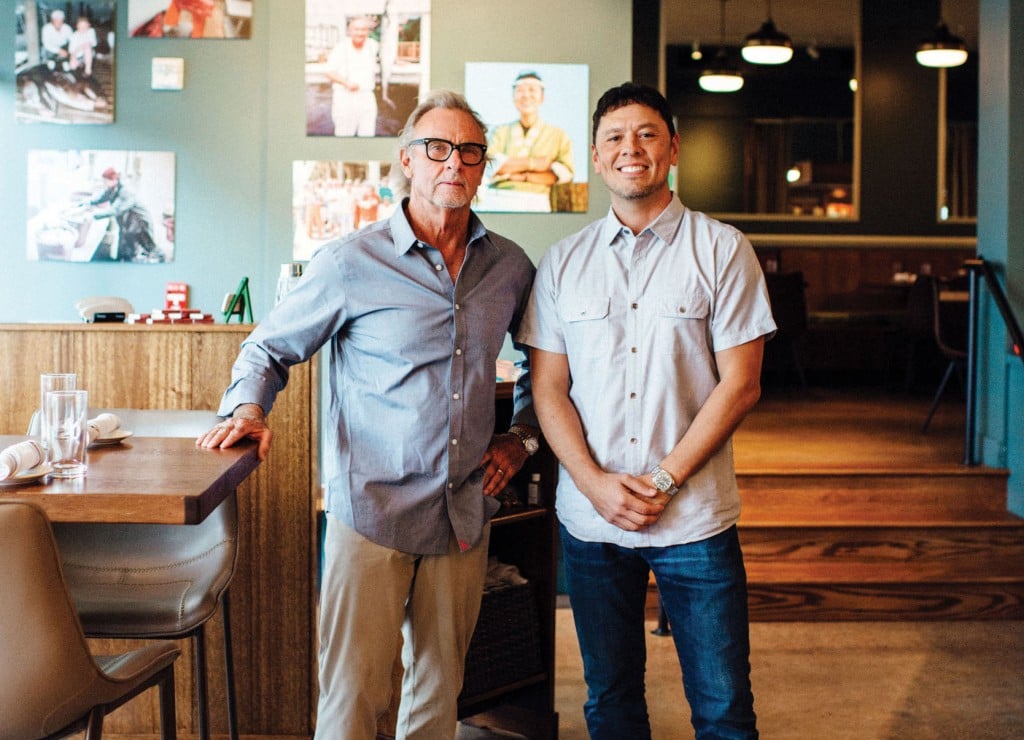 Charles Morgan III was just a boy when he started catching bream and largemouth bass in the creeks of Birmingham, Alabama. He pursued higher education, but even as an adult, Morgan was still a fisherman at heart.
"I grew up loving fishing," said Morgan, founder of the seafood restaurant Chuck's Fish. "I got a master's degree in American studies in 1977, but the job market wasn't really there. The first thing I did was get a captain's license."
Then, 42 years ago, Morgan launched the Destin seafood market, Harbor Docks, which started as a beer and oyster shack and a hangout for local fishermen.
"As I got older, I liked the camaraderie of fishing," he said. "Everybody that I admired and wanted to be around in Destin was a fisherman."
Harbor Docks grew with the area, evolving into a full-fledged restaurant as well as a seafood market. Then in 2006, Morgan opened the first Chuck's Fish restaurant in Tuscaloosa, Alabama, to showcase Gulf seafood. Birmingham was next, followed by Mobile and Athens, Georgia.
Morgan opened his fifth location in downtown Tallahassee in the summer of 2020 with partner Cris Eddings, and his mother, acclaimed sushi chef Yoshi Eddings, who learned the art of making sushi at her parents' restaurant in Tokyo. In the U.S., aside from teaming up with Harbor Docks and Chuck's Fish for more than 20 years, she catered on film sets, preparing sushi for actors such as Tom Hanks, Bill Murray, Danny Glover and Sharon Stone.
The Tallahassee Chuck's is gaining recognition for its stellar sushi, fresh-catch seafood and laid-back happy hour, with plenty of space for outdoor dining on the patio and deck.
"We're finding our way downtown," said Morgan. "We're not in a highly visible location, but we are downtown people. If there's anything to stimulate downtown growth, we'll do that."
Chuck's Fish, located on College Avenue, is indeed in a challenging spot that's been a bit of a revolving door in recent years. It was home to Deck Pizza Pub, Southern Public House and Tucker Dukes. Po' Boys Creole Cafe called the space home for nearly 20 years before closing in 2013.
To make matters more difficult, Chuck's opened during the pandemic at a time when many restaurants in the city were struggling or closing.
"It's a strange time to operate a restaurant, but we are patient," said Morgan. "We intend to be here for a long, long time."
But Morgan isn't afraid of a challenge. He opened his second Chuck's in Birmingham, a city that wasn't always kind to his family, especially his father, a Birmingham native who became a respected civil rights attorney.
Charles Morgan, nicknamed Chuck, gained national prominence following the 1963 bombing of his hometown's 16th Street Baptist Church that killed four girls. The next day, a 33-year-old Morgan spoke out publicly about the bombing at a meeting with the Young Men's Business Club in Birmingham, criticizing the city's establishment for nurturing violence.
Morgan wrote about this period in his 1964 book, A Time To Speak, which is being reissued by the University of Alabama Press.
Chuck Morgan's statements that day in Birmingham led to death threats that caused him to leave Birmingham, taking his wife and only son to Atlanta.
Morgan took on several high-profile cases. One was his representation of Muhammad Ali when the legendary boxer, as a conscientious objector, refused induction into the U.S. Army during the Vietnam War.
Another case involved civil rights activist Julian Bond after he had been denied a seat in the Georgia legislature because of his anti-war views. Bond later became the godfather to Charles Morgan's youngest daughter.
"My dad was with Martin Luther King Jr. the day before he was killed," said Morgan, who serves on the board of a nonprofit organization called The Morgan Project, named after his father. The group was founded in Birmingham after the killing of George Floyd to implement programs to combat racism.
"I'm so proud of him," Morgan said of his father. "There aren't too many restaurants named after civil rights activists. We have that market to ourselves."
Despite the name, Chuck Morgan wasn't exactly an experienced angler.
"My dad and Julian Bond won a fishing tournament and people said, 'Oh, your dad was a fisherman.' But that's Chuck's Fish right there," said Morgan, referring to an old picture of his father with a 30-pound king mackerel caught in Destin in the 1980s. "That's about his only fish, but it was a good one.'"
Customers will find lots of good fish on the menu at the restaurant, including grouper, red snapper, amberjack, triggerfish and shrimp from the Gulf.
Morgan works with more than 100 boats, including many owned by Harbor Docks.
"There's absolutely no way I'd run a seafood restaurant if we didn't own our own wholesale market," he said. "The seafood industry is unbelievably volatile when it comes to what's available and what it costs. Just look at the price of crab this year."
Seafood distributors say prices for crabs have skyrocketed as much as 50 percent.
Chuck's still uses crab meat in dishes like Gulf Fish Parmadine, a customer favorite, which adds toppings of Parmesan and toasted almonds. I've had the dish with red snapper and grouper, and it was excellent each time — the fish juicy and perfectly cooked.
Seafood dishes and other entrees, priced from $15 to $38 or market price, include fried shrimp, seafood pasta and surf 'n' turf (a 6-ounce filet and scallops or stuffed shrimp) and the catch of the day grilled, bronzed or sautéed. If you're more of a meat eater, there's also chicken scaloppine with gnocchi, ribeye steaks and a cheeseburger.
Diners can graze at Chuck's with appetizers that include spring rolls, fried oysters, seafood gumbo, baked avocado and kimchi Brussels plus salads.
Aside from getting fish from Destin anglers, Chuck's is a fan of Southern Seafood.
"We've worked with them for many years before we opened Chuck's in Tallahassee," Morgan said. "Sometimes they have fish we don't have access to. They do more in Panacea and Apalachicola than we do."
The restaurant uses local tuna for sushi but gets other ingredients for sushi from the Pacific. Chuck's extensive sushi menu includes salmon, eel and yellowtail. Rolls have colorful names like the Red Dragon, made with soft shell crab; the Panhandle, made with yellowtail; and even the Philly, which combines smoked salmon and cream cheese.
Also on the sushi menu: nigiri and sashimi along with tuna poké, edamame, squid salad and other appetizers.
For dessert, we have devoured the white chocolate bread pudding, but you'll also find cheesecake and a brownie sundae. The full bar features fun cocktails, local craft beers and sake.
Chuck's added, but then dropped, lunch and brunch. Morgan plans to resume lunch in early 2022.
"We're glad we're open for dinner six days a week," said Morgan, who plans to open a sixth Chuck's, to be located in Montgomery, Alabama, in January 2022. "Some places can't do that."
It's not surprising that Chuck's Fish has a humanitarian mission along with its commercial enterprise. At all its locations, Chuck's operates nonprofit food trucks called American Lunch that bring free meals to hard-hit communities.
The American Lunch truck serves different areas of Tallahassee on Mondays, Wednesdays and Fridays. All of Morgan's restaurants donate a portion of sales to the American Lunch program. The trucks usually stop at local churches (see americanlunch.org).
"In Tuscaloosa, we stop at the courthouse because there are a lot of poor folks at the courthouse," said Morgan. "We feed them and judges and attorneys. The judges and attorneys are usually generous enough to drop money in the bucket.
"But there are no questions asked," said Morgan. "We feed everybody."
Chuck's Fish
224 E. College Ave., (850) 597-7506, Chucksfish.com.
Open for dining in or curbside takeout: 5–10 p.m. Monday through Thursday, 5–11 p.m. Friday and Saturday. Happy hour, 4–6 p.m., Monday through Friday, (bar and sushi available).