Christmases Past
A look at Tallahassee's traditions through the years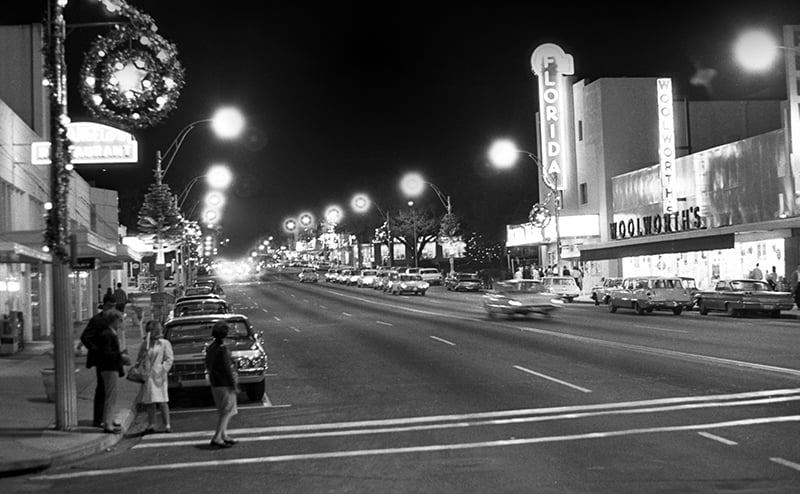 From grand parties spilling over with eggnog and honey ham to children huddled under the covers, feigning sleep and listening for hooves overhead, Christmas traditions are as varied as those who celebrate the yuletide holiday.
As families grow, so do their traditions. Some fall by the wayside, and some shift to accommodate changing times while others become woven into the fabric of family life. This dynamic is equally true for large communities.
Tallahassee has a history of Christmas celebrations dating back to the first European exploration of the continent. Historians have long believed that the Apalachee town of Anhaica, now known as Tallahassee, was the site of the first Christmas celebration in the modern-day United States. In the winter of 1539, Spanish conquistador Hernando de Soto and his expedition party are thought to have camped in Anhaica, where they likely observed a solemn Catholic Christmas amid conflict with native tribes, according to the Florida Division of Historical Resources.
Tallahassee's modern history is marked by more familiar and festive Christmas celebrations. Wreaths, lights and letters to Santa remain hallmarks of the holiday season as they have for many decades. Still, the Capital City has changed a great deal over the last century, a fact that many long-time Tallahasseans know firsthand.
David Chapman, former director of the city parks and recreation department, is a lifelong resident of the city. Born here in 1952, he has witnessed Tallahassee grow from the small town of his boyhood into the bustling metropolis of 2022.
Midcentury Tallahassee was a much different place, Chapman said. Where lobby offices and government buildings dominate today, numerous department stores once lined
the downtown streets. During the Christmas holidays, Chapman's parents would take him and his sister for a wide-eyed stroll past the large, festive store windows as a special treat.
"It wasn't quite like New York City, but in a way, it was," he said. "All the downtown merchants did window displays during Christmastime. It was kind of interesting because most of the downtown merchants were Jewish. We had a Mendelson's and a Turner's. They all had Santas outside."
Chapman recalled that the city also placed simple, classic Christmas decorations — little wreaths and tinsel — on downtown lampposts.
"Then they strung big, old multicolored lights across one section of Monroe Street between College and Park," he said. "It was a big deal back then!"
Soon, however, the downtown shopping district gave way to Northwoods Mall, the first of its kind in the city, and Tallahassee began to melt into the surrounding area. Stand-alone department stores moved into the city's growing number of shopping malls, and as they left, the downtown Christmas merriment began to wane.
Chapman started working part time for the city's recreation department in 1972. He was 20 years old, and many of his childhood Christmas traditions were long gone, so he helped find new ways for Tallahassee to spread holiday cheer.
"One of my first jobs was to help out with Santa calling," Chapman said. "They still do this! Parents would fill out forms for their kids under a certain age, and then they got a call from Santa Claus on a night about a month before Christmas."
Together with volunteers from civic clubs around town, the city made hundreds of calls from the "North Pole" to eager children across Leon County.
"Some of the wives would come in and act like Mrs. Claus or the operator at the North Pole, and then the guys would get on and do their best impression of Santa Claus," Chapman said. "It was really fun to talk to the kids, but you have to be careful what you say!"
The 1970s also welcomed the first appearance of Soul Santa. Then-director of the parks and recreation department LeVerne Payne proposed that the Santa impersonator who would visit Tallahassee's community centers during the holiday season ought to look more like the children coming to sit on his lap. He also suggested that Santa arrive in style.
"The majority of our community centers, going back to the '50s when they were built, are in predominantly black neighborhoods," Chapman said. "Every year, Soul Santa would arrive either by the sheriff's helicopter or by a Tallahassee fire truck. They would get local merchants and citizens to donate bicycles, dolls, whatever kids wanted. They would have enough presents wrapped and ready for Santa Claus to give something nice to every kid."
Soul Santa proved to be a hit and still makes the rounds today. He even makes a special visit to the LeVerne F. Payne Community Center, named in honor of Payne's many contributions to the Tallahassee community.
"Then along came the Winter Festival," Chapman said. "We had two great commissioners, Betty Harley and Steve Meisburg, who wanted to do something nice for the community, so they came up with this idea of having a winter celebration — not a Christmas celebration — that would encompass music and the arts and a celebration downtown."
The first Winter Festival was held in 1986, and the tradition continues today. Over the years, the event has grown into an all-day celebration to rival Springtime Tallahassee. The festival features a massive parade, dozens of vendors, five music stages and a family fun run that draws thousands of people out into the streets.
---
Traditions Continue
Photos courtesy of City of Tallahassee (Events)
Winter Festival
Saturday, December 3, 2022 • 3–10 p.m. • Downtown
---
Elf Night
Premiering Thanksgiving evening and running nightly through the New Year (weather permitting) • 6–11 p.m. weekdays • 5:30–11 p.m. weekends • Dorothy B. Oven Park
---
Holiday Stroll at Cascades Park
Saturday, December 10, 2022 • 6–8 p.m. • Cascades Park
---
Soul Santa Drive-through Event
LeVerne Payne Community Center, December 16, 2022 • Walker-Ford Community Center and Smith-Williams Community Center, December 17, 2022
---
For more information, visit TalGov.com/parks/WinterEvents
---