Christmas in July
You Can Help Local Charities Long After the 'Season of Giving' Has Passed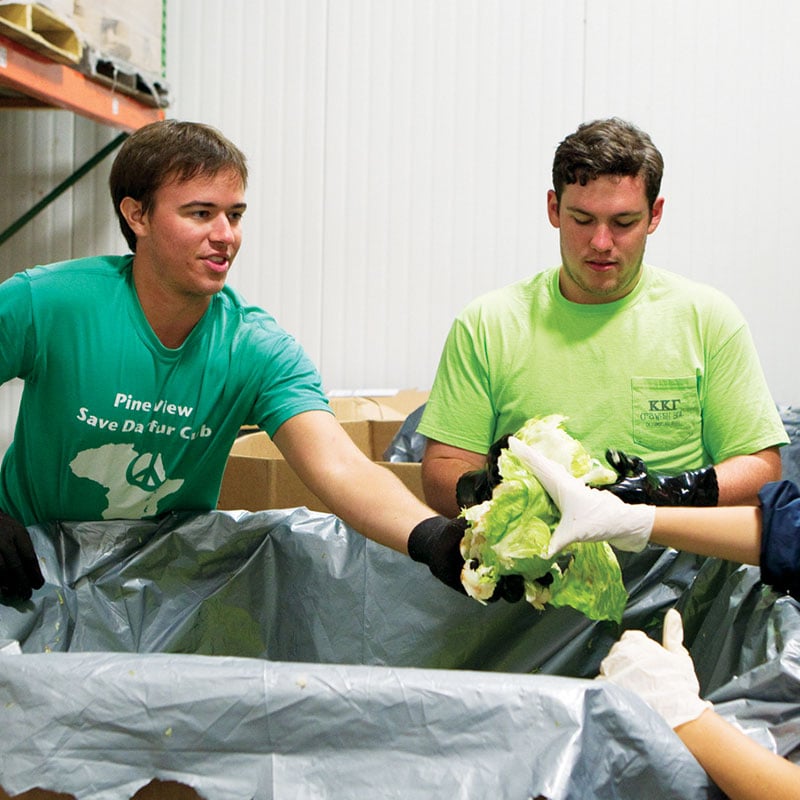 FSU student volunteers help sort lettuce in the cooler at America's Second Harvest of the Big Bend.
It's easy to remember to give help to the less fortunate during the holidays. However, many people forget about charities' needs from January through November. In Florida, and in Tallahassee in particular, the summer can be a trying season for nonprofit organizations. The heat, the end of the public school year and college students' mass exodus to their hometowns create a perfect storm of need for Leon County charities. If you live in Tallahassee year-round, there are a number of causes you can support with your time, your effort and your cash. Have a look — maybe you'll get inspired to celebrate Christmas in July.
---
America's Second Harvest of the Big Bend
Countywide, food distribution by this outpost of Feeding America has grown 88 percent over the past four years. Second Harvest distributed 7 million pounds of food to the community in 2014. Two national studies revealed that Tallahassee's food-insecure population grew by 9,300 individuals between 2010 and 2014. One-third of those individuals are children who rely on free breakfast and lunch at school to get by — and, of course, those options aren't as available in the summer. Second Harvest runs the Summer Food Program and the Backpack Program, which both provide nutritious meals for kids during the summer.
How You Can Help: Monetary donations are the best way to help out Second Harvest during any time of the year (fightinghunger.org). Thanks to corporate matching programs and its affiliation with Feeding America, they can stretch a $1 donation to pay for four meals. However, the food bank is always in need of volunteers to package and sort the food that it receives and purchases for the community. Again, many of its fall and spring volunteers are college students who go home for the summer, so any help during this time of year is appreciated.
2-1-1 Big Bend
Most of the trained volunteer counselors who run the phones at this crisis hotline are college students. Their help is appreciated, but when these young adults go home for summer break, it leaves a vacuum. "We have to spend more money on counselor employees during the summer," says the nonprofit's President Randy Nicklaus. "Parents call in asking where their kids can get a meal," he adds, alluding to the fact that 2-1-1 is part of the Summer Food Network. That connection makes the call center much busier during the summer than at any other time of the year, at a time when the volunteer population is small.
How You Can Help: Train to become a volunteer counselor — 2-1-1 Big Bend is especially looking for people who live in Tallahassee year-round. Giving a monetary donation (211bigbend.net/donate) to support the employment of paid counselors is also an option.
Refuge House
Meg Baldwin, executive director of Refuge House, says that the number of mothers with children at the charity's crisis housing spikes during the summer. "Many women hesitate to leave abusive situations when it means their child's school would be disrupted — lots of moms just hunker down and try to survive until the school year is over." Once moms and children — most of whom are between the ages of 2 and 10 — escape to the crisis shelters, staff give them new sheets, towels and pillows and may house them, give them therapy services and offer financial support.
How You Can Help: Refuge House is seeking new sheets and towels, new bras and women's underwear in all sizes, books and new art supplies for children, children's supplies such as diapers, and food donations. However, unless a particular in-kind donation is meaningful to you, Refuge House is most able to use monetary donations (refugehouse.com) to fill in its supply gaps.