Christian Mission Trips Build Relationships as They Spread the Gospel
The Great Commission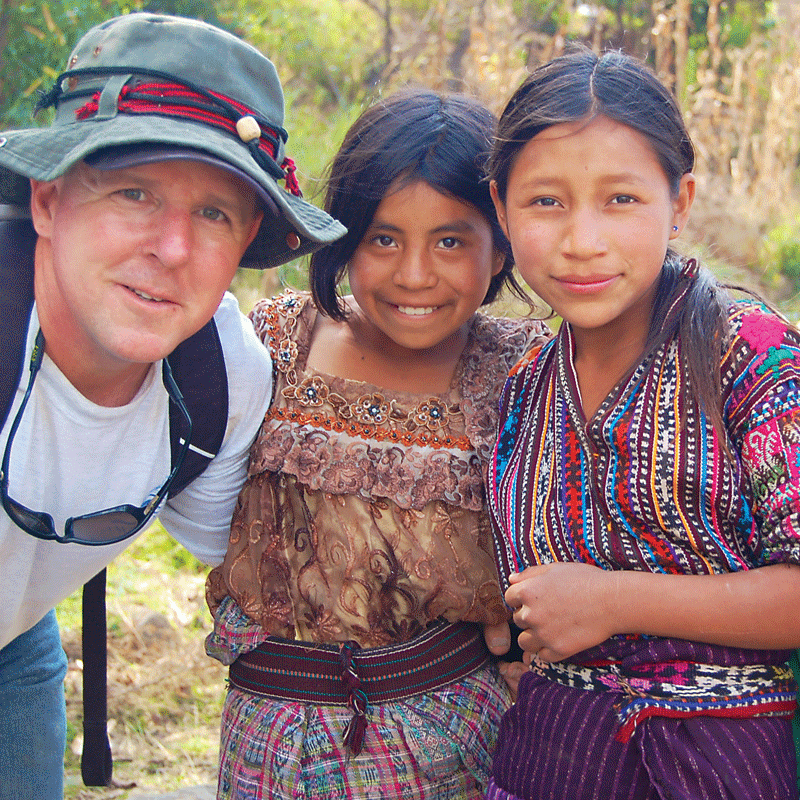 Bart Mitchell
Bart Mitchell with several of the local Guatemalan Children. This photo was taken by one of the children with his camera.
It's so easy to just look away. To pretend like it's not happening. To stand back and say, "Well, at least I don't have to live there." Well, that may be fine for some people, but for others, not so much. Many people feel a strong personal desire to help their fellow man — both physically and spiritually. Many thousands, if not millions, of caring individuals from all walks of life make the commitment to do just that in the form of mission work.
There are at least three different types of mission work today. One is strictly secular in nature, the most notable example being the Peace Corps. There are also medical missions such as Doctors Without Borders. The third, and perhaps oldest, form of missionary work is based on religious principles. For Christians, the ultimate purpose of a mission trip is to carry out the Great Commission set forth in Matthew 28, which describes Jesus' resurrection. Jesus says, "Go ye therefore, and teach all nations, baptizing them in the Name of the Father, and of the Son and of the Holy Ghost; Teaching them to observe all things whatsoever I have commanded you; and lo, I am with you always, even unto the end of the world."
In Tallahassee, several churches and volunteer ministries field mission expeditions to various parts of the world, although "domestic" missions are not uncommon. In either case the goal, according to Celebration Baptist Church's Heidi Stidham, is to create what she calls a "Godly ripple effect."
Bart Mitchell
Lake Atitlan (above) is the deepest lake in Central America (1,120 feet) and is located near Panajachel, Guatemala, where the group from Porch de Salomon stay; (below) Photo of construction site. All materials are carried in by hand, footers are dug by hand, concrete is mixed by hand and poured in five-gallon buckets.
"A positive and Godly ripple effect would be the greatest outcome of a mission trip — both for believers and for those who were on the receiving end of the mission work performed," said Stidham, the church's mission coordinator.
Celebration offers mission trips to Central America, the Alsace region of France, Nicaragua, West Shoa in Ethiopia, and Mumbai and Assam in India. Closer to home, a special youth ministry also goes to Mobile, Ala.
The role of modern mission work may appear simple — helping others — but it entails a lot of travel, hard work, courage and dedication.
Bart Mitchell, co-owner of Peter Mitchell Associates, knows too well what the hard work part involves. Mitchell has twice volunteered with Porch de Salomon, a faith-based and interdenominational Tallahassee ministry. This mission provides food and medicine, and builds simple houses in Panajachel, Guatemala. The work was not for the faint of heart. Just to construct a simple cinderblock building with a concrete floor involved carrying all the materials (rock, sand and aggregates) in five-gallon buckets, by hand, for almost a mile up and down switchback roads.
"We called it the 'Trail of Tears.' It was brutal," he said.
For the mission-going congregation of First Baptist Church of Tallahassee, mission trips are about providing leadership training, local short-term impact and encouragement, according to Senior Pastor William "Bill" Shiell.
"The biggest shift in mission trips that I've seen is a genuine desire to assist local people and make a difference," he said. "In the old days, groups would fly in, do whatever they wanted, return, show slides and do something different next year. Now the discussion is always about making a sustainable impact on the people that you are serving."
Shiell said approximately 100 people from his church go on missions every year and that the church supports two families who live overseas in Brazil and East Asia.
Killearn United Methodist supports ongoing missions in Asia, Guatemala, Cuba and Leon, Nicaragua. Dr. Judith Lewis, a physician with Southern Medical Group, has journeyed to Leon three times in recent years; twice as part of a medical mission and once with her family. She said the medical needs of these impoverished areas are staggering.
"We would do a clinic in each of four churches over the period of a week," she said. "When I do that, we'll see 75 people per doctor per day, which is easily three times what I see in the office. Last time I went we had four practitioners: myself, Dr. John P. Fogarty, the dean of the FSU College of Medicine who also goes to my church; Dr. David Miles, a retired urologist; and Linda Bianco, who is a nurse practitioner."
Celebration Baptist sends, on average, five people per overseas mission trip. "We try to take anywhere from five to 10 trips in a calendar year. Ethiopia is a destination that we send people to regularly," Stidham said. "Over the last five years, we have sent doctors to work in the local hospital, teachers to lead Bible studies, students to love and play with the children and, most recently, a water team to build a well."
The actual size of each mission contingent varies from church to church, but organizers said it's not a good idea having too many people go on each trip.
"These groups can be anywhere (in size) from two or three people to 40 people, but our mission director likes to bring about 15–25. You get over 25 people, it starts to get a little out of control," Lewis said. "You have to keep everybody doing something helpful."
Many Hands Needed
In explaining the role of modern-day mission work, Stidham said several roles are necessary, depending on the need. Some trips are very physical. In some cases, people need medical care, clean water or a functioning home. And there are trips centered around teaching and developing Christian leaders or leading people in worship and family-focused activities.
Celebration Baptist Church
A mission group from Celebration Baptist Church helped dig wells in Ethiopia.
"Each task is equally important," she said. "It is identifying the needs in each city that we minister in that makes a trip unique for the purpose of the glorification of God."
Shiell said his church's mission work involves working with the locals — whether abroad or in the United States — to do things for them that they could not get done with local resources.
"Usually this involves direct relationships with people, marketing, programming and encouragement," he said. "In Boston, we worked on college campuses for a church that is trying to reach college students. In Haiti, we work with local churches on projects that are important to them."
In either case, prepping for a mission trip often involves lots of planning, coordination of supplies and praying.
"Several weeks before a trip are spent praying and preparing to go," Stidham said. "The team knows what they are doing before they ever board the airplane. If it's building a well, they have materials ready to go on site before they even leave America. If they are spending a week with children, they have activities planned well in advance. When teams arrive at their destination, the ultimate objective is to be Christ-like in every situation. The reason we go is because of the hope we have as Christians to see people begin or renew a relationship with Jesus."
Team building, impacting local communities with the Gospel, building relationships and making a short-term difference all lend value to mission trip programs, Shiell said, adding, "Oftentimes, the participants in the trips become future leaders in our church. Sharing faith personally is a powerful catalyst in Christianity."
Bart Mitchell
A family poses (above) in front of their new home (below) in Panajachel.
Doing Good — For Yourself and Others
One of the greatest pleasures associated with mission work is getting a new perspective on the world that you might not have known otherwise. You also come to realize that despite overwhelming poverty and hardship, you can make a difference.
Mitchell said he learned that lesson well while working in Panajachel for the Porch de Saloman. The city is located on the shore of touristy and scenic Lake Atitlan, but the outlying communities are some of the most impoverished in the Western Hemisphere. Jobs are scarce, alcoholism rampant and homes are mere shanties in the dirt. Most of the men who can find work at all go to work in fertile volcanic fields, but everything is done by hand. It was here that Mitchell found his "starfish."
"I use the starfish analogy: A guy picks up a starfish on the beach and puts it back into the ocean, and another guy says, 'You can't save all the starfish,' and you're right, but I've saved this one," he said.
In this case, the life he saved belonged to a young man named Rosalio. They met in 2010 on Mitchell's first trip to Guatemala. The American missionaries were hauling in the buckets of construction material to build a house for one particular family, and Mitchell started to notice that one of the locals, a teenage boy, seemed to be hanging around and working longer than most.
"I noticed this guy was working so hard, and my Spanish is very poor, he had no English, but we still built a bond and realized that he was a son of the family whose house we were building," Mitchell said. "His father was an alcoholic and he had several siblings, but he was the oldest son of the family and he was essentially the father of the family."
It was a life-changing event for both men.
"Every year I ask how he's doing, and believe it or not, he has learned to do construction because all he knew was field work. He had stopped going to school, but he now works with the construction crews that help build these houses," Mitchell said. "This kid literally, in my opinion, was saved. He learned a trade that got him out of those fields. He's now married and looks like a million bucks. Every year we go down, the minute we see each other, there's a big hug. I mean, he's doing great. He's my starfish."
Stidham said these connections are why mission workers do what they do. "It is life-changing for a Christian from America to go on a mission trip for many reasons. First, you see a completely different way that people live, and you see it with compassion and a lack of judgment, something that may not come so naturally in everyday life," she said. "You see poverty, brokenness, pain and so many heartbreaking things. On the other hand, you see joy, thankfulness and community in a way that you don't know or experience in the richest country in the world."
Said Lewis, "You do feel like you're doing what God has called you to do, and you feel like you're helping somebody. But I think there's more to it than that because it's informative. We're learning about that culture, and so you learn what you can do to help them and what their issues are in a way that you couldn't know just from reading about it or seeing it on television."
Mission volunteers experience a range of emotions, because they are doing exactly what Christ has called them to do, Stidham said.
"They are loving people who need love. They are caring for people who have needs. They are spending time with people who are lonely," she said. "They are spending a week of their lives to completely, 100 percent focus on who Christ has called us to be. In the hustle and bustle of an average day, it's possible to put in the back of your mind what your purpose in being a follower of Jesus is."
Lewis said the volunteers benefit not only by accomplishing the Great Commission, but by learning from each other and realizing problems at home may not be as bad as once thought.
One thing that stands out the most in her mind is the memory of living conditions in that part of the world. Cardboard boxes, plastic swimming pools and other debris were often pressed into service as makeshift homes.
"It's unbelievable," Lewis said. "For the most part we don't see that in this country. It's pretty humbling to see what they're living in and consider what we live in. We also visited a landfill that's been closed. There are people there who used to make their living from the landfill by scavenging, and now they're just there with nothing to do because they closed the landfill. But they don't seem to know they can move. So we take them bags of food, and we have prayer with them and try to help them in any way we can. And I think that makes more of a difference for us than for them because we've only given them a week's worth of food, maybe, but that's the part that's life-changing, to just see what these people are dealing with."
Mitchell said that despite the fact that Panajachel is very scenic, the day-to-day struggle to survive is absolutely amazing.
"It was amazing how beautiful it was … and the soil is so fertile down there … but when you drive up there it's like going back in time," he said. "When you get to the job sites, and you go to the place where these people live … . Literally, where most (Americans) will put their push lawnmower and keep their paint cans, is nicer than what these people live in. To me, it's absolutely amazing that anyone can survive. How you can live to be 30 years old in those kinds of conditions is a miracle in itself."
Shiell said mission trips to Haiti — arguably the world's poorest nation — really makes a visitor take stock of things back home.
"In a poverty setting like Haiti, people return with greater appreciation for what they have and with a global worldview. They are willing to share their faith and serve more effectively back home," he said.
Mitchell said that the humanitarian aspect of mission work saves lives, just as evangelism saves souls.
"If you can give these people shelter, where when it rains all their stuff doesn't flood, you give them a wood fire stove they can cook on, give them some of the basic essentials to live … you know it gives them hope," he said.
One of the simpler things that the locals in Panajachel enjoyed receiving were used shoes. Shoes are a huge deal down there, Mitchell said. And so his wife and some friends started a shoe "ministry."
"We went through over 300 pairs of shoes in four days," he recalled. "Every day we came back there were another 30 or 40 people waiting to get their feet measured. The joy in these kids' eyes for a used pair of shoes — and it didn't matter if they were Crocs, loafers, tennis shoes, flip flops — I mean, it was like Christmas times a million. We probably touched the lives of well over 300 people the last time were down there."
Stidham said giving people "physical" needs are just as important as the spiritual ones. But fulfilling the spiritual needs are the main goal of many mission trips.
"We are able to provide things like medical care and clean water because of our members' area of expertise," she said. "More importantly, we are able to tell the people that we meet about Jesus — a living God that can provide them with spiritual security and healing."
Even though mission work is a commendable service to one's fellow man, it can still be emotionally daunting, and draining. Especially during your first trip, when the level of hunger and poverty staring you in the face can be overwhelming.
Bart Mitchell
The oldest son, Rosalio, who Bart Mitchell considers one of his "starfish," works to build their new living quarters.
"You're like, 'What can I do? I can't fix this.' You just feel lost," Lewis said. "But then when you start looking at it on a person-by-person level, and do something for this individual rather than try to treat the whole problem, then you start to realize that maybe you are making a little bit of a difference. Everybody that I know that's been down there, has one day the first time they go down there, where they're just like, 'I'm going home. You know, I can't deal with this.' But you can't go home right then, because you committed to the week, and by the time the week is over you kind of pass that and realize that good came out of this."
Not only that, but those who stick with the mission and tough it out find the personal rewards are wonderful, Stidham said.
"When you're on a trip like this, you're rejuvenated in your faith and you remember why you fell in love with God in the first place. A selfless act like a mission trip can completely change your outlook on the world you live in," Stidham said. "It can challenge you to be more conscientious of your day-to-day walk with Jesus — taking your faith and devotion to the Lord deeper."
Mitchell, who considers himself to be pretty grounded, found his trips very humbling. For him, his life was "re-set" by the transformative effect he's experienced.
"It makes you appreciate what you have, greatly. It's taught me some tolerance and patience. We are so fortunate to live in the country we live in and have the support system that we have here. I hope people realize how fortunate we Americans really have it here."
And now, he pays more attention to the plight of those around him at home in Tallahassee. Where once he might have passed by a hungry homeless person on a street corner, he now makes a point to stop and help if he can.
"I'll do what I can for them and hope that God will help them do the right thing," he said. "We also try to do as much as we can for various nonprofits and organizations here in town."