Chris Clark's New American Eatery and Dessert Room are the Next Additions to His Culinary Kingdom
Zin & Sin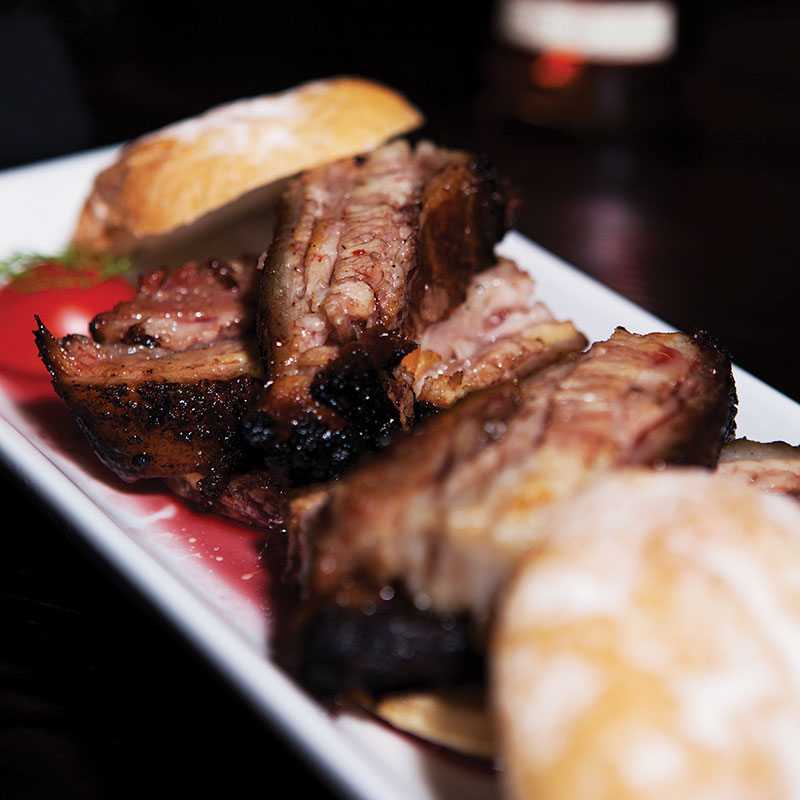 If you like good food and have been around Tallahassee at all over the past two decades, the name Chris Clark should ring a few bells.
A successful restaurateur and classically trained chef, Clark has repeatedly wowed Florida's capital city with his deliciously innovative concepts, ranging from the gastronomically avant-garde to the just-plain groovy.
Matt Burke
"This is what I do," smiled Clark, relaxing in a booth at his newest establishment, Zin. "I open places."
He's certainly right about that.
In the 1990s, Clark's initial project, The Cab Stand, debuted. Later came Café Cabernet and Deep Lounge. After a brief hiatus from Tallahassee, Clark returned from the big city (or cities — in this case, New York City and Washington, D.C.) with a new respect for urbanesque, upscale dining. And by 2010, his travels had inspired him to open the doors to Avenue Eat & Drink — a fine-dining establishment catering to downtown power players, not to mention a pretty happening Sunday brunch crowd.
It was a whirlwind, and for about four years, Avenue was more than enough to keep Clark completely occupied. Eventually, though, he realized something was missing from his culinary and professional repertoire.
"I wanted a second restaurant here in town that was a different price point compared to Avenue," Clark said. "Avenue is fine dining and a great restaurant with phenomenal food. But it's upper tier as far as pricing and product. I wanted something that was a little more price-aggressive so that we could appeal to a broader mass of customers."
His concept for Zin & Sin, now located on North Monroe Street, fit the bill perfectly.
"We call it an 'American eatery,'" Clark said about Zin, "so everything is classic American fare, as opposed to Avenue, which we call 'Southern fusion.' Here, we're a little more wide open and can diversify."
Pork Belly Sliders
Matt Burke
Of course, Sin, the highly anticipated petite dessert room connected to Zin, has its own allure. Reservations are required due to limited seating and a desire to keep the ambiance private. Sin is intimate with a dark, rich red-toned color scheme and decadent offerings such as the Prickly Pear Cobbler and the signature Red Velvet Ice Cream Sandwich.
Don't worry: If Sin is all booked up, dessert is also served in the main dining rooms — just without Sin's added punch of panache.
While the food and service came easy for Clark and his team, the renovation process took a bit of finesse. The space, which formerly housed Mockingbird Cafe, was completely reimagined and demolished down to the drywall.
The restaurant's two separate dining areas — including a private wine room and a full-service bar — as well as Sin, were expertly renovated by Clark with the guidance of his trusted designer and longtime friend, Laura Williams of L.A.W. Designs.
"When Chris first contacted me, all he told me is that he wanted American and that this venue was based on American food," Williams laughed. "I really didn't have much to go on, other than that he wanted some blue in there. Really, that was it. We just kind of put the pieces together.
Red Velvet Ice Cream Sandwich
Matt Burke
"If you were looking for a name for the concept or style, I'd call it 'vintage eclectic.'"
Named for red zinfandel, one of Clark's favorite wines, Zin's menu is completely original. Meticulously designed by Clark himself, and later tweaked by Chef Jud Wiard, Zin's kitchen prides itself on being a fresh and exciting mix of everything scrumptious: savory pork belly sliders, true Florida blue crab cakes and Cornish game hens, just to name a few.
"We have my mother's recipe for meatloaf on the menu," Clark said. "That's always one of my favorites."
It's the personal touches, patrons say, that make dining at Clark's establishments a real treat. According to customer Peper Willis, co-owner of the Old Willis Dairy Farm, where Clark has catered a number of banquet-style dinners, working and relaxing with Clark is a delicious experience.
And as for Zin? She's a big fan.
"When his food comes out," Willis said, "it's perfection. It's beautiful and it tastes great.
"When Chris says he's going to do something, he's going to come through with flying colors. He's so good. We've eaten at both of his restaurants — Avenue Eat & Drink as well as Zin. We've celebrated family occasions there, and he's made us feel so special. His personal attention to every single detail is unbelievable."
---
Zin & Sin
1225 N. Monroe St.
(850) 765-8851
zintallahassee.com
Monday–Thursday, 5–10 p.m.
Friday–Saturday, 5–11 p.m.
Sunday, Closed