Chopin, Bach, U2
Piano teacher finds magic in music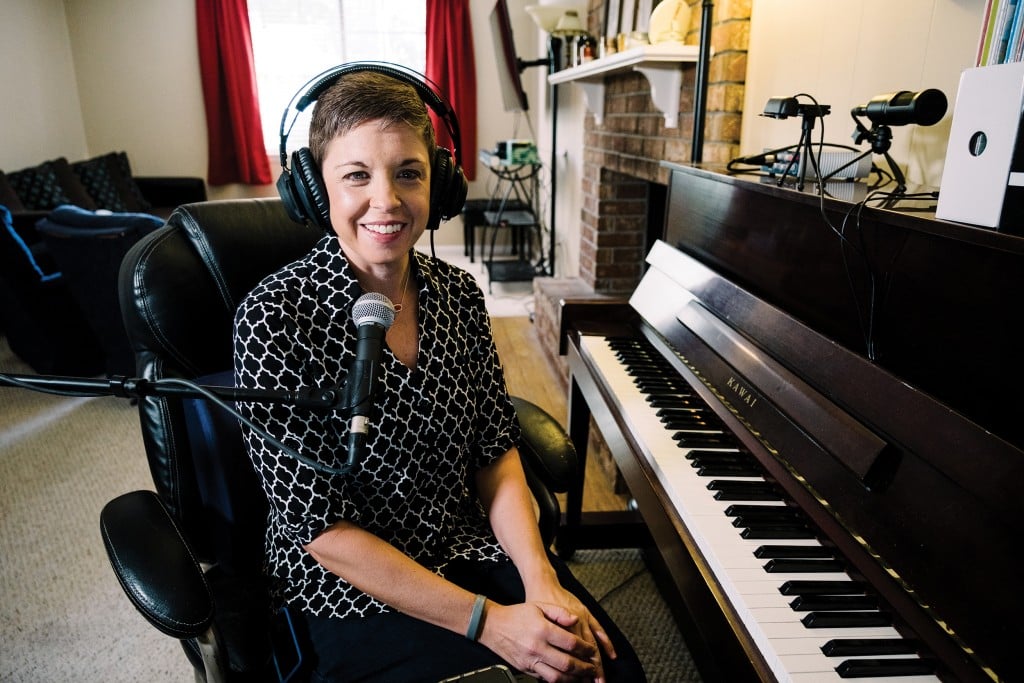 Brenda Degner is from Kansas, home to Dorothy who wore red shoes and happened upon a yellow brick road in a dream populated by Munchkins. For 4-year-old Brenda, that kind of magic happened not in the middle of fields of grain, but at a piano bench, beginning as soon as her fingers reached the keyboard.
The piano was a gloriously melodic whirlwind that would carry her from the Kansas plains to Chicago, and finally to North Florida where she shares her passion for music with others young and old.
A piano teacher, Degner is also the vice president of the Tallahassee Music Teachers Association, a chapter of a national organization. But she is, in many ways, much more than just these titles. She is a listener, a counselor, a muse and someone who makes long-held dreams come true — as hers have.
By age 8, Degner had graduated in Kansas from group to private piano lessons. In high school and in college, she also played the flute, but it was piano that always held her heart.
While studying piano pedagogy and performance at Trinity International University in Illinois, she developed a love of Chopin and Bach and adored choral music, along with, she softly giggles, occasionally rocking out to the band U2. Thus was born a teacher whose goal is to impart a love of music and an ability to understand its nuances. She delights in introducing others to the pleasures of music making.
Arriving in Tallahassee in 2016 when her husband's work brought the couple to Florida, Degner, who taught private lessons for 20 years in the Midwest, was eager to connect with students and other music teachers.
"The Music Teachers Association blew me away," she said of the 40-plus member group. "We constantly network and discuss teaching methods, and the presentations allow each of us to grow." Degner mentioned seminars on teaching students with autism and "How to Guide Students When Their Hands Grow."
"We also put on master classes with famous teachers for us to see how they handle students and what they emphasize in their music," she added.
Degner's curriculum might either thrill or intimidate a piano student, but all of it is necessary if a student is to become proficient: music theory, ear-training, music history and technique.
She admits that one of the challenges for beginning students is the need to practice. But, she said, "I've never heard an adult say they were glad when their mother let them stop taking piano." 
In fact, a number of Degner's students are adults. They wriggled out of that hour a day at the keyboard but now want to try again.
"One wanted to learn to play ragtime," she said. "Another adult wanted to play Elton John's music. And another woman with a history of early onset dementia in her family wanted to keep her brain active by learning to play."
Degner said that adults, college students and many high schoolers are self-motivated and progress quickly.
These days, the pandemic has made for a new way of teaching for Degner and others. In that, one of her sons, who is studying to be a sound engineer and knows a lot about computers, has been helpful.
Degner is equipped with a camera mounted beside her that shows both her face and her hands. A second camera above the piano displays just her fingers as they move along the keyboard.
"I can honestly say that my students are progressing just as well from their homes as they were before," she said.
Now, the only challenge she faces from the pandemic is from her other son, an FSU drummer, who practices at home "six hours a day" in the room beside hers. "Thank goodness for sound-proofing," she said.
Degner's wish for all piano students everywhere?
"I want them to enjoy the music, to grow from it. Music will let you express yourself and feel free."