Chop Barbershop Expands Its Style Beyond Tallahassee
At Chop you'll find not just color, culture and style but hair for all humanity.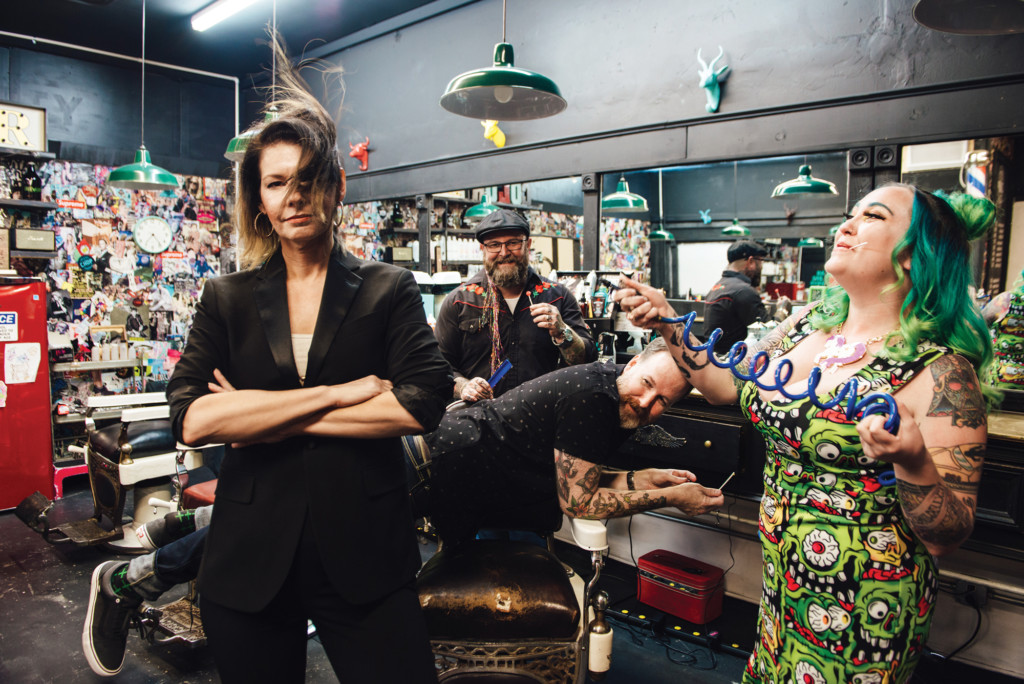 You might have missed the salon where Steve Bolinder cut hair for two decades in Tallahassee if no one pointed it out to you.
With no sign or website, and a clientele that grew via word of mouth, Bolinder had an "old school" way of doing business, according to his wife, Sarah — down to his paper appointment book.
Meanwhile, Katie Rainey said her husband had become a barber after a long career as an electrician. "He decided he was sick of it when our daughter was in high school," she said.
"He was tired of being hot and working in attics."
A few years ago, Danny Rainey had finished barber school and started working at a local shop when Steve Bolinder stopped in for a haircut.
That afternoon, the two old Tallahassee pals, friends from high school, started talking about the kind of barbershop they'd like to own. Bolinder "pretty much invited me to help start Chop," Danny Rainey said. "Steve and Sarah let us be part of their vision, allowed us to add to it and meld our styles with theirs."
Among its three barbershops, Chop today employs 30 or so barbers and cosmetologists who each practice their own unique and coveted look, led by a team of owners who exemplify a certain kind of bearded and tattooed cool (for the men) or artsy and colorful chic (for the women).
Gents, as Chop calls them, can get a "quickie," a "lumberjack" or various other styles. Ladies can choose among a "blowout," an "updo," or even a "multi-tonal mermaid," among others. And beer really cuts it here. Chop offers customers over 21 a brew along with their haircut, or a soda for those who don't drink.
"That family feel of the pub is there from the moment you walk in," said Sarah Bolinder, the company's chief executive.
Katie Rainey, who specializes in customer service, estimated that men make up 70 percent of Chop's clientele.
"Women get our nails done, and we get champagne or a glass of wine," she said, her hair dyed a blue-green ombre.
"We thought, 'Why aren't guys getting the same?'" Danny Rainey cites the barbershops of his youth and the fashion around car culture as inspirations. "I like the neat look, tapered on the sides, long on top like a pompadour," he said. "I like some of the more extreme Mohawks."
Chop has grown faster than either the Bolinders or Raineys might have expected at that first meeting years ago over drinks.
The first store, in Midtown, opened in 2015. A three-chair version opened in Railroad Square a year later.
Then came a large shop in Killearn. They have since relocated the Midtown store and Railroad Square location to bigger digs in order to meet the demand.
In Chop's first year, Sarah Bolinder worked full-time as a lawyer while running the business as general manager.
She calls her style a mix of "Nicole Kidman for dressing up and Joanna Gaines for kicking around town."
Among other duties, she set up Chop's online bookings and devised much of the company's social marketing. She transitioned into the role of chief executive to help the company prepare for the next wave: Chop seeks to franchise its brand.
As part of that process, the Bolinders and Raineys and their management team met over the summer to write out the core values that have formed the company's culture.
"One of our values is hair for all humanity," Sarah said. "Anybody from any culture, background or gender should be able to come into our shop and get a great cut for a good price."
She added: "We offer things here that barbers don't usually get, like half their health insurance paid, a retirement savings plan starting after two years, a week's paid vacation. Our goal is to share that love beyond Tallahassee."
Her husband noted that the company's barbers and cosmetologists are trendsetters.
"There are bartenders in this town who obviously come in here to get their hair done," he said. "They look to see what our guys are doing with their hair."
Steve Bolinder said he has seen his own interest in style revitalized. "When I first started, I'd been (cutting hair) for years," he said.
"A lot of people were asking me if I was going to retire. Now that our crew has grown, it's hard to get me away from the chair. There's a whole other fire lit."