Chiles' Journey of 1,000 Miles
How a Political Underdog Was Elected Senator 'Walkin' Lawton' Chiles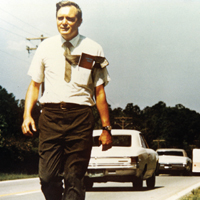 Photo courtesy State Archives of Florida, Florida Memory
A relative unknown, Lawton Chiles took a hike in 1970 that would propel him to the U.S. Senate.
It was the campaign that nearly wasn't.
Lawton Chiles had represented Polk County for 22 years in the Florida Legislature and in 1970 wanted to go to Washington as a U.S. senator. But he was barely known outside his central Florida district and the opposition would be formidable. He would be one of four candidates, including former Gov. Farris Bryant, vying for the Democratic nomination — and the others would have access to the kind of campaign money Chiles could only dream about.
The first major challenge was to convince friends and longtime supporters he could win the seat being vacated by his longtime political hero, Spessard Holland. Unable to raise the funds needed to hire a big staff and launch a statewide advertising campaign, he employed a strategy that had served him well in his legislative races, opting to walk across Florida and hope that free press and word-of-mouth would get him the support he needed. From Century, an Escambia County town near the Alabama line, Chiles embarked on a 1,003-mile journey that would earn him the nickname "Walkin' Lawton" — and a seat in the U.S. Senate.
Chiles died 14 years ago on Dec. 12, just three weeks before his second term as governor ended. At his funeral, former Georgia U.S. Sen. Sam Nunn reflected, 28 years later, on how Chiles spent his first day in Washington, wandering the city in awe. "And that night he sat on the steps of the Lincoln Memorial and wept tears of joy at a Florida cracker being given the opportunity to serve in the U.S. Senate."
The evolution of Chiles' decision to run for the Senate — and the reaction of his inner circle — is detailed in an authorized biography of Chiles, "Walkin' Lawton," authored by John DP Coggin and scheduled for release in November. Nunn wrote the introduction to the book.
Coggin said he learned of Chiles' walk across the state and his legendary boots when he moved to Orlando in 2004 to work on the League of Conservation Voters' project to elect John Kerry as president. "The story just had a natural drama to it that stuck with me," he recalled.
Research included reading reams of newspaper articles about the former senator and governor and reaching out to more than 100 friends, family and staff. "I also traveled all over the Panhandle to inspect every inch of the region that became such a spiritual home for Chiles," he said. "I took legions of photographs and logged thousands of miles on my car."
In this excerpt from the book, Coggin tells how Chiles shared his plan to walk the state with his campaign brain trust:
Chiles called together his inner circle to his Lakeland home on Lake Hollingsworth. A recent poll showed that only 12 percent of Florida voters had heard of him. How could the campaign vault its candidate into the imagination of 2.7 million voters with a two-person staff and an empty bank account? The group kicked around ideas all afternoon. Then Rhea returned to an idea proposed in 1966 when Lawton had contemplated running for governor. He could canvass the state on foot, county by county, town by town. The candidate said, "I've either got to give up, sell out to somebody, or go on the walk." Rhea, adamant that the campaign finish debt-free, worried for Lawton's safety on the highway, but smiled at the walk's serendipity.
Friend and future American Bar Associate President Chesterfield Smith called the plan "the most damn fool idea I ever heard of." College buddy Bill Skipper agreed. Bill Henry, another college classmate, advised against it: "How are you going to capture the imaginations of Floridians by putting on an old pair of boots and looking like a country hick?" Burke Kibler thought it was "one of the dumbest things I ever heard of." Homer Hooks counseled that "it would produce zero votes if any, or fewer than zero, that he could spend his time more effectively in going to the cities and going some house-to-house and door-to-door of course, but what good would it be to walk from Clewiston to Bonifay Springs and see eight people, to put it in stark terms." Most of his friends, Dexter Douglass recalls, "thought it was stupid … and told him so!"
By nightfall, Chiles had resolved to lace up his walking boots. He would walk for economy and face-to-face conversation; to introduce himself to Florida one person at time, and leave the million-dollar chase to the competition. His message would reach voters on Florida's dirt driveways and tractor trails as well as its TV and radio airwaves. Outside shacks and in back alleys, he would give the penniless as long a hearing as the Rotary Club. Each day would teach him solutions to agricultural policy, the Vietnam War, and pollution — all transmitted directly from farmers, soldiers, and student advocates. The media events earned walking, whether watching cattle cross the road or finding a stash of snakeskins, would enchant reporters more than the champagne-and-caviar circuit. Rhea envisioned brass bands and confetti advancing this campaign asking voters to "Walk a Few Miles with Chiles." Chesterfield Smith called Spessard Holland to relate the news. After a long pause, Smith asked, "Do you hear me?" Silence followed. Then Holland murmured, "You know, it just might work."