Child-Friendly Themed Bedrooms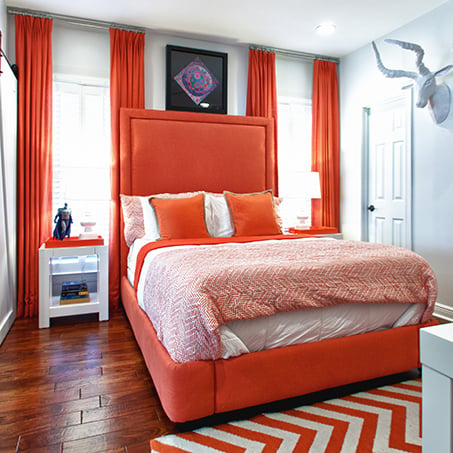 Practical. Playful. Chic.
Often, parents will go all out for a themed room that appeals to their youngster at that very moment. But the life expectancy of room décor is five to seven years. Will your 3-year-old's room work for her when she's 10? Here are some thoughts to consider that will help you create a room that's fun, functional and child friendly.
1. Every child's room needs the basics: a bed, bedside table, bureau for clothing, desk, chair and lighting.
2. By carefully picking out furniture to buy now, it can last until you send your youngster to college. The trick is to think practical, not themed.
3. Give a little forethought to how a room will transition through the stages of your child's life. Let the accessories be trendy: It's easier on the wallet to change out a pillow instead of a car bed.
4. When searching for design inspiration, decorate around a child's interests and collections. Use the child's art, collections and toys to express their creativity.
5. Get creative with paint, graphic wallpaper and color.
6. Always think about safety: Young children try to grab onto window treatments. Their cords are extremely dangerous to the little ones, so make sure they are sturdy and child friendly. Electrical outlets should be covered and heavy furniture should be screwed into the wall.
7. Forget toddler beds. In a couple years, their legs will be hanging over the edge.
8. Flooring should be stainproof and hardwearing.
9. You can never have enough storage for a child's room.
A Girl's Haven
This picture-perfect, ethereal lavender bedroom has a timeless feminine charm. The room's soft color palette helps pop the bright pink hue used as an accent. This room promises to grow with the child. It is not caught up in trends but offers the longevity of classic furniture pieces.
Pops of Color and Pattern
Kids' bedrooms are an opportunity to experiment with prints, patterns and colors. The combination of orange and white and clean lines allow this modern room (facing page) to "pop," accentuating the spirit and individuality of the child. Preteens will be spending a lot of time in their rooms on their smart phone and tablet, so it's important to make it feel like a place (left) they love. Dramatic lighting, repetition of a gray and orange color scheme, and thinking out of the box allows this nursery (above) to stand out. Taking closet doors off allows a small room to seem bigger. Painting a wicker chair in your color scheme is a resourceful way to get a dramatic effect.
Bold and Bright
Bold pattern and color add energy and life to this room (above). Navy and white horizontal stripes flank an alcove that allows any tyke to feel like he or she has a special retreat. In this room, smart planning allowed storage to be placed in the alcove. Green accents were used in the rug and child's stuffed alligator. Built for a boy, this room (next page) has a slight nautical theme in the accessories, but will seamlessly adapt with age. Using smart, classic furnishings, this room will allow the same furniture to be used through out the child's teen years. As his interests change, accessories can easily change with him.
Check out our gallery of even more photos of themed bedrooms for tips and ideas: