Chief Michael DeLeo Reduces Crime in Tallahassee
He's All Ears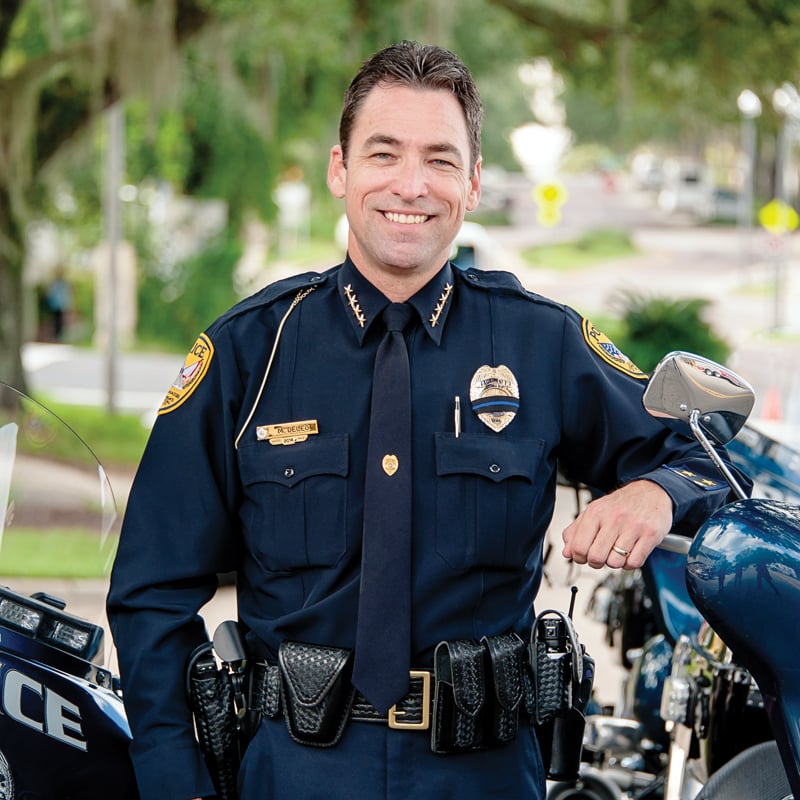 Tallahassee Police Chief Michael DeLeo's two young boys weren't exactly sold on the idea of leaving the South Florida community where they grew up to join their dad in his new job.
Compared to the City of Plantation that the DeLeos once called home, Tallahassee is a foreign land of towering trees, rolling hills and plenty of quiet neighborhoods. Trips to the grocery store that once took five minutes gave way to longer country drives. The nearest traffic light to the DeLeo's new home off Centerville Road is about five miles away.
But the DeLeo family had some visitors on the first night they moved in, which offered a good sign of new adventures ahead. A deer paid the family a visit in their front yard, and about a week later five more stopped by the backyard for lunch.
"For two little boys from South Florida, you only saw deer at a petting zoo," DeLeo said. "For them it's a big deal to have the wildlife — like Animal Kingdom in your own backyard."
Chief DeLeo began his tour leading the city's police department on Dec. 30, 2013, after serving 14 years as an officer in Plantation. He is a South Florida native who graduated from Miramar High School to attend the University of Florida, and was hired by Plantation in 1994. He ascended the ranks as an investigator and shift supervisor and became deputy chief over administrative operations in 2009.
DeLeo also earned a law degree from Nova Southeastern University in Fort Lauderdale with thoughts of becoming an attorney, but his promotions within Plantation and the birth of his two sons superseded his plans to take the state bar exam. Later, he earned a master's degree in public management from St. Thomas University.
DeLeo replaced Dennis Jones after he went into early retirement in September 2013 at the suggestion of Tallahassee City Manager Anita Favors Thompson. Jones was at odds with the city manager over the way he communicated the severity of an August 2013 DUI case involving Christina West, who suffered a broken cheekbone as officers placed her under arrest. (In September, West's lawsuit against the city was settled for $475,000.) Two months later, TPD was thrown into the national spotlight for the way its investigators handled a sexual battery investigation involving Florida State University Quarterback Jameis Winston.
DeLeo has not been immune to controversy on his watch, however, On Sept. 30, a video and story of a patrol officer shooting a 62-year-old woman in the back with a stun gun made national news.
TPD has seen a good share of criticism from State Attorney Willie Meggs, who was also frustrated with the lack of communication Jones exhibited during the Christina West case. The 30-year top prosecutor cautiously sang praises for DeLeo.
"I think he's going to do a great job — he's a blessing to this city," Meggs said. "I just hope he stays here."
In July, DeLeo unveiled a five-point plan to address gun violence and accountability of his officers, and he appointed Deputy Chief Darrell E. Furuseth and Maj. Audrey Smith as his top command staff. He also promoted
16 more officers to various command positions throughout the department.
"This will create the stability we need to move forward," DeLeo said.
The 42-year-old chief said residents should expect several efforts to reduce crime in Tallahassee that go beyond arrests and prosecution. Not only is Tallahassee home to three major post-secondary institutions, it also has its share of poverty. DeLeo said he spent his first year on the job forging relationships with community agencies and city departments to eventually raise the quality of life in even the toughest neighborhoods.
"I wish we could say, 'This is the cause, and this is what we're going after,' " he said. "But it's a community approach, and we've got to be collaborative.
"But it's going to take a while — it's not just one fix."
DeLeo said he appreciates the sense of community the city's residents have demonstrated so far. He made a point of attending several public events, which gave him plenty of time to take in suggestions.
"I've heard good things about what we're doing, and then I've heard some bad things," DeLeo said. "And we want to hear everything — if we don't, we won't know about it (and) we can't make it better."
The chief said his family is still adjusting to his relentless workweek, and he still carries a two-way radio just like his street officers. One of his officers asked during a Police Athletic League basketball game if he ever took a break.
"She asked, 'Do you sleep in your uniform?' " DeLeo said with a laugh. "I told her it may seem that way, but with the new promotions things should start moving a bit easier."
DeLeo and his wife, Dina, have put their two sons through Tallahassee's circuit of summer camps. One had attended a basketball camp at Lawton Chiles High School and the other spent a week at the Challenger Learning Center. And now, both are enrolled in a local school.