Checking His List
Lifelong birder has his eyes on the sky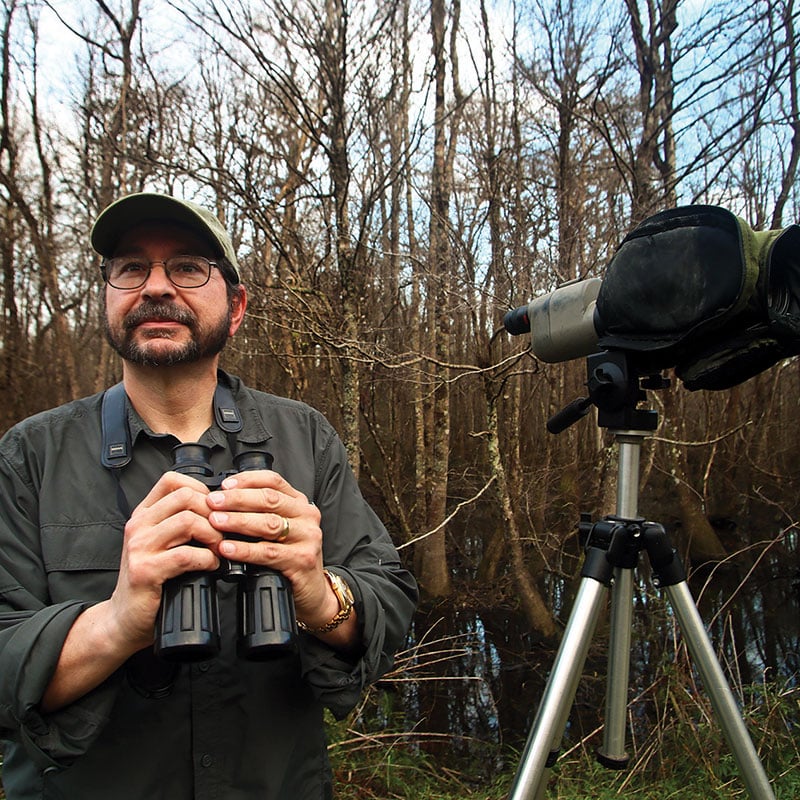 He recalls spotting a blue jay when he was 8 years old. Tallahassee attorney Jay LaVia's love of birds has soared ever since.
Not even the impending birth of a first child stops a true birder, and so it was that LaVia, upon hearing reports from South Florida of a stripe-headed tanager (or Western spindalis), jumped in a car with his wife, Jennifer, who was 8½ months pregnant at the time, and drove straight through to Homestead.
Once there, the couple was among the lucky few who were up at 4 a.m. to track down the bird. Joined by birders from Michigan and Texas, LaVia added another species to his impressive "life list," while those who arrived later missed out. A bird waits for no birder; this one took flight at dawn.
LaVia had been on wild bird chases before. When he was 18 and living in New Jersey, he and his brother, also a birder, made an overnight trip to Martha's Vineyard to spot a western reef heron. They saw the bird minutes after the internationally famous birder and field guide author/illustrator Roger Tory Peterson encountered it.
"People are always asking me why I do this," says LaVia. "I don't take photos, though many birders are great photographers. I don't bring home a bird like a hunter might. But I love to get out into the woods or into the jungles. Birding has taken me to all 50 states. I just love to see birds."
For decades, LaVia, his father and his brother traveled the country and the world together to check birds off their lists. Jay's father allowed his 11-year-old son to skip school when he heard that a rare gyrfalcon was visiting New Jersey.
One of the toughest father-and-sons trips also produced one of the most rare sightings.
"It took my father, brother and me almost two days of travel over some amazing volcanoes and Alaskan wilderness to get to a sliver of land on Attu Island, site of one of the bloodiest battles of World War II," LaVia recalled. "But it was worth it when I saw the dusky warbler, one of the rarest birds I've ever confirmed seeing." The Attu trip also produced other seldom-seen birds, including a ringed plover and a garganey.
Though LaVia believes he once spotted along the Choctawhatchee River a bird long believed to have been extinct — the ivory-billed woodpecker — he is not positively sure. Birders use American Birding Association lists and adhere to rules and a code of ethics when definitively recording sightings. Some rules are as simple as, "The bird must have been alive, wild and unrestrained when encountered." Others are more precise: "Encounter means seen and heard live and not remotely; a bird seen on a webcam or other remote camera cannot be counted." LaVia strictly adheres to these guidelines. The Association has more than 900 birds listed and LaVia is proud to have checked off more than 800 of them.
The dictionary defines birding or birdwatching as a form of wildlife observation where the person pursues the experience as a hobby or for recreation, observing birds with the naked eye or through binoculars or a telescope. An ornithologist, on the other hand, studies birds' behaviors, ecology and physiology using scientific methods. Though he explored the idea of making a career of ornithology during his college days as a student at Duke University and even took some courses along that path, LaVia is content to be a hobbyist and one who has learned much in pursuit of his passion.
"I've visited almost every one of the top 10 birding sites in America," LaVia said, "from Mount Desert Island in Maine to Everglades National Park, here in Florida. But just as amazing is what we have right here in our area in places like St. Marks Wildlife Refuge or even Black Swamp Nature Preserve. Our preservation of trees has created habitats for hundred of birds in every season. Even ›› the parking lot at Whole Foods (on Thomasville Road) is home to a magnificent osprey nest."
St. Marks and Black Swamp are among the sites described in the Apalachee Audubon Society's "Great Birding Spots" guidebook. A total of 63 Panhandle locations are listed, including many along Florida's Great Birding Trail. Most of the 514 species to be found in the Sunshine State, including birder favorites such as the the scrub jay and the roseate spoonbill, can be seen at points along the trail.
LaVia carries a book, the "National Geographic Birding List," with him into the field, but out of habit rather than need. He knows off the top of his head the size, wingspan, colors and calls of hundreds of birds.
"The early spring in Tallahassee is a great time to hear the barred owls because they are mating. They have a very distinctive chirp or call during this time. Another favorite bird, the cerulean warbler, is truly a luminous color of blue," enthused LaVia.
LaVia coupled his birding experiences with a knack for storytelling and recounted sitting in a kayak for hours, hoping to spot an elusive Swainson's warbler, a bird found only in remote swamps.
If you want to know how a red-cockaded woodpecker protects his nest from snakes, LaVia can tell you. "The bird drills hundreds of holes just below the nest," he explained. "The holes seep out a pungent sap which repels the slithering invaders. They have captured video of snakes literally falling off the tree trunk when they hit the sap."
LaVia never minds sharing his expertise with area birders and school children, even as he works toward a more complete life list. With many boxes still left unchecked, he has years of birding ahead of him, both in North America and worldwide.
When he winds down his law practice, he hopes to visit Australia, which is home to hundreds of species, such as the emu and the lyrebird, found nowhere else on earth. And until he spots a huge harpy eagle flying over a Central American jungle in search of monkeys, LaVia will not put up his binoculars for good.