Chancellor Randy Hanna Brings Valuable Skills to Florida's College System
The Great Connector for Florida's Colleges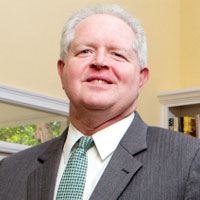 Photos by Scott Holstein
After a 30-year career as an attorney, Randy Hanna is "making the case" for workforce education and first-generation college students as chancellor of the Florida College System.
The cost of a college education is in the news constantly. Graduates struggle, some for decades, to pay their student loans. Gov. Rick Scott has challenged Florida colleges to offer baccalaureate degrees for as little as $10,000 in tuition.
And Florida's 28 colleges, formerly known as community colleges, are stepping up. Almost all of them now offer four-year degrees, and each of those has accepted Scott's challenge.
Fortunately, they have excellent leadership in Chancellor Randy Hanna.
"I have enormous respect for Randy," said Broward College President David Armstrong. "His ability to help build coalitions, form relationships and partnerships, build advocacy and get things accomplished is already paying off for our system — not only in the governor's office, but the Legislature, the trustees, our presidents and the business community."
Hanna has performed all those functions as the colleges work on a plan to make Florida the first state to reach the national goal of doubling graduation rates by 2020. Board of Education Chairwoman Kathleen Shanahan called it a "transformational opportunity."
Hanna is and always has been a proponent of the community college system.
"I am a first-generation college student in my family," he said. "I know the impact that it has had on my life … I have a special place in my heart for the Florida College System, because it is truly the access point for higher education."
Perhaps because Hanna keeps his small-town contacts and rural roots, he's passionate on the subject of access.
"I believe that Florida has an obligation to help ensure that kids like me and those students that I worked with and others are able to receive a college degree," he said.
Hanna has been chancellor since November 2011. He's responsible for training people who need jobs for a workforce that must be retooled to draw business to Florida, one of the states hardest hit in the recession. State leaders are counting on him — and by all accounts, he stepped up and then some.
"Talk about a quick learner!" enthused Bill Law, president of St. Petersburg College and former president of Tallahassee Community College. "He's a great public policy advocate."
"He's one of those people who really thinks strategically," said Karen Moore, a TCC trustee and chair of the Tallahassee-Leon Economic Development Council. "He can pick up the phone and bring together resources — anywhere from the Middle East to anywhere in the U.S."
One of Tallahassee's most successful attorneys, Hanna, 58, began his storied career as a law clerk at Bryant Miller Olive in 1982 and rose to be a managing shareholder. Under his leadership, the firm grew from three offices to seven and from 10 attorneys and consultants to 50.
Throughout that time, he served as a trustee at TCC, Florida A&M University and the University of West Florida, and as chairman of the State Board of Community Colleges. He also chaired the Greater Tallahassee Chamber of Commerce.
"His passion has always been education," said Moore. "He's seen the college system from the inside and the outside."
Hanna hails from Gadsden County, where he grew up showing pigs and cattle at local livestock shows. He belonged to the Future Farmers of America and served as their statewide vice president.
And although he attended the University of Florida to study agriculture, Hanna said he might well have gone to TCC.
"The Florida College System was designed for students just like me," he said. "The idea was that there would be a school within 30 miles of 98 percent of the population … for people who were either working or did not have the means to go to a university."
Hanna, in fact, sold a pig to finish paying for his wife Jerri's engagement ring. At the time they met, in a food science class, he wanted to be a vocational agriculture teacher. "Chemistry, however, intervened," said Jerri Hanna.
But the rest was history. The Hannas have been married since she was 21 and he was 22, just as he started law school. They have two children: 25-year-old Curtis, a Florida State graduate headed for law school, and 16-year-old Grace Ellen, an accomplished equestrian.
Education was always valued by both sides of the family, Jerri Hanna said. Her mother won a college scholarship, but it didn't cover enough. Her father went to war before he finished. When her mother graduated from Rollins College after enrolling at 52 and taking 10 years to complete her degree at night, "I'm telling you, we made an unseemly display," Jerri recalled.
Randy's father, former clerk of the Gadsden Circuit Court, "took every training class he could," Jerri said. "He was always determined to do a good job."
"He had wonderful parents, deep roots," Moore said.
The Hannas keep their Betton Hills home stocked with books and newspapers, reveling in discussions with their kids. "We let them have their own political opinion, too," said Jerri. "They don't know how we vote because we don't tell them. They try and get it out of me all the time."
She said her husband has successfully balanced life and work, family and civic obligations, altruism and making money.
That balance includes athletics. Hanna used to run before dawn with Law and Allen Katz, now the U.S. ambassador to Portugal. And he ran triathlons, which Jerri Hanna said is why they keep a 12-year-old car. "We can't trade it because it has the Ironman sticker on it. You know how hard that was?"
No one is going to out-work Randy Hanna. Today, as chancellor of one of the nation's oldest and most successful college systems, he's the leader of 28 institutions facing immense challenges in the economic downturn.
"When the economy goes down, people go back to college," Hanna said. "So our enrollments increase significantly, and we have seen that throughout the state. But when the economy goes down, the funding per student — paid for by the state — also goes down."
Roughly 800,000 students attend Florida's two- and four-year colleges, which also employ more than 47,000 faculty and staff members. About 66 percent of high-school graduates start their postsecondary education at a Florida college, as do 81 percent of freshman and sophomore minority students.
Students who earn an associate's degree are guaranteed transfer to one of Florida's 11 state universities. Many enrollees are returning students, Hanna said, who often need refresher courses to get up to speed.
If the colleges' strategic plan were to be approved, Valencia College President Sandy Shugart told the BOE last July, Florida would become the top-ranked college system for affordability, job placement, accountability and partnerships with high schools and universities. He said Florida can be first in affordability by tying college tuition hikes to rises in the cost of living.
"The governor and the commissioner of education realize that the college system can play a major role in training Florida's workforce," said Hanna. "In addition to being the primary access point for higher education in the state … you must remember, this is what we do — primarily."
FCS will request a 35 percent increase in state funding to reach those goals. Both Law and Shugart said they thought Gov. Scott would approve, since their plan had sprung from discussions with him. It's no secret that Scott attended community college, or that he opposes tuition hikes.
According to FCS, the tuition cost of graduating after four years at a Florida university is $39,095. A degree from a four-year college costs $23,647, while graduating after two years in college followed by two at a university costs $31,061.
Shugart said. "We've reached a point — I think, a tipping point — in our system where we'd like to say, 'We need to restrain the growth in tuition.'"
Hanna also has a strong belief in local interests driving local institutions, and the colleges are designed to respond to local workforce needs. Certificate and degree programs range from auto mechanics to nursing to advanced manufacturing, depending on what the local economy needs to grow.
Again, Hanna's strengths come in: law, economic development, education, horse-trading — and collaborators all over the state.
"Don't forget, Randy had a very distinguished record of appearances before the Florida Supreme Court," said Law. "He literally can walk into anyone's office and make our case … He is so well regarded, and of course his business took him into every town in Florida."
"He's honest, ethical, loyal and brilliant," said Moore. "He also has great personal skills."
Maybe that's why the same phrase keeps popping up in descriptions of him.
"The FCS is lucky to have Randy Hanna as its chancellor," said TCC President Jim Murdaugh, who narrowly edged Hanna for that job in 2010. "His breadth of experience in education and economic development makes him the right person at the right time to elevate the awareness among Floridians of the role colleges play in providing degrees and credentials that put people to work."
"He's the right guy at the right place," said Law, a thought echoed by Moore.
"I really believe the right people are at the right place at the right time," she said. "And that's true of Randy as we are going through a difficult time."
Jerri Hanna described a commencement ceremony she and Randy attended at Polk State College. It was the biggest graduating class the school had ever had.
"If you can't feel the joy and happiness and the thrill for those students …. Sixty percent are the first graduates in their families," she said. "They bring their grandchildren."
"It's about the students, and that's what he loves," she said.