Chalk Up a Win
Ultra-matte paint makes refinishing furniture easy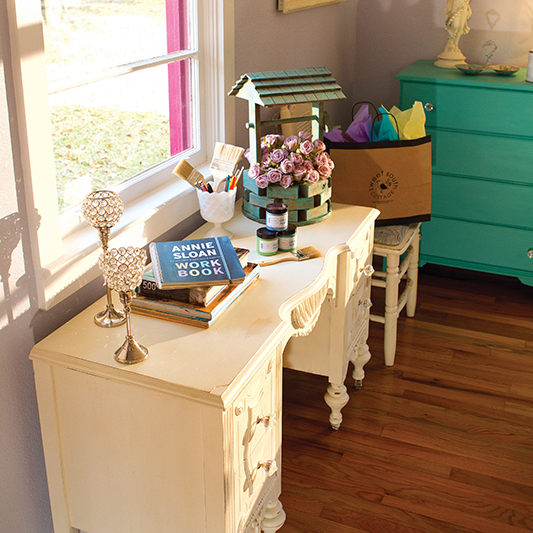 Got a piece of furniture aching to be refinished? Love the soft, rich paint finish that is so popular in cottage-style decorating and on Pinterest?
Well, roll up your sleeves, would-be refinisher, and meet Chalk Paint. Famous for its velvety, "ultra matte" finish, Chalk Paint will stick to practically anything — no sanding or priming required — and it dries quickly and lacks odor, so it can be applied indoors.
Chalk Paint was introduced by artist Annie Sloan in 1990 and has since inspired innumerable projects and thousands of Pinterest "pins," with DIY-ers and admirers posting online photo after online photo of painted furniture that nearly glows. The finish on all of the pieces is soft — sometimes distressed or antiqued — and the colors range from classic black and white or off-white to rich, vibrant tones and candy pastels.
This is not chalkboard paint, and the name, "Chalk Paint," is a registered trademark of Annie Sloan. But competitors offer similar products, under monikers such as "Amy Howard One Step Chalk-Based" paint, "Valspar Chalky Finish" paint and "Rust-Oleum Chalked" paint. Adventurous types even mix their own super-matte coatings with latex paint, plaster of Paris and water.
Beyond its look, the greatest charm of Chalk Paint may lie in the fact that it's easy to use. A single coat of paint is applied, followed by a single coat of wax to seal and add depth to the finish, and the project is complete.
"If you can dream it, Chalk Paint can pretty much do it," says Lisa Ard, owner of Sweet South Cottage and Farms.
Ard is the Annie Sloan "stockist" for Tallahassee, and she carries a full line of the manufacturer's products. For do-it-yourselfers who don't want to go it alone, Sweet South Cottage and Farms offers "Chalk Paint 101, Bring Your Own Furniture" workshops once a month as well as other occasional, how-to sessions. The 101 workshops can have a maximum of 10 participants and usually sell out. The cost is $135, and the paint is included. Students learn the basic paint-and-wax process along with more advanced techniques.
Ard, who has been in the business since 2011, says refinishers' love of chalky paint shows no signs of fading. Restoring kitchen cabinets is a particularly popular project, she says, noting that the Sweet South Cottage gets at least one or two customers a week who are working on kitchens.
Chalk Paint is substantially more expensive than high-quality latex, which can run around $45 a gallon (but may take more than one coat). Annie Sloan Chalk Paint costs $35 a quart, and the wax costs about $25 for 500 milliliters (about 17 ounces). Ard estimates that a quart of Chalk Paint is enough to cover a dresser and two nightstands. Competing brands cost somewhat less.
If you love the chalky look but don't want to attempt it yourself, Sweet South Cottage and Farms can help. The business sells finished pieces as well as paints and painting supplies.
Sweet South Cottage and Farms
6007 Veterans Memorial Drive
Tallahassee, FL 32309
(850) 878-0165
---
Paint expert will conduct Seminars
This fall, Tallahassee residents will have a chance to meet decorative paint expert Annie Sloan, the woman behind the Chalk Paint brand. Sloan, who has been called one of "Britain's most influential female designers," is scheduled to be in the area Oct. 13–14 for the French Country Flea Market, presented by Sweet South Cottage and Farms.
The artist and entrepreneur will speak both days and will participate in workshops and Q&A sessions, says Lisa Ard, owner of Sweet South Cottage and Farms. Sloan, a prolific author, also will sign copies of her books.
Find out more about Annie Sloan by visiting her website, anniesloan.com, and learn more about the market at frenchcountryfleamarket.com.