Cellist and Vocalist Lauren Mullinax Aims To Heal
Through passionate melodic creations, she's created a new genre of her own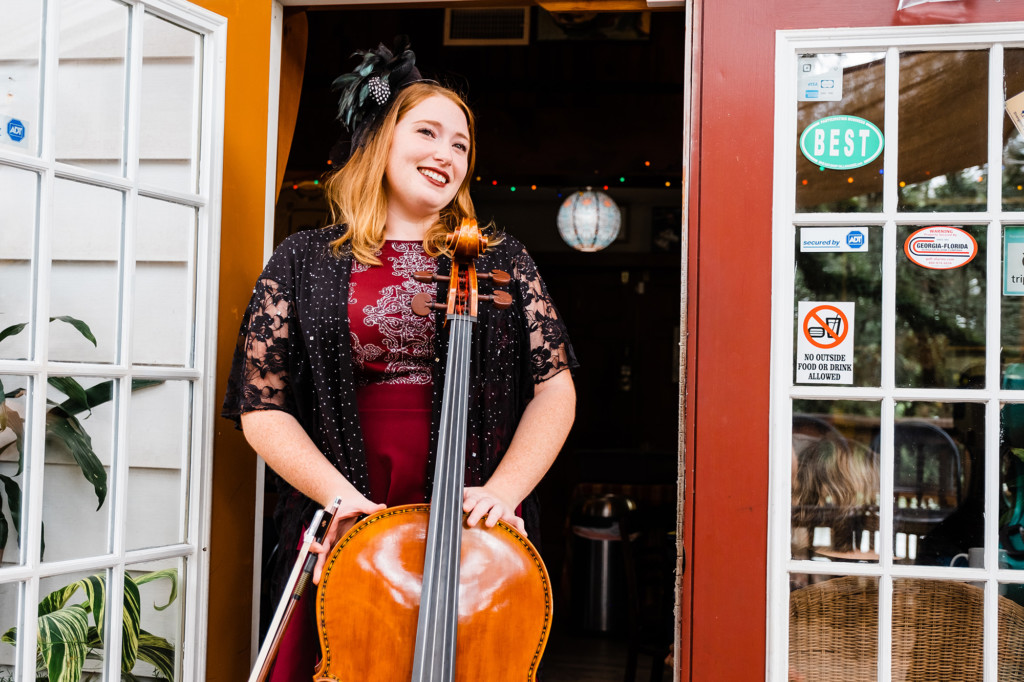 She plays the cello and the guitar. She also sings and writes songs, and she does all four like she means it.
She means it, all right.
"There's a purpose behind why I sing," Lauren Mullinax says. "I feel like I'm supposed to be a gift for people to get in touch with something deeper. I want them to experience something that they've never encountered. And so that's why I do what I do with music."
Mullinax, 27, a Chiles High and Southeastern University graduate, proudly tells you that a great grandfather, Fred Winterle, once served as mayor of Tallahassee. Just as proudly, she tells you that she's a healing musician.
She embraces music therapy, which proponents say reduces pain and stress and enhances memory and communication, among other benefits that improve a patient's quality of life. Although not formally trained as a music therapist, Mullinax says she plays for the ailing or elderly where she can because she sees the difference that her music makes for them.
She aims to create a new genre of music that heals. She's calling it Lumid music.
"I don't want it to be limited to just me," she says. "I want it to expand where other musicians get a part of it. I want it to be music that goes beyond what anybody could ever imagine and have healing properties, and I'm trying to figure out what that looks like."
In the meantime, she's writing songs and applying pop to her voice, cello and guitar. A new release, "Over the Moon," trumpets the depth, range and passion of her voice and the magic of her cello. With little plucks, she creates dreamy raindrops. That's how they fall on one observer, anyway.
With her guitar, she sings with a smile that says she's made for the stage and the camera. Her smile also says that she wouldn't want to be doing anything else.
When she busts out her bigger instrument, she anchors herself in her music and then drifts away in it.
During the summer, she pulled her cello out of its box as a photographer prepared to take photos. She guided her bow across the strings at gentle angles, producing a solemn and reflective sound that vibrated inside you. She closed her eyes, furled her brow, swayed her head and got lost.
After about three minutes, she found herself.
"I guess I should pose more," she says with a laugh to the photographer.
As she perfects her voice and focuses on her vision, Mullinax performs in restaurants, bars, coffee shops and at private events in, among other places, Tallahassee, the Tampa Bay area, the Panhandle and even in North Carolina. She says she's exploring various opportunities in Florida and abroad. She'll go wherever her passion and compassion lead her.
"What music is to me, I feel like it breaks boundaries," Mullinax says. "I feel that it breaks through some of the hardest moments that I've had in my life. I'll be in a place of pity or sorrow. All I need to do is start singing. And it changes something, something around me, and makes me feel stronger, makes me feel like I can do more than I thought I would be capable of."
Here's more from Mullinax, in her voice, edited for length and context.
It was fourth grade. I heard the "Jaws" theme played by the fifth-grade orchestra. And I went home and I told my parents, "Hey, by the way, I am taking up cello next year." And they didn't even know what a cello was. Yeah, it was crazy. We ended up buying one online.
I got to sit down recently with my middle school and high school teacher, Mr. Christopher Miller. And I got to treat him to lunch and tell him, "Thank you — I really believe that you helped me."
Music therapy: What started it was my grandma had Alzheimer's. She started entering dementia when I was like 12, and it progressed for a long time. It was a really hard time for our family because … someone you love so much and to see them suffering. And I had never seen anybody go through that, but I would start bringing my music over to her, and she would respond in a whole different way. And it felt like a secret language that I was creating through my music. I would improvise. I would, through song, tell her that I loved her and that she's cared for. And she looked at me as though she got it. She understood what I was saying, and I knew that there was something on another, deeper, level. And during the middle of the night she'd wake up singing, like full-on singing, and it normally happened right after I would play for her.
I never knew anything about music therapy or music practitioner work, but I've kind of created my own way about it. My mom's a nurse, and I would go and play for her transport support group meetings. People would start contacting me and saying, "I know someone who's sick. I want to see if your music could help." What I would love to do is more research into how certain vibrations and sounds affect the human psyche.
I don't make it a business. I'd rather not charge. I make my money through my performances. I've been thinking about possibly doing a nonprofit or trying to figure out a way of making a business with the hospitals or some type of cancer research or whoever wants to incorporate music and seeing how it's healing people.
I conquered my fear of water. I almost drowned when I was really little, and I took up scuba diving lessons. I had some breakthrough moments, and I think that it completely changed my life, with my confidence level and knowing that I can handle things that I never thought I could even manage.
I lived in Orlando for seven years. I've only been back for a little over a year based out of Tallahassee. I didn't want to come back here originally. I had a car accident. Someone hit me, and I had back and neck injuries.
I decided to turn it around and be like, I'm going to see this as a blessing, and it's changed my life. I've been able to be with my family, and I've seen the good in it. I really have my health. I wanted to heal holistically. I started being more health conscious. What am I putting in my body? I want to encourage people on their own health journey, because it does matter — how you feel about yourself.
Back to music: Most musicians have to do cover songs to stay relevant. I'm mixing my originals with the cover tunes. I'd rather break away and be an all-original artist. I've been working in the studio with some producers and trying to find that sound — the Lauren sound.
I want to make sure that in all my performances, there's some variety to it. So when you come see me at one place, it's going to be completely different than another place, and I also want to be able to go into the hospitals and rehab facilities, nursing homes and wherever people need me and just let my music speak for itself.
"Over the Moon" was released in September on major platforms such as iTunes and Spotify. Lauren Mullinax says she wrote the song based on two children's books and her childhood memories. She pointed to positive reviews, including one reviewer who referred to her song as an "elegant, chilled and heartfelt slice of slumbering electronic-pop."