Celebrating 80 Years of Tallahassee Nurseries
Looking back on eighty years of history and many evolutions in the local nursery trade.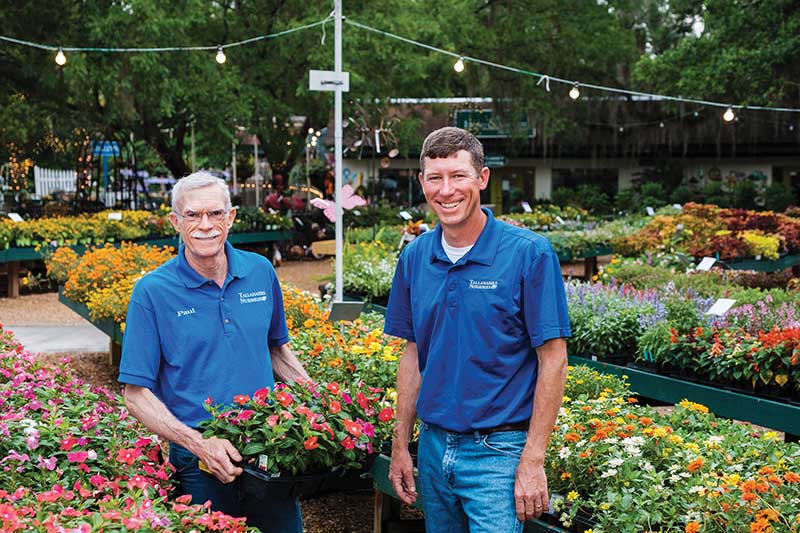 Every year has its claim of "firsts," and 1938 was no exception: Action Comics introduced Superman.
Thomas Jefferson replaced the buffalo on the nickel coin. The Fair Labor Standards Act established the 40-hour workweek and a minimum wage of 25 cents an hour.
And out in the country just north of town, on Thomasville Road, Eugene and Ruth Ellis opened a little plant nursery and produce stand in their yard.
An ad in The Daily Democrat the last Sunday in November announced the new venture selling "all types of plants and shrubs" and providing landscaping, pruning and spraying services.
Over the next 80 years, Tallahassee Nurseries grew as the city grew.
The Ellises' son, Gene, took over the family business in 1964 after earning a horticulture degree at the University of Florida, embracing changes in technology and horticulture.
Along the way, he took on a partner, Dan Prosser, who expanded landscaping services. In 2002, they sold the business to longtime employees, one of them Prosser's nephew.
Today, Paul Brock and Nate Prosser continue to focus on improving the shopping experience with 65 year-round employees and about two dozen more added during peak seasons — Christmas and spring.
"We're a destination garden center, and it has been that way since Gene redid the nursery in the 1980s," said Brock, who joined the staff in 1984. "People schedule their vacations around stopping here."
Some come to visit the fish in the koi pond. Others come to admire the Crimson Queen, a showpiece Japanese maple that was dug up, sold and returned to the nursery more than 30 years ago.
The thought of digging up a plant for a customer seems a quaint notion in this day of the ubiquitous black plastic pot, but that's just one of many evolutions in the nursery trade.
The early days
Back in 1938, Guy Winthrop was selling narrow strips of land fronting Thomasville Road, 1 acre wide and 5 acres deep. Eugene and Ruth Ellis bought one of those strips.
Eventually, they bought the strips to the north and south, creating a 15-acre parcel. Eugene had grown up in Berkley, California, where he discovered a passion for gardening while working at a nursery.
His mother, Caroline Chaires Ellis, had Leon County roots, and young Eugene inherited a farm in the Chaires community when she died in the early 1930s. The decision to move to the north side was fortuitous, positioning the nursery in what would become a growth corridor.
"We were out in the country. Daddy had hogs and chickens," Gene Ellis recalled. "My sister and I were the last two people the school bus picked up on its way down from the Georgia line. I wonder how many buses it would take to pick up all the kids between the state line and the nursery today."
The common nursery practice at the time was to dig trees and shrubs out of the ground, wrapping the root ball in burlap.
The process required the plants to be dormant, thus limiting the time of year when plants could be safely transplanted to the cooler months.
"We grew nearly everything we sold then, and there wasn't nearly the selection you have today. Lots of camellias and azaleas," he said. "If you look at some of the older neighborhoods, with houses built in the 1940s, you'll see them."
The transition to potted trees and shrubs began with 5-gallon "egg cans" containing powdered eggs for commercial baking and cooking.
Paul Brock remembers using a "church key" can opener to poke drainage holes down the sides.
Black plastic pots ushered in a new nursery era, with lighter soil mixes. The development of herbicides created another, less labor-intensive shift in the industry.
Saving the nursery
The nursery could easily have been lost before Gene Ellis ever had a chance to run it, he said.
Eugene Ellis was diagnosed with a brain tumor in his early 40s, when his son was in fifth grade. It wasn't cancerous, but the operation left Eugene an invalid with memory problems.
Ruth, who had a master's degree in education, went back to teaching at Kate Sullivan School to support the family and ran the nursery, too.
"She deserves a lot of credit," her son said. "We had three employees then, and my mother relied on them."
Her right hand was Bert Hadley, who had worked at the nursery for years. He, Charlie White and Willie Arnold kept things going; Hadley's sons helped on the weekends.
"We owe that family a lot," Gene Ellis said. "The nursery wouldn't have been there for me to take over if it hadn't been for my mother and the Hadleys."
Dan Prosser joined the staff as an after-school employee through a cooperative training program at Godby High School.
After a few years on the job, his work so impressed Ellis that he offered Prosser the opportunity to become a partner and head the landscaping division.
"He was a talented designer and had good knowledge of construction, along with wonderful people skills," Ellis said. "He played a significant role in the success of the nursery."
As did the patience of Ellis' wife, Mary Louise. "You want things to be right, but I spent far too much time at the nursery," he said.
'A great place to work'
Many Tallahassee Nursery employees have been there 10 or 20 years — or longer. One, Gilbert Cofield, has been there almost 40 years.
"I think we take care of our employees really well," Brock said. "We offer benefits, including health insurance, vacation and sick leave."
Flexibility in scheduling was key for Cathy Peters, who joined the staff 28 years ago, and Susan Mertz, who was hired a few months later.
Both reared their children while working at the nursery.
Peters was a regular customer who had just completed the master gardener training program when Ellis offered her a job.
Mertz studied horticulture at Lively Tech.
"He made it very convenient for me," Peters said. "I would come in early and leave early."
Calvin Wright has logged 21 years with the nursery, starting out in the landscape division and rising from laborer to crew foreman to supervisor.
He left for a short while to open his own business but came back, landing on the retail side.
"It's a whole different world," Wright said, "but if I had to choose between landscape and retail, I'd stay with retail."
For a while, Tallahassee Nurseries operated at three locations: the main nursery, which staff called the north location; on Tharpe Street, the west location; and behind the Sears store at Governor's Square Mall, the east location.
Eventually, everything was consolidated back on Thomasville Road.
When Nate Prosser and Paul Brock got the chance to buy the business in 2002, "it was obviously a humongous opportunity," Prosser said.
He had started working there in 1994 and was pursuing a degree in business management at Florida State. A class on managing service organizations proved to be the spot where his experience and his education joined forces.
"Obviously, Gene and Dan had a gift for customer service, and I learned from them," he said.
One of the first things Nate and Paul did after buying the nursery was to bring the customer service professor out to talk to the staff. "It reinforced a well-oiled machine."
Prosser acknowledged that it costs more to run a business the way they do, "but it gives you a better attitude at the end of the day."
"As far as retaining employees, you need to pay them well, treat them fairly and not get too nitpicky about things," he said. "We've got a big family here."
Knowing your customers
Brock said 70 percent of the nursery's customers are women, and "we came to realize we have to do things with women in mind. Everything needs to be bright and light and green."
The restrooms were upgraded and the gazebo recently painted, its heavy dark hues replaced with a lighter, brighter shade of grayish green.
People like to hang out at the nursery. Some bring lunch and enjoy the vista. Customers like to bring their dogs, so water bowls are placed throughout the property.
Victory Garden Kids Club was an early fundraiser for WFSU that attracted children and their parents for hands-on gardening lessons while promoting the iconic PBS television show.
No longer a fundraiser, the Little Gardeners Grow Club still teaches small fry the joys of gardening.
Saturday morning workshops offer guidance on all things gardening, including beekeeping, attracting butterflies and hummingbirds, and growing tomatoes.
Before the demonstration gardens were built at the Leon County Extension Office, Tallahassee Nurseries hosted Extension's trial gardens.
The biggest community event, however, remains Spring Fling, a fundraiser for Big Bend Hospice.
Now in its 11th year, it draws about 1,000 people — attendees and volunteers — to the nursery the Thursday evening after Mother's Day.
It has netted more than $1 million since Brock and Laura Glenn, then a Hospice staffer, created it.
Susan Mertz said Gene Ellis taught her the philosophy of "community, not competition," because no one place can do it all.
"Our local nurseries have worked together to turn Tallahassee into a city of gardeners," she said. "Now, we're teaching the next generation."