Castillo de San Luis Recreates Frontier Spanish Mission Fort
¡Viva España!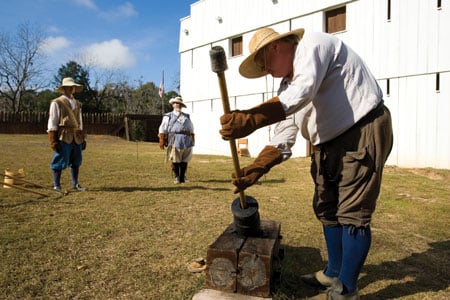 Nestled near quiet neighborhoods north of the busy West Tennessee Street and Ocala Road corridor, a blockhouse and stockade stand guard over the recreated village of Mission San Luis, where the year is perpetually 1703.
Here, Spanish soldados in felt hats, jerkins (a type of sleeveless tunic) and buckle shoes can be seen standing guard with sword and pike, sharpening their fencing skills, learning the complicated flintlock musket drill or just feeding chickens. Sometimes, to the delight of visitors from the modern world, they even fire off a mortar – a small cannon originally designed to throw bombs over walls.
At first blush, it may seem odd to have a military presence on these serene, contemplative mission grounds. Admittedly, the loud report of a cannon demonstration is in direct contrast to the quiet and reflective environment of the church grounds. But the fort, and its garrison, proved necessary to the security of Spanish holdings in what was then Florida's Apalachee region. With English colonial powers stretching farther and farther south from the colony then known as Carolina and north from the Caribbean, and pirates plying the nearby Gulf waters, the Spaniards had no choice but to fortify this valuable area.
"In 1655 an expedition dispatched by (England's Oliver Cromwell) the preceding year captured Jamaica after suffering a disastrous rout in its attempt to seize control of Santo Domingo," wrote Mission San Luis historian John H. Hann in his book, "Apalachee: The Land Between the Rivers." "To forestall a similar move against richly endowed Apalachee, (Spanish Governor) Rebelledo felt that the Spanish presence there had to be expanded greatly."
"The recently constructed fortification at Mission San Luis is testament to the strong military presence sought for Apalachee Province by Spaniards as early as 1657," wrote Bonnie McEwan, executive director of Mission San Luis, in a 2007 article published in Florida History and the Arts magazine. "While Castillo de San Luis provided a military presence on the frontier, its small garrison and limited supplies were insufficient to deter invading forces. This reconstruction provided an unparalleled glimpse into the final chapter of this frontier community following almost three generations of colonial life at San Luis."
Historians say the blockhouse – a "strong house for the soldiers," according to Hann – came first. It was built by native labor between 1695 and 1697.
"It was large enough to accommodate the garrison and many of the residents," McEwan wrote.
The size of the garrison fluctuated; in 1702, it had 31 soldiers, but at the start of 1704 the number rose to 47. However, the real military strength of San Luis was in the native Apalachee militia, members of whom were trained by the Spaniards. McEwan wrote that these native soldiers held military titles, served as sentries and made up the bulk of Spanish strike forces.
When Queen Anne's War (also known as the War of Spanish Succession) broke out in 1701, it pitted Spain and France against England. Taking the initiative, British Gov. James Moore left Charles Town (near present-day Charleston, S.C.) and invaded east Florida in 1702. That October, the existing San Luis blockhouse was fortified, and a wooden palisade was built in 1703. Moore's attempt to take the Castillo de San Marcos in St. Augustine failed, but he returned to Florida in 1704 on a campaign to burn out the vulnerable Spanish missions and break the Apalachee-Spanish alliance at San Luis.
"In the short span of the seven months between January and August of 1704, the Apalachee region was stripped of a native population of at least 4,000," Hann wrote in "Apalachee: The Land Between the Rivers." Hundreds of natives were killed, thousands were enslaved and more than 2,000 were forced into exile. With the end in sight and with no real way to resist, the Spanish packed up their belongings, razed San Luis and escaped to St. Augustine. Most of the Apalachee natives who were able to escape fled to Mobile, Ala., and even as far as Louisiana, where their descendents live today.
The Fort Today
Dedicated in May 2007, the new fort consists of a two-story blockhouse surrounded by a tall stockade fence. It is located on the same spot as the original and took about a year to build. The fort is the latest historical structure to be created at the archaeologically significant site, which already features a giant Apalachee council house, a Franciscan church, a friary and a Spanish village. The formal name of the fort is El Castillo de San Luis.
The castillo was built by Allstate Construction Inc., which also built the site's church and council house. Consultants from Disney's Imagineering division also had a role in the fort's construction.
"They were instrumental in making recommendations for the part of the sidewalk with animal tracks and recommendations for construction of the palisade, which is made out of concrete poles," said Robert Ryals, a six-year San Luis volunteer and "captain" of the soldados. "(The poles) look incredibly realistic. You can't tell the difference unless you look close and tap on them. It's an incredible design."
The fort's modern garrison is drawn from a mix of four paid staff members and five "very regular" volunteers, according to Karin Stanford, the museum's program supervisor.
Overall, there are 12 full-time living-history employees at San Luis, according to Lead Interpreter Robert Fleischmann. All historical interpreters are cross-trained in other
areas, and seminars are held regularly to help staff improve their living-history skills.
"We've done a persona-building seminar – how to build your character – a history of wine, and lots of other things," Fleischmann said.
Making the new fort come alive is an ongoing task, Stanford said.
"Currently, we are site-dressing the fort and the parade grounds with military elements, including chickens and their coop, firewood, and soon we will be adding an area where food such as fish and meat can be smoked and dried," she said. "The soldiers also maintain the field crop area outside the palisade on the south side. Of course, we are also drilling and training old and new recruits all the time, including visitors, although they are usually equipped with a stick/pike instead of a musket."
Cannon-firing demonstrations give the fort a sense of reality.
"Right now, we demonstrate with our mortar, but the future plans include two cannon," Stanford said. "The mission is currently seeking bids for the construction of field carriages; once the cannon are mounted, we will be able to have the National Park Service Cannon School (from St. Augustine) visit the site and conduct a cannon school here for the staff and volunteer soldiers. We will be sending a group to St. Augustine early this spring to attend the cannon school at the Castillo de San Marcos there as well."
Musket firings also may figure into the new program, but Fleischmann said the staff has to be considerate of the neighbors when it comes to making noise.
"The mortar is pretty loud, and I wonder how far sound is going to carry," he said. "That's important, because we are in a residential area. Normally we try to be courteous toward our neighbors."
For now, though, the main focus is planning.
"The program is still in the early stages and will evolve over time to fit the needs of our interpretation for the general public," said Ryals, who became interested in doing a historical interpretation at the fort when he first heard about its construction plans early last year.
"During that year, we saw the dream become a reality, and that really spurred us all on as volunteers and staff people to come together and look at different approaches to doing different historical interpretation there," he said. "One of those approaches included the need to do black powder demonstrations … and military-oriented drills."
As supervisor over all interpretation, Fleischmann said that for him, it has been a challenge to think in terms of the military demonstrations.
"My training is as a musicologist," he said. "I had to learn (military matters) from the ground up. I've been trained to analyze music but never had to purchase gunpowder or worry about how to store it. It's quite a different world."
Ryals agreed that there is a lot to learn, but appropriate steps are being taken.
"The No. 1 challenge, and the No. 1 priority for this program, is safety," he said.
That's why the park staff is working with the rangers at St. Augustine, Ryals said. The historic-weapons program at the Castillo de San Marcos is one of the largest of its kind in the nation. In 2006, NPS volunteers – who receive intensive training in handling black powder and 18th-century weapons – performed 1,300 weapons-firing demonstrations. Volunteers who complete a certain number of public demonstrations receive a certification that is highly regarded by other parks.
As the new military-life program grows, Fleischmann said he is looking forward to adding more soldados to the fort.
"It's the most popularly requested volunteer spot," he said. "I have more people requesting to be a soldier, men of every age."