Castaways Get a New Life at The Sharing Tree
'R' is for Reuse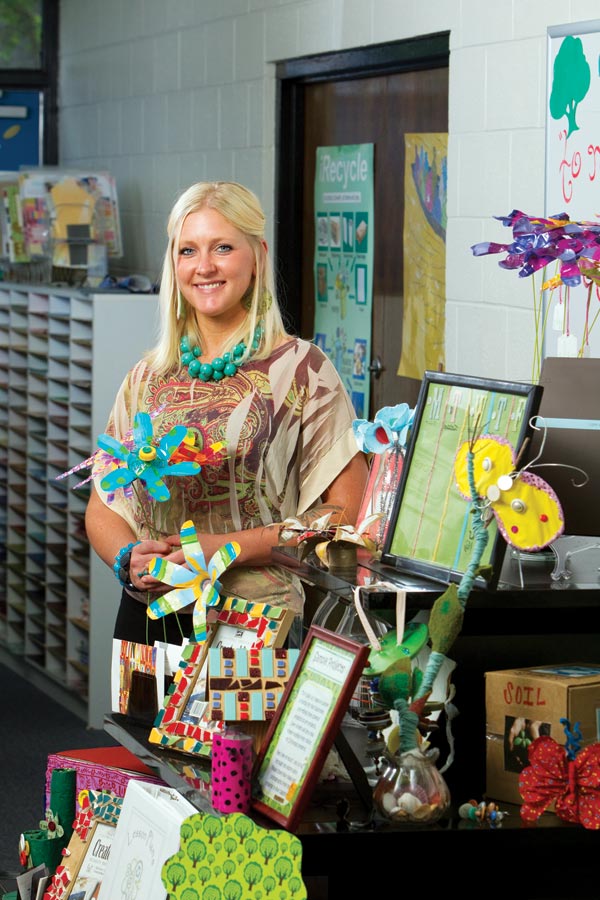 Reduce. Reuse. Recycle. While the third "R" of sustainable living gets the lion's share of our green-oriented attention, the second is the raison d'etre for The Sharing Tree, the area's year-old reusable resource center.
Housed in a small building tucked in the farthest corner of Lively Technical Center, the community-wide effort that was years in the making collects our castoffs and gives them a chance at a second life.
Originally created to help supply teachers with materials they could use in the classroom, everyone is now invited to visit and "dig a little" for its "gems and treasures." Those are the words of Carly Sinnadurai, The Sharing Tree's executive director and lone employee, who is also an artist and passionate advocate for creative reuse.
"I grew up in Minneapolis, and we had a reusable resource center there," said Sinnadurai, who worked at that center as well as one in San Francisco, before coming to study at Florida State University. "We'd go once a week and fill up our bags with all this crazy, random stuff. My mom might have hated it, but we didn't care, and we'd make stuff."
All of the products offered at The Sharing Tree are donated by individuals, local businesses and governmental organizations. Some are what one might expect to find — books, paper, school supplies and binders (lots of binders, so many in so many sizes that they're usually given away for free) — while other objects, such as a giant roll of lingerie hook-and-eye closures, require a little imagination as to their reuse.
Debbie Mayewski, who teaches special needs students at Chaires Elementary, scooped up a pile of paper fans on sticks. With the application of glitter and gemstones and the words "Mom's Biggest Fan," they would be reincarnated by the youngsters as bedazzled Mother's Day gifts.
On an earlier visit, Mayewski nabbed some cardboard that could be folded into what looked like miniature pizza boxes. The children made paper pizzas, she said, put on their favorite toppings and used the slices to study fractions.
"I bring stuff here, and I take it away," she said. "I love this place, and I'm usually at my limit every month."
All local teachers can shop and take $20 worth of supplies for free each month. Since The Sharing Tree opened in August 2010, it has served more than 2,500 teachers and given away more than $150,000 worth of free stuff.
In the beginning, the facility was only for teachers. "It kind of broke my heart, I had to say 'no' to a lot of people," Sinnadurai said. But since earlier this year, the general public can buy an annual membership — ranging in price from $15 to $100 — and shop at will, taking advantage of special incentives and events such as "Bag It Up," where shoppers can fill a recyclable shopping bag for $5.
Sinnadurai also envisions The Sharing Tree sponsoring "workshops on how to make stuff out of pretty much nothing. What you'd normally consider trash."
The Sharing Tree is a cooperative effort of four local organizations: Leon County Schools, Goodwill Industries of the Big Bend, Leon County and Sustainable Tallahassee.
The school system donates the building and utilities, while Goodwill agreed to pay Sinnadurai's salary for the first year.
While a certain amount of serendipity was involved in its creation — many of its original proponents were networked and served on a recycling committee together — The Sharing Tree also owes its existence to their tenacity. Initial plans to create a countywide reuse center fell through when the economy tanked but were revived when the school system worked out its deal with Goodwill.
"It's been cool (but) it hasn't been a cinch," said Bill Berlow, formerly an editorial writer for the Tallahassee Democrat and now policy coordinator at Leon County Schools, who has worked on the project since its inception. Much of The Sharing Tree's success, he said, can be credited to Sinnadurai, who he describes as "artistic, passionate and funny." Donations flooded in on her first day on the job from FSU, which had been saving supplies; the Department of Revenue, which donated furniture after moving its office to the new SouthWood facility; and Goodwill.
"People came expecting a dank, dark warehouse. She turned a building in disrepair that really hadn't been used, except for storage, into a store," he said. "If there was ever a perfect candidate for a job, she was it."
While her inventory is ever-changing and unpredictable, Sinnadurai manages to maintain order, with art and school supplies in one bright room (featuring suggested art projects using repurposed water bottles and paper towel rolls), another full of books and a third with office supplies, including brand new bubble envelopes and stacks of dot matrix printer paper ("Great for practicing handwriting," the sign says.)
A huge boost came from Tallahasseean Courtney Glazer, who, after closing her scrapbooking store in Jacksonville, donated leftover products, a copier and scanner, store fixtures and a sophisticated point-of-sale register system to The Sharing Tree.
Glazer had heard of a similar reuse center in Jacksonville, but was keen to keep her donation close to home. "I found out they were trying to do this here in Tallahassee, and I was excited to donate," she said. The gift filled two trucks (donated by a local carpet company) and was worth about $35,000.
The ultimate goal is for The Sharing Tree to become self sustaining — hence the membership fees as well as fundraising projects such as a celebrity waiter event in the spring. It's future isn't a done deal, but Berlow said he is hopeful. "We're not just serving teachers anymore. It's a great community asset," he said. "Everybody gets how good this is on so many levels."
Want to Donate?
The items below are just a few of the things that can be reused by The Sharing Tree. For a more complete list, visit the store's website. Donations can be dropped off at The Sharing Tree or at any Goodwill donation center (specify that the donation is for The Sharing Tree).
Art suppliesEnvelopes
BasketsFabrics
BeadsFoam
BooksFrames
ButtonsGlitter
CardsGames
CardstockMagazines
CompassesMoney
CorksMovies
CostumesPaint
CrayonsRibbon
DowelsShoe boxes
Egg CartonsSpools
ErasersYarn
Space is limited at the facility, so before donating large quantities or large items, such as furniture, call Sinnadurai at (850) 487-7568 or email her at carly@thesharingtreefl.org.
The Sharing Tree
Lively Technical Center
500 N. Appleyard Drive, Building 6
(850) 487-7568 | thesharingtreefl.org
Shopping Hours: Tuesdays and Thursdays, noon–6 p.m.; Second Saturday of every month, 10 a.m.–3 p.m.