Care for the Golden Years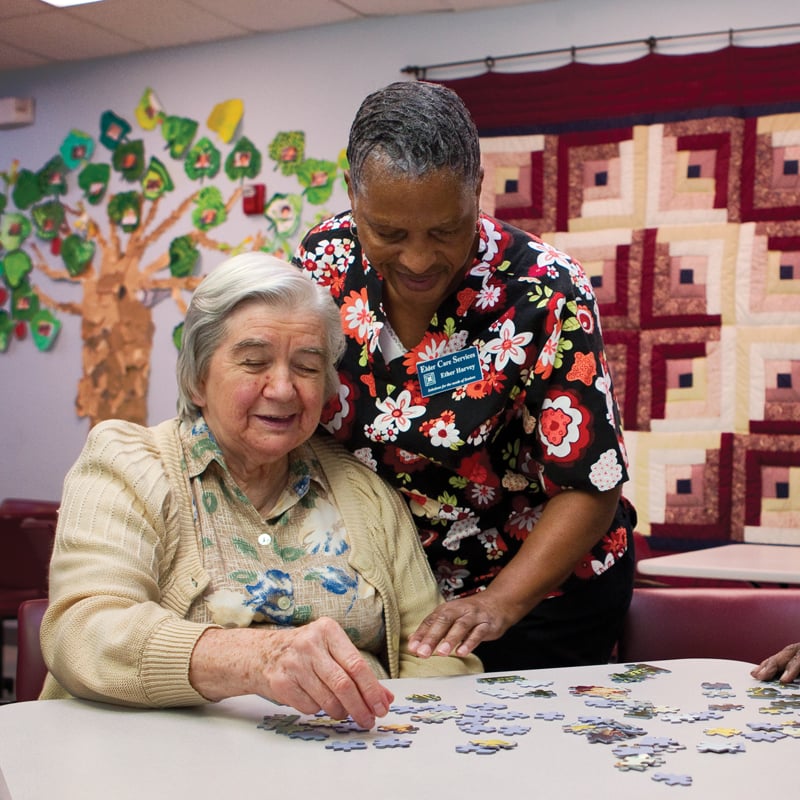 Around 5:30 a.m., long before the sun starts its shift, Debra Waters gets up and starts to prepare breakfast. She hustles through the morning — picking out his clothes, helping him wash and getting him dressed — aware the bus driver usually arrives around 7:30 a.m.
Although routine by now, she still waits with him at the bus stop, making sure he gets onto the bus without a glitch. After saying goodbye and knowing he's well on his way, she returns to the house and gets ready for work, confident her dad will have a good day.
For 38 years, Elder Care Services has been a helping hand for families needing assistance taking care of elderly loved ones. Best known for its Meals on Wheels program, which delivers meals to more than 300 homebound seniors a day, ECS offers a plethora of services for senior citizens in the Tallahassee community.
The not-for-profit organization offers programs such as S.T.A.R.S (Seniors Transporting At Risk Seniors), in-home assistance, Project Pride (which provides incontinence supplies to seniors) and several nutritional programs.
Sharon Davidson, director of development and communications at ECS, said these services provide a major assist to seniors who need help with some of life's basic tasks.
"People tell you how to plan financially to grow old, but they don't tell you how to plan logistically — who's going to cook your meals for you, who's going to help you keep your house clean, do your laundry and how are you going to get to your doctor's appointment," Davidson said.
One program she sees as particularly essential to the community is the Elder Day Stay, a day care program for seniors that allows caregivers to go to work, knowing their loved ones are being cared for.
"It's kind of for that sandwich generation — that group that's still raising kids, but also has to take care of their loved ones," Davidson said. "As our generation is living longer, and as people are having to work longer, there are so many people that need adult day care. It's the up and coming need for our generation."
According to the City of Tallahassee's 2010 Statistical Digest, 9 percent of Leon County residents are aged 65 and older. It can sometimes be easy for senior citizens to be overlooked in a city filled with college-age residents.
"Until you're in the situation, sometimes you don't think about it," said Waters, whose father, George, has been attending the Day Stay for two years.
Before getting into the EDS program, Waters' brother was looking after their father while she went to work during the day. But after awhile, her brother could no longer care for him during the day and Waters had to find an affordable alternative.
While picking up some household items for her father at the ECS center, one of the employees told her about the day care program.
"I was looking for something like that and was really having a difficult time because I'm still working," Waters said. "They're a godsend. It definitely changed everything and took a lot of stress and worry away."
Like Waters, many primary caregivers find it difficult to take care of a loved and still work full-time. The Day Stay offers a solution for that while still affording seniors the option of living at home with their loved ones.
"We're a vital part of taking care of the aging population in Leon County," said Susan Warren, director of the EDS. "What we're doing is keeping that family intact."
Since she was a little girl, Warren said that she's had an affinity for the elderly and sees them as people who require care and deserve the utmost respect.
"Susan Warren was born for this position," Davidson said. "You just watch her with these seniors and she's very respectful, shows lots of love and respects their experience and where they've been in life."
Before moving in 2006 to its new facility in Lake Ella Plaza, the EDS was formed out of two day care services housed at two local churches. Today, the EDS is one program whose staff and volunteers help care for the seniors while trying not to completely strip them of their independence.
"You try to still treat them like adults," said Christine Garrison, who's worked at the Day Stay for 27 years. "They are adults, but they just can't do what they used to."
Garrison has also worked at nursing homes and believes that seniors get a more nurturing experience at the Day Stay.
"Even though you can give them that one-on-one care (at nursing homes), here they get that socialization," she said. "They come, mingle, socialize and get a chance to interact with other people as opposed to being home."
In order to be eligible for the EDS, participants must be at least 60 years of age or experience symptoms of Alzheimer's disease or dementia, something that EDS employees have to deal with on a regular basis.
"I had a client one day who wouldn't eat her lunch," Warren recalls. "I said 'What's wrong? Why aren't you eating?' and she said, 'I have to save this for my husband. He's just coming in from the fields and he's going to need something to eat.' Her husband's probably been dead for 10 years. But I said, 'You know what? I've got an extra one in the kitchen and I'll go put it in the oven until he gets in.' Then she said, 'OK,' and felt like she could go on and eat her lunch. When you have a client with dementia — it's called therapeutic lying. In her mind, he's out in the field working and needs a healthy meal when he comes in."
Along with counseling, the Day Stay staff keeps seniors busy with a wide range of activities, including indoor exercises, arts and crafts, onsite visitors and even playing a Nintendo Wii that was donated to the facility.
"He totally enjoys it," Waters said of her father. "He has friends there and he jokes (around) — he's actually come out a lot. It's helped him out socially and physically as well."
The cost to enroll a senior in the program is $45 a day for part-time participants and $750 a month to attend full-time. Depending on individual cases, scholarships can also be awarded to those in financial need.
George Waters was one such case.
"It came at a great time," his daughter explains. "Not only did it help us out financially, but it gave him something to do — I couldn't pay them back enough."
---
For more information, contact the Elder Day Stay at (850) 222-4208 or log onto the Elder Care Services website at ecsbigbend.org.