What the Captain is Wearing
Modern marine wear performs well, looks good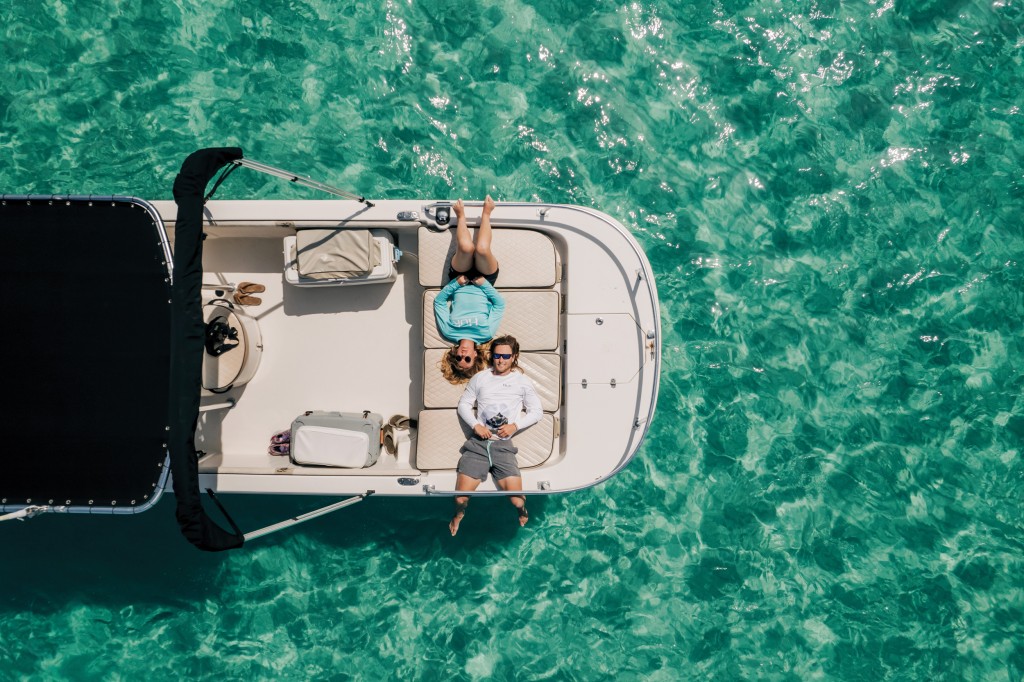 Boat captains once conjured images of ratty T-shirts; sun-bleached, long-billed hats with leaping marlins or anchors on the crown; and shorts that appeared to be held together by stains, but today they're sporting some serious seafaring styles.
"Marine wear now is performance fabrics that give great sun protection," said Tom Morgan, owner of Apalach Outfitters in Apalachicola. "Just like with a T-shirt, people want some cool graphic on their performance shirts, and these clothes have evolved to come in all sorts of colors and patterns."
Nautical threads, like the golf duds you may have spotted at this year's Masters Tournament, now marry form with function in sleek, often understated pieces designed to keep you cool, dry and even aerodynamic. Or maybe aqua-dynamic in this context.
For many, this offers a seamless transition from sport to polite — or impolite — society.
"You can absolutely wear these sun shirts and quick-dry shorts both on the water and off,'" said Morgan, whose store specializes in outdoor apparel and accessories. Floridians tend to embrace the "boat to bar" look, and Morgan said it's not uncommon for men to pair these performance shirts with a khaki short to wear while out and about town.
At Apalach Outfitters, bestselling brands such as Patagonia, Southern Tide and Simms offer all-day comfort for both the offshore angler and casual cruiser.
"I love to saltwater fly fish, with my passion really being fly fishing for tarpon," said Morgan. "I like to wear Patagonia fishing shorts and one of our private label performance tops in a hoodie. It's all about sun, sun, sun. People like facial protection, and Simms makes superior face masks and fishing gloves that cover the back of your hand."
Columbia's line of PFG (performance fishing gear) shirts, made with sweat-wicking and quick-drying fabric, boasts an ultraviolet protection factor (UPF) of 50. These tops have acquired the Skin Cancer Foundation's seal of recommendation, which indicates their lightweight, polyester composition will block up to 98% of the sun's rays.
For many brands, button-down performance tops offer a more polished style and often feature mesh-lined back vents, perforated underarms and utility pockets for your sunglasses, phone and other essentials.
Too, contemporary fishing pants and shorts are designed to repel water and maintain a solid stretch factor. Many opt for convertible fishing pants, which zip around the thigh and transform into shorts or swim trunks.
While some may never part with their beloved flip flops or Sperrys, Morgan said contemporary boating kicks are becoming more sophisticated. "XTRATUF shoes are for men and women. There's a 6-inch ankle deck boot, and they also make something like a boating tennis shoe. Those are really popular."
But before you leave the dock, don't forget your sunglasses, Morgan said. He is partial to a pair of Bureo X Costa shades, whose eco-conscious frames are made from recycled fishing nets.
"It's a cool new brand, but we also carry traditional Costa, Oakley and Ray Ban," he said. "Sunglasses are always a big deal to people who come in and want to go out on a boat, especially if they don't do so regularly. They've got to have their polarized sunglasses."