Capital Regional Medical Center Expands Mental Health Services
Care for Those in Crisis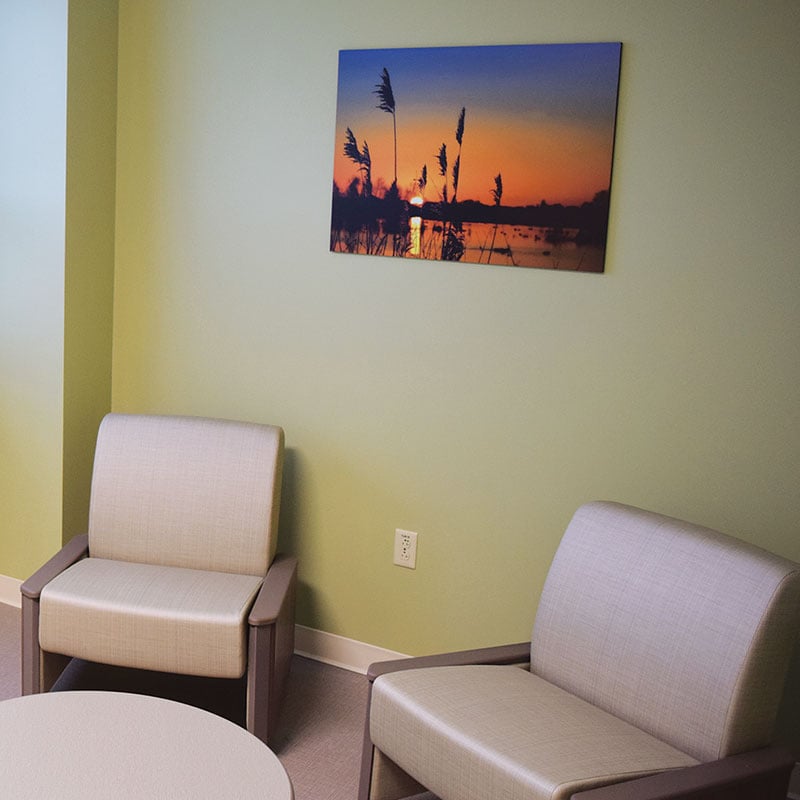 The new Behavioral Health Center at Capital Regional Medical Center was designed to be homelike, with all the safety and security required for a medical unit treating those with serious mental illness.
Courtesy Capital Regional Medical Center
While Tallahassee is rich in health care, those with severe mental illness could spend long hours, even days, in local emergency rooms waiting for a spot to open up in one of the area's 106 inpatient beds devoted to mental health.
In 2013, Capital Regional added two floors on top of its existing six to prepare for future needs, and decided a year later to dedicate the entire seventh floor to inpatient mental health care. Earlier this year, the hospital added a badly needed 24 beds to that total with a new Behavioral Health Center, dedicated to treating psychiatric disorders in adults.
The 14,000-square-foot unit cost $4 million to construct. The state-of-the art, self-contained facility is bright and comfortable but also includes the security and privacy considerations required for a behavioral health facility.
The unit is approved to accept patients requiring emergency mental health services under Florida's Baker Act, which allows for the temporary detention and evaluation of people who could potentially harm themselves or others. The center is also designed to provide the follow-up care necessary to prevent or minimize the future need for intensive treatment.
The center sees patients for common mood disorders, including depression (and post-partum depression), anxiety and bipolar disorder, as well as those with thought disorders, such as psychosis and schizophrenia, said Meg Young, MSW, director of behavioral health services.
Once admitted, patients receive multidisciplinary care from licensed psychiatrists, registered nurses, specialized therapists, social workers, mental health technicians and physicians. There are group and individual counseling sessions as well as music and art therapy provided by master's-level caregivers.
Patients also have access to the full range of services provided by Capital Regional, such as laboratories and imaging, speech and physical therapies, chaplaincy services and services for pregnant women. Important, said Young, because mental illness is often paired with physical ailments.
"There is a high rate of co-morbidity in mental illness with cardiac, cancer and diabetes and other endocrinologic illness," she said. "Definitely the signs or symptoms of serious illness could lead to having a secondary issue with mental health."
The treatment team works closely with each patient, who is involved in all aspects of his or her own care.
"Patients are approached as a person first and treated with kindness and caring," Young said. "Their needs and wants are respected, and they are part of the treatment team. They set their own goals, and we encourage them to discuss the progress they are making toward meeting their goals."
The environment is as homelike as possible, said Young, with abundant natural light and artwork on the walls, and patients are allowed to choose their meals from a menu.
Future plans include additional expansion of Capital Regional's behavioral health services, such as electroconvulsive therapy. Known in the past as "shock" therapy, "it's a much more civilized process now for people with treatment-resistant depression that can be done on an inpatient or outpatient basis," Young said.
Another part of CRMC's growth plan is to open programs that would allow partial hospitalization as well as intensive outpatient services.
"There's no such thing in Tallahassee now," she said. They would be ideal for individuals who are "in crisis but don't need hospitalization, or if once-a-week therapy isn't going to be enough." Or for people who have been hospitalized to "help them transition back to their work or daily functioning."
The ultimate goal, said Young, is "to be a partner within the mental health community to serve the folks that have the needs."