'Capital Punishment' Gives Tallahassee a Taste of Roller Derby
Girls on Wheels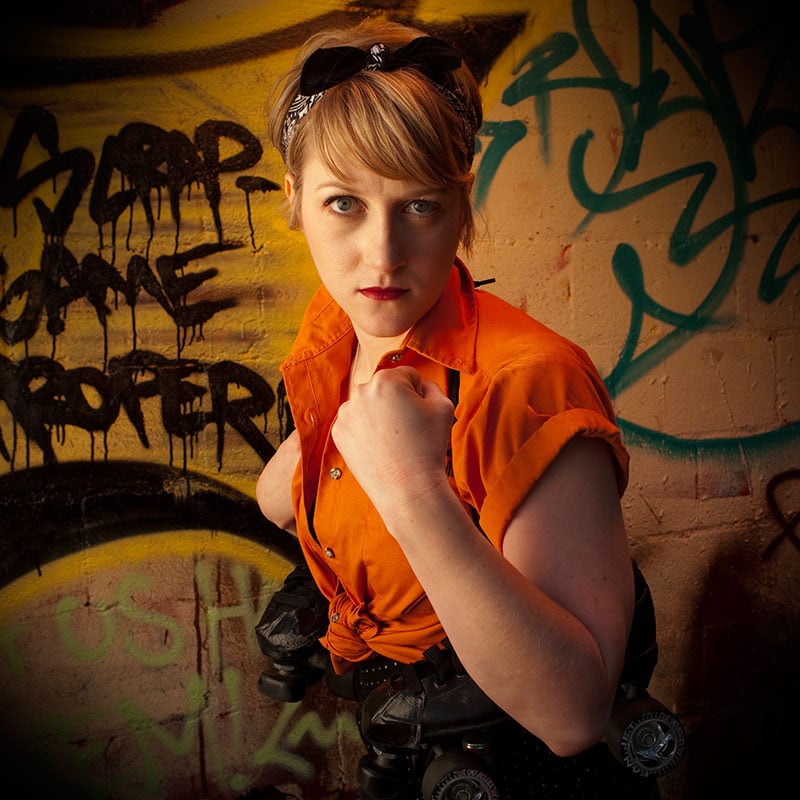 Who wears short skirts, loads of makeup and isn't afraid to knock you to the floor? It's the Tallahassee RollerGirls, a group of skating vixens who are bringing back the tough-girl sport of roller derby to North Florida.
The phoenix of sports, roller derby was born as relay races in the 1930s, and began transforming when contestants started using physical aggression to pass their opponents. The physical contact and added dramatics drew in larger crowds, and so roller derby was officially born as a theater performance within a sports competition.
Not for the faint of heart, roller derby requires stamina, determination and lots of girl power. An indicated player must lap as many of the opposing team's players as possible, gaining a point for each she passes. Like superheroes, each girl takes on an alter ego to charge into the rink, leaving insecurities on the sidelines as she sets free her inner wild child.
In order to achieve credibility and legitimacy, the Tallahassee RollerGirls have decided to forgo fake fights, so if you witness any throw-downs, it's part of the game and completely real.
Hairdresser by day Natalie Papienski, aka "Bitchie Cunningham," joined the Tallahassee RollerGirl team "Capital Punishment" in July 2006 and now serves as its captain, along with co-captains Great Wall of Gina and LaVoodoo. Tallahassee Magazine writer Chelsey Germani recently geared up for a full-contact interview session with 'Bitchie' to learn more about this retro sport's Tallahassee revival.
TM: What attracted you to the Tallahassee RollerGirls?
BC: I'd always enjoyed roller skating and I had a friend who played on the New Orleans team and she told me about it.
TM: Did you have a RollerGirl persona before you joined the team, or did the attitude come because you joined the team?
BC: I think that everybody has a bit of a dual personality and this is just a way to let it out. That part of my personality has always been in there, but I can get away with a little bit more. Like I always say: "I don't mean to be Bitchie, but…"
TM: Why do you and the other RollerGirls have alter egos?
BC: It helps motivate me to be tougher and leave my meek side (behind).
TM: Where did your name, "Bitchie Cunningham," come from?
BC: It's after (Ron Howard's) Richie Cunningham character from the "Happy Days" show … a wholesome, all-American kind of guy.
So I have a '50s theme with how I dress and I wear a big swirly "B" on all my uniforms.
TM: Is roller derby a way for you to release stress?
BC: Definitely. I think a lot of people feel like that. And it's not just the contact. It's going out there and really skating hard and wearing yourself out. But every once in a while it does feel good to just put somebody on the floor.
TM: What types of workouts do you do?
BC: We practice hitting, making cuts and how to move laterally across the track. And right now we're really into developing strategy — How can we play this game smartly? How can we know the rules and work around the rules to our advantage?
TM: So it's all real? There's nothing fake about it anymore?
BC: Our team is taught if somebody tries to fight you, don't fight back. Because if you fight during a game, you'll get pulled out and your team has to play (with) a player down. And if you're one of the best players, that could affect your points. We're so into playing our game that we don't want to fight.
TM: Besides the physical activity, what makes you want to step out onto the rink?
BC: The fans and pride in your teammates. For all of us, it's pretty much about the family, the sisterhood, the team.
---
Those wanting to get in on the action can watch home bouts at the North Florida Fairgrounds during the 2009 season, which runs until October. Tickets are $13. Visit tallyrg.com for information on match times and locations.