Capital City's Vibe is Getting Stronger
— and We Have Everyone to Thank for It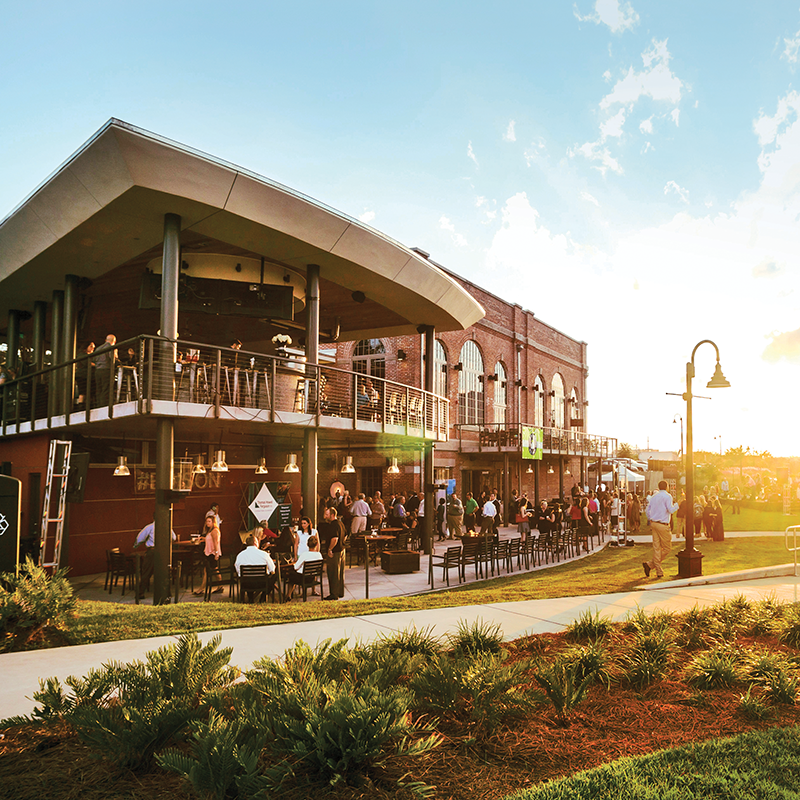 In high school, the cool kids always had the same blasé attitude. For the most part, they earned their stripes the old fashioned way — with a pack of cigarettes smuggled from their older brother's sock drawer. In lieu of contraband, game-winning touchdowns also did the trick. In city planning though, things get a little more complicated. Cool doesn't just happen, and you certainly can't fake it.
In this world, cool is made.
According to Mayor Andrew Gillum, the process of making Tallahassee into a cooler, more desirable destination for visitors and residents alike was a calculated one from the very beginning.
"Very intentional steps have to be taken to create the kind of community that people want to live in," Gillum said. "It's been a series of deliberate actions by the local government but also by the private sector, which has seen the vision and has in some cases come in before us to help that vision be realized."
Over the last decade, Tallahassee's movers-and-shakers have gotten hands-on. In the early days, Blueprint2000 led the way by allocating much needed funding. For some, though, the Knight Creative Communities Institute, or KCCI, really kicked things off for the city in 2007.
Along with Charlotte and Minneapolis/St. Paul, Tallahassee was chosen by the John S. and James L. Knight Foundation for a pilot project aimed at enhancing the country's most up-and-coming cities.
When KCCI landed here with big ideas, they brought a chunk of grant change with them.
"So fast forward to today," said Betsy Couch, KCCI's executive director, after giving Blueprint2000 its just deserts, "and along the way, KCCI came in 2007. And that was just another way to further connect people in town. We brought in a diverse group of community volunteers, and instead of just inviting everyone to come and talk about ideas, what was so great and so different about KCCI is that it was action-oriented."
"I went up to them after," recalled Jay Revell, now the executive director of the Tallahassee Downtown Improvement Authority, of an '08 encounter. He was a student at Florida State the first time he was in earshot of KCCI. "And I was just like, 'This is amazing. How do I get involved?'"
It didn't take long. As a member of the 2009–2010 Catalyst Class (a group of local professionals selected annually to work on propelling an initiative forward), Revell was involved with KCCI's Identify/Illuminate Tallahassee project. The then poorly defined Midtown was the team's first stop.
"We came up with something called the 'Midtown Action Plan,' and for the last five years, the city has been checking things off of that list," said Revell. "I think the long-term impacts of what we did then are still bearing fruit."
The other component to their initiative was a bit more complex. As it turns out, helping Tallahassee identify exactly what sort of city it wants to be is an ongoing process.
"I think that for a long time we sold Tallahassee as this sleepy little small Southern town," stated Revell, who is a Havana, Florida, native. "I think that there's still people trying to push that. But I couldn't disagree with that any more than I do.
"I'm from a sleepy little small town outside of Tallahassee. And if you go 150 miles in any direction, that's all you're going to find. So if you're trying to sell 'sleepy little small town,' we're going to get kicked by all the places that are actually that. We're the seventh largest metropolitan area in the third largest state in the union, let's act like it."
Plenty of folks agree with Revell, including those involved in the very first KCCI project called Get Gaines Going. Along with the city, citizens pushed the Gaines Street corridor's timeline ahead by 11 years through personal investment and encouraging local lawmakers to get behind major "sense-of-place" planning.
"While the city may have been the initial investor putting $20 million into cleaning up that area and changing the streetscape," said Mayor Gillum of the Gaines Street area, "the over $400 million in private sector investment that has occurred in that area has been because people have made intentional investments to create an entertainment district where people want to go."
For businesses owners like Byron Burrough, the founder of Proof Brewing Co. headquartered in Railroad Square just off of Gaines Street, seeing the city's backing of Tallahassee's steadily growing coolness is enough to make him stick around.
And that's exactly what local officials are counting on, too.
"We decided to invest in Tallahassee because it's a fantastic market as far as growth," said Burrough, who's spent years traveling the country opening concepts in the hospitality industry. "What the city says it's going to do as far as the plans for city revitalization and Gaines Street revitalization and through Cascades Park, they've pretty much done everything. Tallahassee keeps growing and building upon itself."
Amping up a city's cool factor is in no way effortless, though. Wanting to be inviting is the first step, but actually getting there? Well, that can get a little technical and city codes often stand in the way, especially when that means reimagining what urban residential communities might look like.
"It's not like someone just decided to open up a wine loft one day," started Mayor Gillum. "We changed city code, development code, we changed the densities of the urban core, we provided density honorship so that the higher intended use that you were planning to build, the more breaks you got. Then came fees and taxes and other associated development costs. That was a deliberate step by us from a planning standpoint."
Where areas like the Market District or Midtown are concerned, conversations between merchants and residents often fell mute until a third party, like KCCI or the city, decided to step in. According to Revell, once the talks start progressing, the two entities generally have similar designs for the future. A safe and pedestrian-friendly environment is chief among them.
"And when you talked to the businesses," said Revell, referencing his days working on the Midtown Action Plan, "they wanted the same exact thing. But no one had ever brought them together to figure out how to work on the things we agree on."
Since the city's core — Downtown, CollegeTown, Midtown and the Market District — is headed in a progressive direction, focus is now shifting to the outskirts of Tallahassee.
Up next? Welaunee and the Centre of Tallahassee.
"The great part of development and what's occurring is that it's not just one section of the city," said Mayor Gillum. "It's for the benefit of any one who lives in any part of our city. … It's going to be extremely attractive to people who live here, but also visitors to Tallahassee.