Camera-to-Eye, Photojournalist Mark Wallheiser Captures and Catalogs 30 Years of History
A Life Through the Lens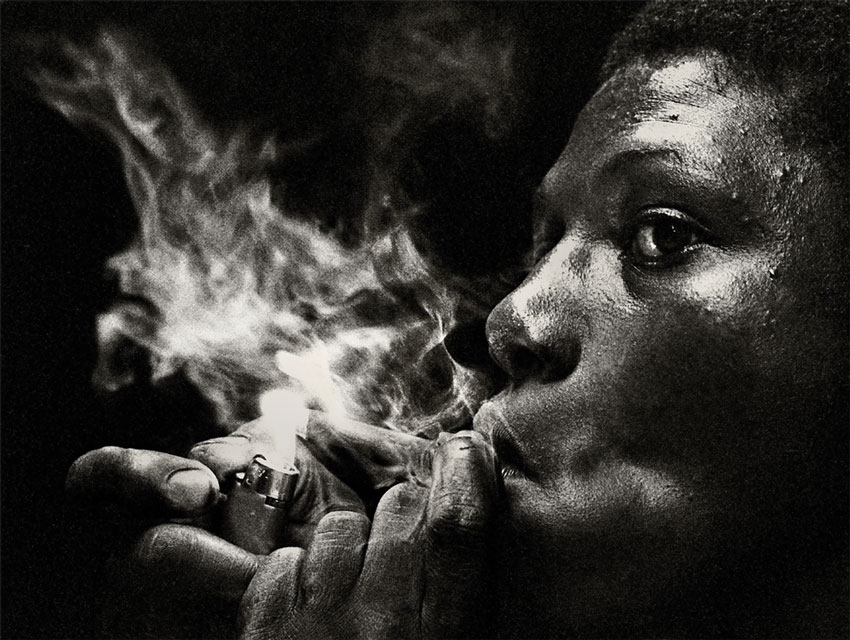 He's shot U.S. presidents and drooling babies. Society ladies and pregnant crack heads. Lots of happy people — and others in the depths of despair on the worst day of their lives. Hurricanes — 16 in all. Parades.
People working and playing. Seminole football games. Inaugurations and funerals and guys mowing the lawn. Cops, accidents, buildings, Klansmen, graveyards … and so much more.
It was all in a day's work — or should we say 30 years worth of a day's work — for Mark Wallheiser. Now a freelance photographer, the 57-year-old spent the lion's share of those years as a photojournalist for the Tallahassee Democrat, oftentimes shooting four or five assignments a day.
Eight thousand of the images he captured can be found on his website, tallahasseestock.com. But Wallheiser estimates he has 50,000 — maybe even 100,000 — more on negatives filed in cabinets stored in a climate-controlled warehouse, just waiting for him to find the time to unearth the snippets of local history he has chronicled through the lens of his camera.
Usually, photojournalists who work for news outlets give up the rights to their photographs. But a policy born out of necessity at the Democrat allowed photo staff members to, after three years, get back the copyright and the negatives. "Because they only had one filing cabinet," Wallheiser explains. When a photographer's drawer filled up, the letter-sized envelopes were transferred to a box on a high shelf and ultimately moved out of the photo studio completely. Even after the newspaper embraced digital technology and began saving photos on discs, the policy continued.
For the first two years, Wallheiser gave his negatives to the state archives "because that's the only people I could think of that would have long-term interest in documenting the city," he said. "Then, I realized there's some value here for me before they ultimately end up in the collection — because they'll end up there — so I started keeping 'em."
In the three years since he left the newspaper, Wallheiser has created his website and uploaded the digital images from the latter part of his career. Now, he's going back to the old envelopes from his earliest days on the Democrat staff — containing the photo negatives, a printout of the assignment and his handwritten notes — and working his way to the present day.
The task is daunting — and tedious. He has to scan each negative, "tone" the image, write a caption, create keywords and upload the photo to the site. Wallheiser estimates he works 30 or 40 minutes on each image, usually in the evening when there's nothing interesting on TV.
While he hopes to make a living off of photography assignments and his stock art site, Wallheiser says "the purpose of tallahasseestock.com is to support my photography habit …. my newer stuff supports the historical stuff.
"Certainly a lot of the old stuff I'm scanning now I don't make a dime off of, but it's part of history and it's better seen than not seen," he says.
It's a labor that brings back decades of memories for the Shelbyville native, whose deep voice still retains a Tennessee twang.
Although his work has brought him "a truckload" of awards, including being named Florida's News Photographer of the Year in 1988 and a team Pulitzer for his work in the aftermath of Hurricane Katrina, Wallheiser is basically self taught. He took a few photography classes while attending Western Kentucky University in the '70s, but "I really couldn't grasp" the methods for using the non-automatic equipment of the day. "F stops … it was so confusing … it was very mathematical. I hated being in the darkroom."
After college, he was first hired as a reporter, but quickly moved to photographing Tennessee Walking Horse shows. He then worked as a photographer for the Montgomery Alabama Advertiser Journal for three years.
"I made a lot of mistakes when I was young," he recalls. "I stayed on the s— list pretty much for most of that three years. But I got a lot of my mistakes done."
Reviewing his work from the early '80s has given him a few "if-I-knew-then-what-I-know-now" moments. "I can track the progress. If I was editing another young photographer, I'd be telling him how to progress past that point," Wallheiser says. "Early in the Democrat (years), what really helped my career was we had the ability to fail and not get into trouble. That is a big thing for growth."
He recalled one lesson learned after his arrest — one of four during his career — at an accident scene. His then-editor Walker Lundy bailed him out of jail and asked for his photo of the accident. "I told him I don't have any … (the police) came over and started messing with me" before he could take one. His boss' reaction? "You were right to be where you were, but if you don't have a picture, they win, you lose. Always get the picture."
He waxed philosophical about his role as a photojournalist in the newsgathering process:
"It is my job to make people stop," he says. "Eye track studies … say the first entry point for the page is the photo. They're going to go to the photo first, headline second and the story's the last thing they look at.
So if I can stop them and make them look (at) a cool picture, they're going to start reading the story."
Wallheiser speaks about his years behind the lens as a vocation.
"If a person is meant to be a photojournalist — if it's truly meant to be — they'll find a way," he says. "A true photojournalist, they leave being a medical doctor and start shooting. They've got no choice."
But the calling has a profound downside. Three decades of lugging around heavy equipment and the contortions sometimes required for on-the-spot photography led to shoulder surgery, two back surgeries and knees that are pretty much shot after years of getting down on them to take photographs. "It's hard to get workers comp. They say, 'What date was he injured?' How about the 1980s?," he says. "But, whatever, I was doing what I loved."
There's another darker side that has to do with the long hours and photographing grim subjects that Wallheiser refers to as "the underbelly" that can ruin relationships and lead to destructive behavior, like his three-pack-a-day smoking habit. "Living and photographing the underbelly will drive you to worse things than smoking," says Wallheiser, who has now cut down to about a pack a day.
"Looking back, what a great gig. It was a great ride. What I got to do, the presidents I got to see … but I spent a lot of years on the shrink's couch because of the underbelly side."