Camellias Provide Color During the Coldest Months
Winter Beauties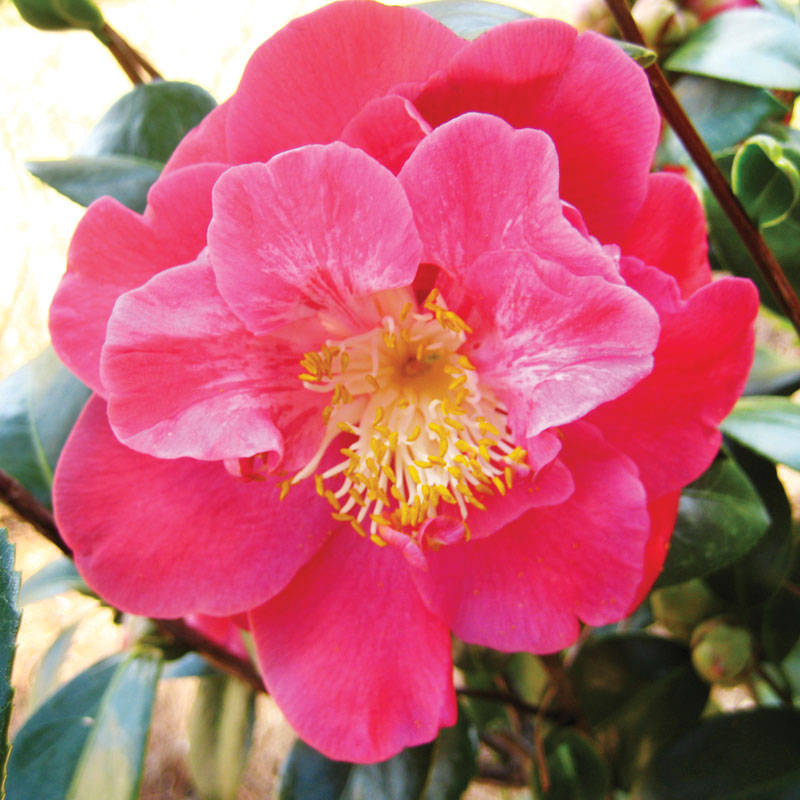 Move over, Marquis de Lafayette, and make room on your pedestal for another Frenchman who helped shape the look of Tallahassee — Andre Michaux.
A botanist, explorer and plant collector, Michaux traveled the world in the service of France, searching for trees to rebuild the war-ravaged forests of his native land. As the King's Botanist, he led a scientific mission to the United States in the late 1700s. In addition to shipping trees back to Europe — trees he found as he explored what was then the frontier of the new country — he is credited with introducing several of our most-loved trees to the U.S., including the camellia.
Can you imagine Tallahassee, or the rest of the South, without camellias? From the Alfred B. Maclay Gardens State Park to Goodwood Museum and Gardens to home gardens from one end of town to the other, camellias are one of the backbones of regional horticulture. Whether gracing the plant's shiny evergreen foliage in the landscape or floating in a crystal bowl, camellia blooms are as southern as live oaks dripping with Spanish moss, giant magnolia trees and crape myrtles — another of the trees Michaux introduced.
Camellias can be grown as small trees or large shrubs, and the blooms of fall- and winter-blooming camellia japonica are a welcome sight when other flowering shrubs are dormant. When first introduced from Japan, though, they were grown in conservatories in the northeast. An article in the 1991 American Camellia Yearbook says that Robert Gamble brought the first camellia to Tallahassee in 1811 from a conservatory in Baltimore. He planted it near his home downtown and in 1924, as his heirs were selling the property to the First Baptist Church, they sold that camellia, known as "Aunt Jetty," to Alfred B. Maclay, who had bought John Law's hunting lodge on the north side of town and was busy creating gardens on the property.
"He said he paid $75 for a camellia that was over 80 years old," said Beth Weidner, manager of Maclay Gardens State Park. "When he found mature properties, he had wooden boxes constructed to go around the root balls when they were moved."
The original "Aunt Jetty" was fatally injured in the freeze of 1983–84 and finally died a few years ago, Weidner said, but a clone that was air-layered from it was planted to replace it. According to the Yearbook article, many offspring of the original are growing around Tallahassee and throughout the Deep South, some called "Aunt Jetty" and some called "Governor Mouton."
Maclay Gardens was one of the sites under consideration to house the headquarters of the American Camellia Society 25 years ago. Although Massee Lane Gardens near Fort Valley, Ga., was ultimately chosen, the serious look given to Maclay was a testament to the strength of its camellia collection.
"They are the backbone of the garden," Weidner said. "We have about 1,200 plants and about 150 different cultivar or varieties, mostly japonicas but a few sasanquas."
What's the difference? Sasanquas tend to bloom earlier, in late summer and fall, have smaller leaves and smaller flowers, and can take more sun than japonicas. There are several other types of camellias found less often in the landscape, including C. reticulata, C. hiemalis and C. vernalis.
C. oleifera, a small-flowered Chinese species that blooms in the fall, has become the basis of a breeding program at the National Arboretum in Washington, D.C., to develop cold-hardy varieties of camellia that can survive in USDA Zone 6b, which is the mid-Atlantic region.
Camellia japonica flowers can take a variety of forms, including single, semi-double, anemone, peony, formal double and rose-form double. Sasanquas usually come in single, semi-double or double forms.
The camellias at Maclay Gardens are all historic cultivars, including Lady Hume's Blush, a very faint pink, almost white, formal double-bloom variety that Weidner has never seen anywhere else. For years, white was not a popular color and plants that bore white flowers were used for grafting stock, she said. On the first Friday in December each year, Maclay Gardens hosts "Camellia Christmas" and welcomes the public to enjoy the acres of blossoms.
Goodwood Museum and Gardens has camellias, although not as many as Maclay Gardens.
"We do have a few, but we're much more about azaleas and roses," said Mike Herrin, Goodwood's director of horticulture and facilities. "Overall, we have maybe 40 or 50, including some in the west woods."
Fanny Tiers, the wealthy New Jersey woman who bought the property in 1911 as a winter estate and did extensive remodeling and construction on the property, planted a Pink Perfection camellia between the Main House and the sunken rose garden in the late teens. It survives today and is quite large. State Sen. William Hodges, who bought the property from Tiers in 1925, added to the camellias in the garden as well.
"There's a 'nursery' bed that was probably planted by Senator Hodges down by the greenhouse," board member and garden volunteer Gineen Krafft said. "I think there are at least a dozen."
Like many plants, camellias have fallen out of favor and then enjoyed revivals over the years. Both Weidner and Gary Knox, a horticulture professor at the University of Florida's Research and Experiment Station in Quincy, are seeing resurgence in the camellia's popularity as a landscape plant. For years, many growers primarily valued the blooms for competitions in shows. Although the shows continue to be popular — the Camellia and Garden Club of Tallahassee sponsors a two-day show every January — many treasure the plant for both its blooms and its contribution to the landscape. Alex Hinson, president of the local Camellia Club, is one.
"I grew up with camellias," Hinson said. "My mother had them and I used to ride my bike to the cemeteries and look at them. When we bought our property 10 years ago or so, the high shade was perfect for them."
Asked whether he has a favorite camellia, he borrows a line he heard a daylily expert use when asked the same question: "The last one I picked."
Knox predicts sasanquas will increase in popularity as growers seek to meet consumer demands for specific combinations of qualities in camellias.
"I think the trends in the future will be to improve the cold-hardiness, to improve the fragrance — because so many camellias have no fragrance — to extend the blooming period, to introduce new colors and to reduce plant size," Knox said. "Yards are getting smaller, and people want smaller cultivars for them."
Knox is the lead author of a book chapter, co-authored by professors from the University of Georgia and Clemson University, on Integrated Pest Management for camellias. The book, due out next year, focuses on IPM for shrubs in the southeast, and Knox is also a co-author of the chapter dealing with shrub roses.
"It's oriented toward growers and landscapers and it includes an overview on nursery best practices, such as pruning to increase air flow and reduce disease," he said. "One of the things the growers tell me is that certain cultivars have name recognition so people ask for them by name, but they're not necessarily the best. There are others that look like them that are much more disease-resistant."
Paul Brock, co-owner of Tallahassee Nurseries, is another camellia fan. Had he been born a few years earlier, there might be a camellia hybrid bearing his name. His grandmother, Mrs. Paul Howard Brock Sr., was an enthusiastic local camellia grower and flower show judge who created new hybrids, naming the "Julie Brock" and "Peggy Brock" for his sisters. Her best-known camellia creation, however, was the "Edna Campbell," named for her good friend and the wife of Doak Campbell, who became president of Florida State College for Women in 1941 and oversaw its transition to Florida State University during his 16 years at the helm.
"I came along too late for the naming," he said, "but personally, I just love camellias."