Camellia Oaks
For downsizers, development has proved to be a good fit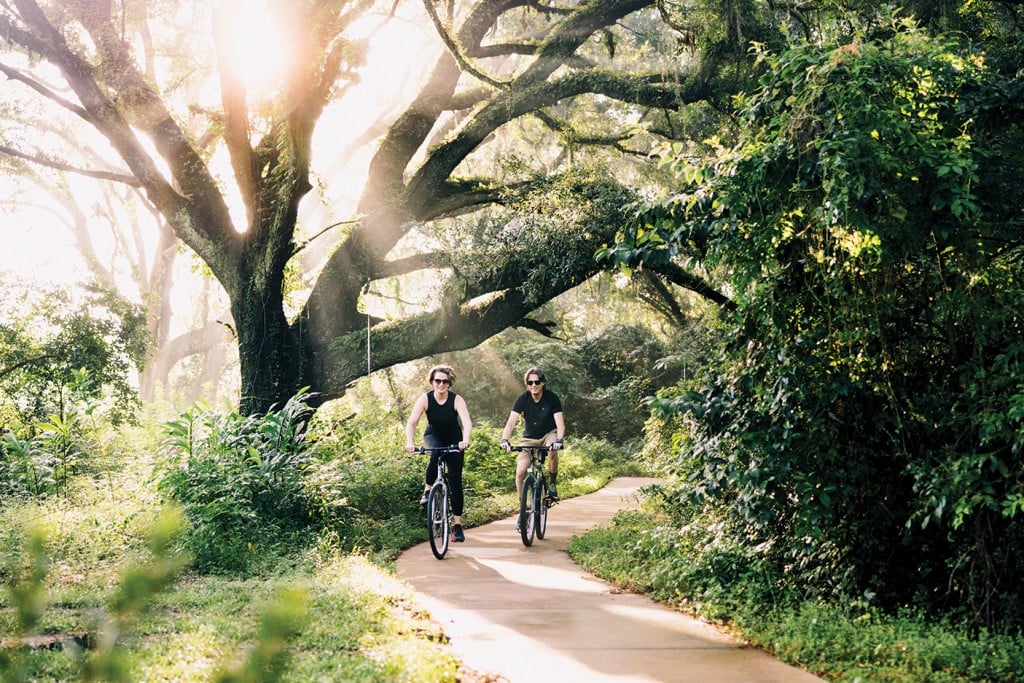 The setting for Camellia Oaks began to take shape more than a hundred years ago when acorns germinated on an acreage located off what would become Mahan Drive.
Mother Nature was the landscape's first developer. Jason Naumann would come much later.
Naumann arrived in Tallahassee in 1993, having departed Tampa to attend Florida State University. He was a junior when he began to sell real estate, and one suspects he was a natural at it.
In Tampa, he was familiar with lots of senior living communities. In Tallahassee, he found it curious that there was a dearth of them.
"Here, you have the Southwoods and the Killearns and big family neighborhoods, and then you have Westminster Oaks," Naumann said. "You have nothing in between."
As a beginning realtor, Naumann found that most of the people he sold homes to were empty nesters and retirees looking to downsize, but their options were few.
"I saw way back then a huge need for an active adult community, and the fact that there had never been one in Tallahassee was crazy to me," Naumann said. "Nobody seemed willing to step out there and do it. I was very excited and looked forward to the opportunity to buy a piece of property that was well suited to that purpose and go for it."
In August 2019, Naumann broke ground on his Camellia Oaks project, situated on 130 acres that include a 28-acre natural, spring-fed lake. A year later, he is a year ahead of the schedule he had drawn up for the manifestation of his long-held idea.
"We have 56 houses out of the ground, and our first phase (33 acres) is 65 percent sold," Naumann said just five months into the project's sales effort. At that point, 54 percent of his buyers were from outside Tallahassee and averaged 63 years in age.
"The out-of-town buyers have some sort of tie to Tallahassee," Naumann said. "They may have children or grandchildren here or they may have gone to school here and were waiting for the right kind of community to be built so they could come back here.
"We are tapping into pent-up demand."
The same family owned Naumann's project site since the 1940s. As part of Phase I, he converted the estate home on the property to a clubhouse. The initial phase also included pools, bocci courts, trails and fitness facilities.
"Absolutely, our expectations have been exceeded," Naumann said. "It's been wonderful to see everybody moving in and beginning to use the facilities. Watching the community being built and coming alive has been a really neat experience."
Longtime Tallahassee residents Linda and Mike Russell were ready to downsize and scoured the local real estate market, but nothing fit. Then, in March, they toured Camellia Oaks.
"When you have been looking for something and then, all of a sudden, it becomes available, it's like a dream," Linda said. "We literally made a deposit the day we saw this place. I love it."
Linda worked for 46 years as a nurse and retired in September. Her husband retired from his job as a pharmacist at Tallahassee Memorial HealthCare and then returned to work on a part-time basis.
They left behind a home on a one-acre lot. Linda doesn't miss the yard
work or the pool maintenance at the old place and has been delighted to find that all of the plantings she nurtured there are present at Camellia Oaks.
"If I had landscaped this development, I would have done it exactly the same way," Linda said.
She described Camellia Oaks as a close-knit community and said she enjoys walking the development's trails, playing bocci ball and meeting up with other residents at the clubhouse.
"Some people who are looking down into the future visit this place just because they are beginning to explore possibilities," Linda said. "But people who have been looking and are ready to buy, they are buying."
Like Linda, they like the development's price points.
"Affordable housing is extraordinarily hard to come by in Tallahassee," Naumann said. "Land costs and availability are huge factors in home prices. Our prices start in the low 300s, which is actually really good for what we offer."
Naumann's project site includes a 52-acre grove of live oaks.
"We have been able to preserve 100 percent of the oaks that were on-site," he said. "We have worked the land plan around the mature oaks, and you get the feeling that the project has been here for 30 years. Plus, owning a spring-fed lake that you can bass fish on and kayak on — that's a very unusual feature to have."
A former owner of the property was a horticulturist with a thing for camellias, which occupy 15 acres at the development. The horticulturist's daughter suggested the project's name, which Naumann immediately embraced.
"We wanted to keep the traditional, Southern-vernacular, front-porch cottage look," Naumann said. "Each neighborhood is made up of pocket parks surrounded by a cluster of homes, and all of the front porches look onto a park."
Phase I included six parks, each with a different theme and look. Permitting work for Phase II is underway; construction on it is projected to begin in January.
Pitman Construction and Kent Construction are building the homes at Camellia Oaks. The Naumann Group Real Estate Inc. is handling sales and marketing in a rather straightforward fashion.
"We don't have any upgrades," Naumann said. "I can't stand it when people see something in a model, and they fall in love with it, and then they find out there are $25,000 worth of upgrades in it. I put everything in the house, and that's our standard home.
"When you tour the model, what you see is what you get."