By The Sea
A Coastal Escape Right at Home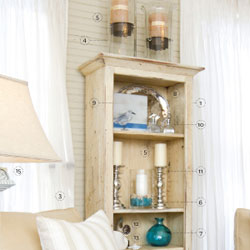 Scott Holstein
A coastal escape ideal for relaxation right in your own home.
Bringing a "beachy" attitude to your home.By The SeaBy Rosanne Dunkelberger
With the heat of the sun and the sounds of the waves, it seems like workaday worries are blown away by the salt-tanged breeze when you're at the shore.
While a coastal escape is ideal for relaxation, you can recreate the feeling at home — and drop your blood pressure a few points — with the creative use of texture, color and a few well-chosen accessories. You can't go wrong by mimicking the shades of the seaside in your décor — sandy beiges, driftwood grays, and sea glass greens and blues. Here, Louise Heidenreich has created a vignette that evokes the casual ambience of a beach house in her Havana shop, Weezie's Cottage Living.
Shop the story
1. Distressed shelf unit, $725
2. Four Seasons Slipcovered Rocker/Glider/Swivel Chair, $1,175
3. Smocked Organdy Curtains, $139 per panel
4. Glass Candle Cylinders, $92-$96
5. Timberline Candles, $18.99-$52.99
6. Sea Glass, $3.95 per scoop
7. Blue Recycled Glass Jar, $14.99
8. Hand-Cast Beatrice Ball Tray, $89
9. Seagull Painted on Wood, $42.99
10. Sea Oil Bottles, $21.99 each
11. Soho Mercury Glass Candlesticks, $124.99
12. Silver Nautilus, $21.99
13. Ceramic Nautilus, $19.99
14. Victorian Side Table, $265
15. Elite Collections Lamp, $199