Bullish on Photography
Linda Long elevates her craft to a fine art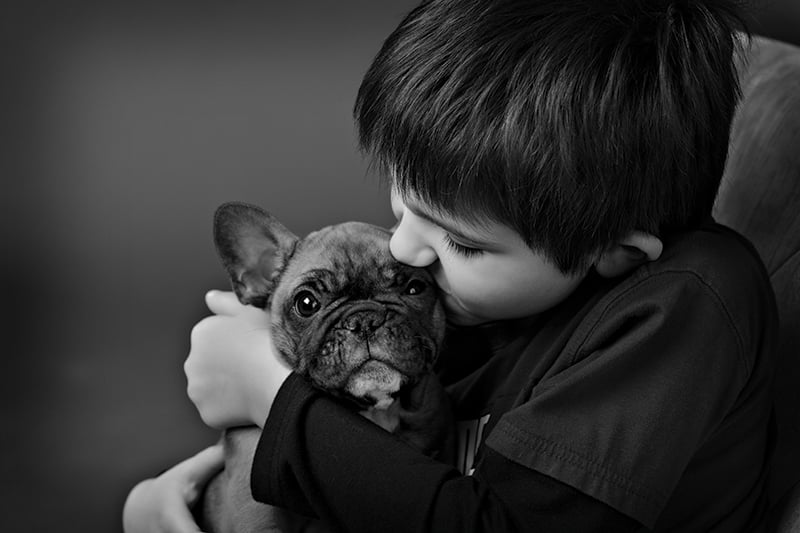 With no hesitation, Linda Long confirms that her spirit animal is a bulldog. She identifies with the breed's personality — sassy, stubborn, funny and endearing.
Growing up in a household of University of Georgia fans, Long's love for bulldogs was imprinted early. She was often gifted with stuffed animal bulldogs in Uga's likeness. When old enough to have a dog of her own, she knew it would be a bulldog. She now owns three — Jubilee, Rogue and Juggernaut — affectionately named after X-Men characters.
Too, in childhood, Long stumbled upon another lifelong passion in the form of a hand-me-down gift. Her father, a hobbyist photographer, had gifted a camera to her brother, who soon found he didn't quite have a knack for the craft. Long gladly took it off her brother's hands.
To her father's delight, she possessed undeniable talent, spending much of her middle and high school years processing photos in dark rooms.
Breaking from her creative passion to pursue political science, Long attended Florida State University, receiving her undergraduate and master's before working for the state. But she soon found herself lured back to the lens and began working photography as a side gig.
Just 18 months later, it became her full-time career.
Now, for 19 years, she has specialized in portraits including weddings, families, maternity, headshots, engagements, pets, real estate, fine arts and more.
"In many ways, my business has mirrored what's occurring in my personal life," said Long. "When I began, I had just gotten married, so I was very in touch with what couples wanted. As I had children and my family grew, so did my interest in maternity and family sessions."
Long has competed in photography competitions since 2008. In 2016, she was awarded the title of master photographer by the Professional Photographers of America organization. She's a six-time Tallahassee Photographer of the Year winner and the 2017 Florida Photographer of the Year awardee, accomplishments credited largely to her fine-art concepts.
Most recently, she received recognition as a photographic craftsman for the courses she provides to beginners, professionals and private mentorships.
"I enjoy teaching because I get to see people's lightbulbs go off as they feel empowered and in control of their camera to make the image they want," said Long. "It's rewarding to help those whose job is something others do as a hobby. I want to help them understand how to successfully run their business and have a career in this for the long haul, like so many mentors did for me."
A likely favorite of her career achievements was realized in 2017 when she scored her dream shoot — a bundle of bulldogs. In promotion of their adorable pups, Long photographed Tallahassee breeder Forever French Bulldogs' fleet of Frenchies. Long has since encouraged families to include their furry friends in family shoots.
"Anyone who has a pet loves them intensely as a family member," said Long. "The hardest part of that relationship is we know our pets for such a short time. So, we have to make sure we preserve those memories."
Long acknowledges that many are hesitant to have a pet photographed because they aren't the easiest subject to capture. For all involved, Long stresses patience.
When possible, it's best to photograph pets in their natural environment such as their home as opposed to a studio or other location where there are numerous sights and smells to explore. Once the pet has settled in, positive reinforcement is key, often in the form of treats that Long always keeps on hand.
To catch the attention of an animal, Long has an app on her phone that sounds off predator and prey calls used for hunting. Heads turn and ears perk in response.
The natural instinct of many is to whistle, call the pet's name, make kissing noises and all the usual sounds we employ to summon our pets. This is unhelpful to a photographer as this often makes the animal get up and go toward the owner rather than look at the camera.
In an effort to further control chaos, Long tries to limit the number of people on set. If it's a solo pet portrait, it's just Long and an assistant. While Long is fully engaged with the pet, the assistant doesn't engage and is present only to help the photographer. Long jokes that being the assistant is the hardest part of the job because they can't play with the pet until after.
Whether in a session with a pet or a person, Long's aim is for everyone to be at ease in her presence. In an age where we document everything through photography on our phones, Long acknowledges that most aren't comfortable in front of a camera.
"People tend to put off having portraits done because they get busy or the process seems stressful or any number of reasons; but they don't realize how quickly their children change, how quickly time passes you by," said Long.
"The portraits hanging on your walls or in photobooks on your coffee table are irreplaceable. After destructive natural disasters or when you ask someone what they would run into a burning building for, it's always photos."
---
---