Building Confidence, Despite A Shaky Start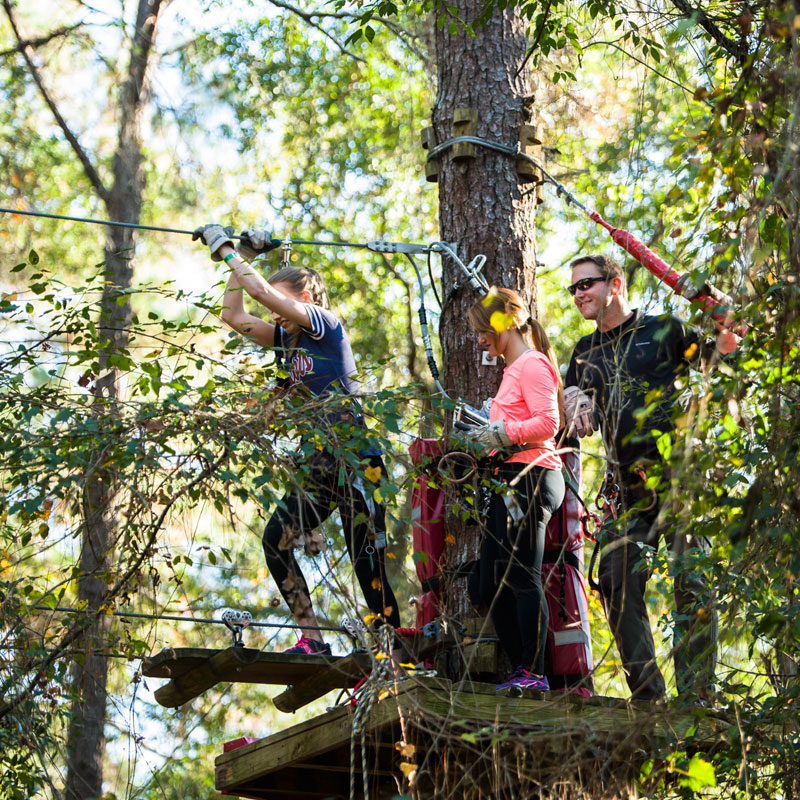 As I stood there, with my "C hook" in hand, I couldn't escape the warm touch of fear pulsing through my body. Just moments earlier I had essentially signed my life away on an iPad.
I was already second guessing my decision. How bad would it look if I chickened out before ascending the first ladder? I hadn't even made it up to the first tree platform or across the first obstacle and my palms were sweating inside my gloves.
Strapped into my harness, I knew I would be safe, but the thought of climbing from tree to tree was still intimidating. Truth be told, I was scared. With a deliberate motion, I surveyed the trees above my head, knowing they would be my next destination. As I stared at the first obstacle, my knees began to quiver.
The Canopy Crossing, for those of you familiar with the Tree to Tree Adventure at the Tallahassee Museum, is the introductory course where you traverse 14-18 treetop challenges and speed across two zip lines, all while being about 20 or so feet above the ground. For the average person, the course is probably a cinch, which was evidenced by the ease at which my co-workers were navigating the obstacles.
But as someone who has a fear of heights, my decision to participate in this group outing during our annual company meeting didn't come easy. But I decided I had to face my fears, as cliché as it may sound. I knew I would be disappointed in myself if I left the museum without trying something new. And besides that, everyone else was doing it, so it's not like there was any pressure.
So I slowly, and I mean very, very slowly, navigated the course, one uneasy step at a time. I was probably moving at a turtle's pace, gripping the wires along the course with every ounce of strength I could muster. I could feel my legs shaking underneath me.
I kept telling myself not to look down, but I couldn't help it. Every slight wobble in my step evoked a sense of panic. It's amazing how fearful I was of falling, despite the fact that it wasn't possible, as you're secured into the course from start to finish by a metal hook attached to your harness. But that assurance didn't matter.
As I glided down the last stretch of the zip line, I was relieved when my feet hit the cushioned platform and I could see the ladder that would lead me down to solid ground — I thought about kissing the Earth below my feet, but that seemed a bit much.
With my adventure behind me, I can tell you two things for sure. One: I'm not as flexible or as fit as I should be, and that was obvious both the day of my climbing experience and the next morning when my arms and legs ached. Two: I'm proud of myself. I will certainly celebrate this little victory and pat myself on the back. I pushed my fear of heights to the side and embarked on an adventure.
It's not easy to step outside of your comfort level, but if you don't try every once and awhile you are going to miss out on some awesome experiences. So whether you have a fear of heights or speaking in front of a large group (another one of my uncomfortable situations), don't let that hold you back. Sure, you legs might shake and your palms may sweat, but what's the worst that can happen?
There are plenty of other activities I'm not particularly fond of, like running, exercising or dieting, but with my newfound confidence perhaps I should give it a go. I'll keep you posted on my progress. Wish me luck.