Building an Athletic Resume
The benefits of youth sports are many; Just don't bank on playing to make money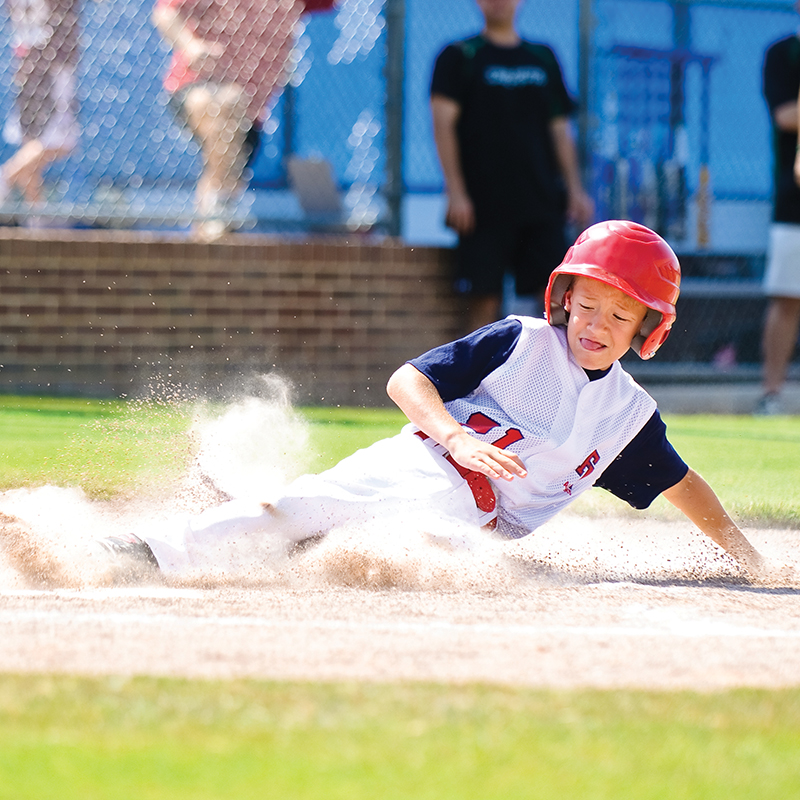 The coach lobs a pitch to 6-year-old Jaylen, who takes a mighty swing and whacks it over the head of the kid looking at the clouds in center field. Home run!
As he rounds the bases, sliding into home just for the heck of it, his cheering parents can't help thinking: "Wow, our little guy has what it takes to go all the way to the big leagues!"
Before you lose yourself in those dreams of fame and fortune, Mom and Dad, here's a reality check, courtesy of the NCAA website:
"Only about two percent of high school athletes are awarded athletics scholarships to compete in college. (Of the) more than 460,000 NCAA student-athletes, fewer than two percent will go pro in their sport."
Those involved in the process of training and supporting young athletes say the road to competing in college and beyond can require exceptionally large commitments of time and money. And only parents — and their child — can decide whether it's worth the sacrifice.
But no parent should ever count on a sports scholarship paying for college.
Courtesy of FSU Athletics
For FSU head tennis coach Dwayne Hultquist, above, Terrance Whitehurst, right, exemplifies today's more powerful game. The ball is being hit harder and reaction times must be quicker.
"I say this pretty regularly: You should never be planning on that. That's a bonus if it happens," said Dwayne Hultquist, head coach of Florida State University's men's tennis team.
Even if a young person has the talent to be recruited by a top-tier, Division I team, NCAA rules limit the number of scholarships given out in any one sport. For example, although the FSU's men's tennis team has nine members, the coach is only allowed to divvy up 4.5 athletic scholarships among them. Division II teams have even less scholarship money to offer and in Division III, there are no sports scholarships at all.
(Per the NCAA, a few teams are what's known as "headcount" sports — where, even if the student athlete gets only a dollar, that student is a "counter" toward a limited number of scholarships. Because of this rule, players in these headcount sports usually all receive full scholarships at FSU, said Vanessa Fuchs, senior associate athletic director at the university. At FSU, those sports include women's volleyball, women's tennis, football and men's and women's basketball.)
In all sports, the experts agree that the level of play and player strength has advanced tremendously in the past two or three decades — and it may be advantageous for parents to invest in lessons, camps, travel teams or tournaments to give their young athlete an opportunity to improve skills and play competitively.
"In tennis, the ball is being hit harder and the reaction times have to be quicker than it was when I was growing up playing," said FSU's Hultquist. "The strength and conditioning side is really, really important in tennis. Fifteen, 20 years ago tennis players didn't lift weights and they didn't condition like they do now. That is an important component."
Lawrence Davidson
The hand-eye coordination a young athlete develops in a batting cage like this one at the Next Level will translate to other sports, advises David Ross, a big league catcher who grew up in Tallahassee.
Ryan Robinson, former pro scout, agent and founder of Next Level Baseball, said the advancement is noticeable in pitchers. "Twenty years ago you'd have 20 players in the whole country who were touching 90 (mile per hour pitches), and I would say now you have 500 or 600 amateur players touching 90," he said. "You have a lot more (skills) training and a lot more physical training where players are having the opportunity to be stronger than they ever were with weightlifting and supplements."
While Robinson's Tallahassee-based facility offers an academic-based after-school program, its main services are geared toward providing teams and individuals with training and opportunities that will take them to the "next level" — where young athletes can find what he calls the "ceiling" of their talent. "You've got to work really hard to reach your ceiling," he said. "I'd say 90 percent (who) ever start to play never reach their ceiling because of one thing or another — they're not willing to work hard enough, they're not tough enough, they're too entitled to take coaching."
And for most, their ceiling just isn't high enough to make it in college or the big leagues.
"Basically, in Tallahassee, there's a league for everybody," he said. "There's a league for kids that want to do it recreationally, which is great. You need that. And there's advanced leagues for kids that are a little more serious and then there's elite travel teams for the kids that are very serious that have parents that are lucky enough to have the financial resources to have them travel around."
At Next Level, private lessons are $35 an hour, and playing on the elite travel teams can cost upwards of $5,000 to $6,000 a year. FSU's coaches offer Seminole High Performance Camp for youngsters from elementary to high school age. Annual cost for the 40-week-a-year afternoon program ranges from $1,950 for once-a-week sessions to $3,950 for unlimited access.
In technique-driven sports like tennis and golf, Hultquist said lessons are pretty much required for advanced-level play.
"It's very important that you get the correct technique. How to hold the racquet, your swing … . You could be an unbelievable athlete, but if you don't have the technique, it would be hard to become great," he said.
Could a baseball player excel without extras that cost money? "It's much easier with the help," said Robinson. "You've got to be, like I call it, a freak athlete to do it without the supplemental help or without the travel baseball, but it can be done."
What it boils down to is what he calls the "quick twitch" reaction time a person is born with. "It's how fast your body can move and do certain things," he said. In baseball, one of those "things" is deciding whether and how to swing at a pitch that will travel from the mound to the plate in half a second.
That said, expensive lessons and travel ball may not be the smartest investment, if a child doesn't have the skill or the desire to rise to the elite level. "I don't blame parents for doing the lessons; they're trying to give their child the biggest advantage," said David Ross, a 39-year-old catcher who grew up in Tallahassee and has had a 13-year MLB career, now playing for the Chicago Cubs. "But there's some God-given ability you have to have or you may just not be good enough."
His advice to the parents of would-be big leaguers is to take a lesson from his own experience, which included playing YMCA basketball, summer baseball and other sports throughout his youth.
"They never pushed me to do any sport, but they always signed me up because that's what I liked to do," he recalled. Nowadays, kids are pushed to "specialize" in one sport too early and play too much. "Let your kid do what they want to do; you don't want them burnt out on baseball when they're 15. They should learn to be a part of other teams. Whatever you're playing, you can develop skills that can help in other sports."
And time to rejuvenate is important. Even as a pro, "I have to take a month or two and not pick up a baseball or a bat," Ross said. "Kids are more resilient, but as a kid you don't know your limits. You can go, go, go but I think it catches up to you at some point."
Ross would also suggest that you take a page from his father's book when parenting a young athlete.
"He was happy if I was happy," Ross said of the military man who taught him to say, "Yes, ma'am," to older women, a habit that sticks to this day. "He would say, 'I don't care what you do, whether you're a garbage man or the president of the United States, I just want you to do your best at it. You do your best, I have no problem.' That's what my dad taught me. That's what winning is. Try as hard as you can and do the best you can and come back the next day and do the same."
Ross' dad also considered academics as important as athletics. He recalled bringing home a D grade from elementary school. Dad made the youngster dress out and sit on the bench for the entire game. "That was actually a really good lesson. I have him to thank for my work ethic and how to treat people and my teammates."
His father was onto something. Good grades can help boost an athletic career.
"I think nowadays parents need to understand that both are important," said administrator Fuchs. "Remaining focused on academics throughout their junior high and high school career is so important because the NCAA is continuing to increase the academic standards necessary for athletes coming out of high school to be eligible to be participate in college athletics."
With limited athletic scholarship dollars, coaches are recruiting smart students who might be enticed to FSU with an academic scholarship.
"If they get more academic money than they do athletic money, students many times will decline their athletic package and take the more favorable academic package," Fuchs said.
One of Ross' three children is a 6-year-old son who will be playing baseball for the first time this spring. No pushing, Ross said, "I want him to love it." Most of Ross' teammates from his youth left the game long ago, but he he said he enjoys recalling the good times they had when playing together back in the day.
"Baseball has been great to me, an amazing part of my life. I've gotten to play way longer than I ever thought I would," said Ross, who is planning to retire after the next major league season. "(But) when it's over, it's over. Sooner or later you're not going to be able to play anymore. The best part of it is having fun. When you're a kid, in high school or college, it should be fun."
---
Did you Know?
In Florida, during the 2014–15 school year, 41,217 students played football, 31,053 played soccer, 9,536 played tennis and 17,973 played baseball.
Florida A&M University is a NCAA Division I school fielding teams in 14 sports — seven women's and seven men's.
Florida State University participates in 20 NCAA Division I sports — 11 women's and nine men's — with about 525 athletes, both scholarship and non-scholarship students. FSU has six full-time employees who work to assure compliance with NCAA regulations.
Schools in NCAA Divisions I and II provide more than $2.7 billion in athletics scholarships annually to more than 150,000 student athletes.
To play Division I sports, a student athlete is required to graduate high school and have completed 16 core courses and earn a 2.3 GPA in them.
According to EY (formerly the accounting firm Ernst & Young) research, 96 percent of senior-level female executives played sports, and more than half of them played sports in college.