Building a Temple of Celestial Proportions
A dramatic house of worship on a hill takes shape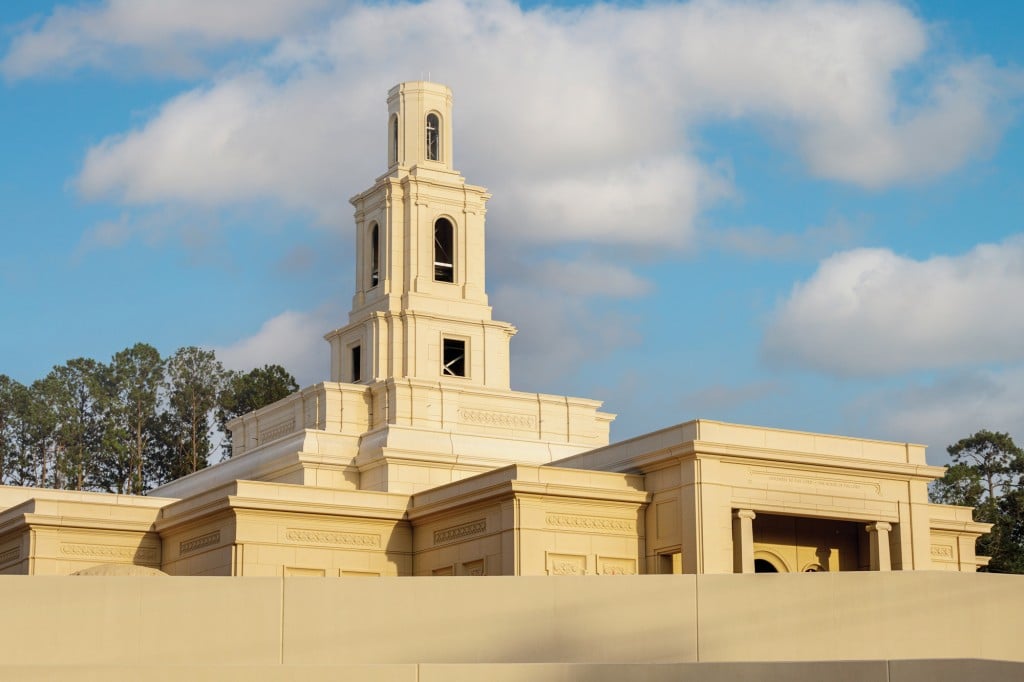 There is something faith-filled developing on north Thomasville Road in Tallahassee. Certainly, the many houses of worship — including the massive St. Peter's Anglican Cathedral, completed in 2014, and now, on the horizon, the soaring Church of Jesus Christ of Latter-day Saints (LDS) — are reasons to draw faith-seekers to that side of town.
Rising off the thoroughfare on Papillion Way, the newest edifice, the dramatic Latter-day Saints Temple is a 29,000-square-foot tower that, with its six tiers that some architects refer to as a "wedding cake" or "ziggurat" design, already appears to glow atop a tree-skirted 46-foot hill.
David Fierro, a spokesperson for the Tallahassee Stake of the Church, says that not only local LDS members are thrilled to have a temple constructed in Tallahassee, but the city's selection as one of 265 planned, under construction or operational temples worldwide is a great honor. The Tallahassee temple will be the third of four Florida LDS temples serving "stakes" — much like dioceses — stretching from Pensacola to Georgia and comprising thousands of worshipers.
Today, the exterior of the ivory-colored temple on Thomasville Road with its massive spire, elegantly stepped retaining walls and delicate stone-like tracery appears nearly completed. The general contractor for the structure is Parkway Construction, which has contracted with local builders for construction. Architects include the Tallahassee firm of Barnett, Fronczak, Barlowe & Shuler. "This building will be built to the very highest standards," says one of the designers. Faced with pale precast concrete and supported by 211 16-inch concrete pilings set 40 feet deep, he says, "The structure is built to last."
The interior of the temple, which will have a public open house before it is consecrated likely in 2024, will look much different than a typical "sanctuary-style" house of worship, says the LDS site manager. Comprised of a series of large rooms where marriages, sealings, baptisms and quiet places of deep spirituality are found, each room will be richly furnished and illuminated. The baptistry, like those in all temples, will contain a large, elevated pool supported by 12 carved oxen representing the 12 tribes of Israel.
Fierro says that the church has also enjoyed including the workers on the construction site in its outreach of understanding. "About 100 persons are building the temple at any given time. And while we do have site standards asking for respect with 'no cursing, no graffiti, no music,' we also all join in prayer each morning — offered by members of different faiths. In a small information center nearby, workers can see videos of other temples and envision what they're creating. On Wednesdays, women of the church provide a cookie for each construction worker with a handwritten note of thanks in Spanish and English."
As a young member, Audrey Shuler said, "I am so happy that now to participate in the ordinances of the church, a temple will be only minutes away, instead of hours." And Elder James Martino, an area leader, has reminded the faithful that not only are there hundreds of temples going up around the world but that, "God really wants temples built inside each of us."