Bubbly At Its Best
Don't save the sparkling wine for just New Year's and weddings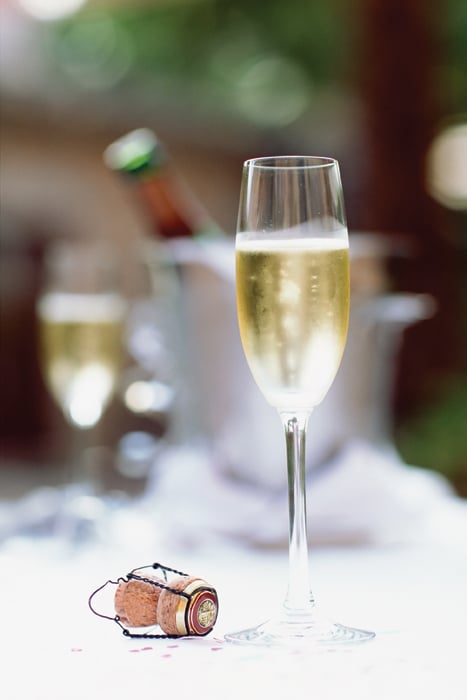 Weddings, anniversaries and New Year's Eve — these are the most common occasions for breaking out a bottle of bubbly. The pop of the cork, followed by the salute of the glass, sends cheers, best wishes and congratulations like no other wine. And while sparkling wine sales skyrocket during the holidays, there's now such a huge variety of reasonably priced fizzy wines that you can — no, you must — try a few, and enjoy the bubbly any time of year.
"There's a sparkling wine for any occasion, and one that will pair well with any food," says John Morris, director of wine education at Wine World in Destin and Panama City, and a certified specialist of wine by the Society of Wine Educators. "It's ideal for our coastal cuisine (seafood) and the wine of choice for sushi. It also pairs well with rich creamy cheeses as a foil to the richness of the cheese, and is the perfect apéritif (a wine used to stimulate the appetite)."
"Champagne is considered anything that comes from the Champagne district in France; anything else would be considered sparkling wine,' explains Joe Gayhart, general manager at Market Square Liquors. It was in the Champagne region (north of Burgundy) where sparkling wine was first produced, and it is the most famous. French sparkling wines produced outside of the Champagne region are labeled "mousseux" or "crémant." Though the French do know their wine, other nations also produce sip-worthy bubbly. Spain's version is called Cava. Italy's is Prosecco or Spumante. German and Austrian sparkling wine is called Sekt. And American wineries label it as sparkling wine. Because of Champagne's stellar reputation, it tends to be more expensive than other sparkling wines.
"This has resulted in a misperception that Champagne is better than other sparkling wines," says Yvette Pavone, wine expert and owner of the Purple Grape wine bar in Panama City. "People who don't know much about sparkling wine tend to buy Champagne because they think it's the best, but that's not true."
Don't assume you need to impress your friends with a bottle of Dom Perignon (which retails for around $140), Pavone explains. Other experts agree. Wine guidebook "The Wine Trials 2010: The World's Bestselling Guide to Inexpensive Wines," features blind taste tests for wine experts and sommeliers who declare Domaine Ste Michelle Brut, a $12 Washington state sparkling wine, to be the winner, beating out Dom, Champagne's star, two years in a row.
Sparkling wine gets its carbonation from a second fermentation process, which can take place in the bottle or in a pressurized tank. This causes natural carbon dioxide gas to get caught inside, resulting in bubbles.
"Look at the label," Pavone explains, "If it reads 'methode champenoise' you can know it's been fermented the same way as Champagne, directly in the bottle with tender loving care."
Other sparkling wines are fermented the second time in a steel tank, which is less costly. "But they are still very good," says Pavone, who served Barefoot sparkling wine ($9) at her wedding.
An indication of quality is in the amount and size of the bubbles. Tiny bubbles mean better quality, Pavone says. Beyond the bubbles, sparkling wines have different amounts of sugar, resulting in a range of very dry "brut" styles to sweet varieties. "Brut confuses people," Morris explains. "because they may think extra dry is dryer than brut, but it is actually less dry."
Sparkling wines are typically made from either one grape (chardonnay), a blend of two grapes (chardonnay and pinot noir) and sometimes a third grape (pinot meunier). Cava is made primarily from macabeo, parellada and Xarel-lo grapes.
"My favorite sparkling is one that comes from only one grape," declares Pavone, whose preferred one is made exclusively from chardonnay and is called "blanc de blancs" (white from white).
Try Argentina's Pascual Toso Brut ($16) or California's Schramsberg Blanc de Blancs ($38), both made with 100 percent chardonnay grapes.
For those who like a little berry flavor in their sparkling wine, try a rosé — a sparkling wine that gets its pink or salmon color from the red grape, most often pinot noir. The color also adds a little romance to sparkling wine, and has notes of cherry, strawberry and raspberry.
Sweet wine drinkers have fallen in love with Italy's Moscato d'Asti — a crisp, sweet sparkling wine made from the muscat grape, which has become hugely popular in the U.S. It is lower in alcohol than dryer sparkling wines (around 5-6 percent versus 12 percent for dryer wines), and pairs well with sweet foods like fruit salad and desserts. "A common mistake is to pair a brut sparkling wine with dessert," says Morris. "Moscato is terrific with wedding cake." Try Castello del Poggio Moscato Provincia Di Pavia ($15) or Beni di Batasiolo Dla Rei Moscato d'Asti ($16).
With hundreds of sparkling wines to choose from, it can get overwhelming. How do you pick a bottle to drink with chicken and rice dinner Tuesday night? What will you bring to a New Year's Eve party? What do you serve to hundreds of wedding guests? Most wine stores have an educated staff that can help you decide on the right sparkling wine for any occasion and any budget.
"We help by looking for the price-to-quality ratio," says Chan Cox, owner of Wine World in Destin and Panama City, who suggests French sparkling wine Kraemer Blanc de Blancs Brut ($9) as a go-to sparkling wine. "It's a terrific wine and by far the best value."
Gayhart suggests that sparkling wine novices "might want a little lighter bodied, not as dry, champagne and should consider an extra dry or demi-sec."
Those with more experience drinking the fruit of the vine should consider the properties of the wine they like in general. "Say you drink cabernets and merlots — you probably have a palate that's more in tune with a drier wine, so a brut-level champagne" would be a good choice, he advises.
Want to impress your lover with an intimate date? Cox recommends Veuve Clicquot Ponsardin Brut Rosé Champagne ($70), paired with a juicy filet mignon.
"This is an elegant, sexy wine that leaves you feeling good," agrees Huey Greene, general manager at Wine World Grand Boulevard in Destin. "If you want a nice late-night wine, this is it."
When considering food pairings, Morris recommends you not stress about it. "People get awfully hung up on what to serve with certain dishes, and some pairings do have a certain synergy," he says. "But the bottom line is to drink what you want with what you eat."
Whatever sparkling wine you choose, Pavone says to also appreciate the color, the bubbles and the aroma, all important components in the beauty of the wine. "You must use a beautiful glass," she advises. "It enhances the entire experience."
If you haven't finished your bottle, you can save leftover sparkling wine with a metal champagne stopper, available at most wine stores. The bubbly will last one to two more days.
Whether you're a serious sipper or a sparkling wine dummy, we've got you covered. We procured a crew of wine experts and wine enthusiasts who tried dozens of bottles of sparkling wines from France, Italy, Spain, Argentina and America. Most of the wines are moderately priced. All are recommendable and readily available. It was a tough job, but we wouldn't want to let you down. So we tasted and tested, sipped and swirled, all to bring you our review of the sparkling wines we tried.
A Comprehensive Guide to Sparkling Wine
America
The United States has long produced spectacular sparkling wines. California is a major producer, while Washington state, Oregon and New Mexico also have excellent sparkling wines.
Roederer Estate Brut $22* $
Taste profile: A crisp and elegant wine with complex pear and hazelnut flavors. It is a fresh and lightly fruity wine with great finesse and depth of flavor.
Food pairing: Appetizers or as a starter to a Thanksgiving meal.
Tasters' comments: "A moussy fruit component." "A real crowd pleaser."
J Cuvée 20 Brut $26*
Taste profile: The wine opens with crisp lemon peel, honeysuckle and delicate yeast aromas, and tastes of a mix of Fuji apple, grapefruit and a sweet hint of angel food cake with a lingering, warm pear and lush finish.
Food pairing: Oysters, caviar.
Tasters' comments: "Very solid with good style."
"étoile" Brut $40* ❤
Taste profile: baked apple, honey and cinnamon flavors meld seamlessly with nutty caramel flavors, and carry through the lingering finish.
Food pairing: Seafood dishes like grilled scallops prepared with a lemon beurre blanc, or on its own before a meal.
Tasters' comments: "This one has a complex, elegant style." "I don't want to be distracted by food when I have this to enjoy, it deserves a solo spotlight in my book."
Schramsberg Blanc de Blancs $38
Taste profile: A dry, crisp, vibrant wine with creamy lemon and tangy pineapple flavors.
Food pairing: Oysters and other shellfish, crab cakes, ceviche, grilled sea bass, lemon chicken, Thai curries or aged Gouda cheese.
Tasters' comments: "This tastes tropical, I'd love to drink it on the beach at sunset."
Gruet Rosé $18* $
Taste profile: A rich, fruity palate with strawberry, raspberry and cherry.
Food pairing: Desserts, especially flan and chocolate.
Tasters' comments: "New Mexico's cool mountain climate makes this one good. It has a nice acidity, it's a crowd pleaser."
Schramsberg
Brut Rosé $40* ✤
Taste profile: A flavorful, complex and dry wine, making it both versatile with food and delicious by itself.
Food pairing: Barbecue, roast chicken, pizza, burgers, chocolate raspberry tarts and creamy cheeses with summer fruits.
Tasters' comments: "This is a great, all-around wine." "You can taste that this was made in the French style, it's
so good."
Argentina and Spain
Argentine sparkling wine (called Espumante) and Spain's sparkling wine (Cava) both use the champenoise methode, the traditional French method for producing Champagne. It's usually less expensive but offers quality similar to Champagne.
Pascual Toso Brut $16
Taste profile: A buttery, toasty quality with flavors of apple and lemon.
Food pairing: Lemon chicken with vegetable and rice.
Tasters' comments: "Crisp, easy to drink; a wonderful wine."
Freixenet Cordon Negro Brut $12
Taste profile: A light, very modern Cava with refreshing style, created from a special blend of the three traditional, indigenous Penedés white
grape varieties.
Food pairing: Smoked fish or Asian takeout.
Tasters' comments: "The acidity in the wine is a good complement to spicier foods, it's a good one for someone who is new to drinking sparkling wine."
Freixenet Elyssia Gran Cuvée Brut $18
Taste profile: A sophisticated bouquet of roasted nuts, citrus fruit and honey combine with layers of complexity through the palate. Flavors of lemon and melon are followed by a spicy finish.
Food pairing: Sautéed or fried chicken.
Tasters' comments: "I'd use this to make mimosas (cocktail with sparkling wine and orange juice) for Christmas brunch."
Segura Viudas Brut Reserva $10
Taste profile: The prime feature is its elegant and persistent mousse. The palate is complex and full of flavor, with good acidity and notes of lime and pineapple. It is dry and long on the finish.
Food pairing: An ideal Cava to start a meal. Pairs well with clams, anchovies and pasta dishes with seafood, or a warm quail salad.
Tasters' comments: "Excellent." "I'd drink this to toast to the New Year, or even to relax on a Friday night."
Freixenet Elyssia Pinot Noir Brut $18
Taste profile: Elyssia Pinot Noir Brut has an intense aroma of raspberries and blackberries with a fresh and fruity mid-palate followed by a lovely, sweet aftertaste and soft acidity.
Food pairing: Fish or poultry with Spanish rice.
Tasters' comments: "Floral; not too sweet, with a fine creaminess."
Segura Viudas Brut Rosé $10
Taste profile: Youthful fruit aromas of strawberry, red currant and grenadine. Refreshing on the palate, full of cherry fruit and a light acidity.
Food pairing: Most appetizers, whether fish or vegetable. Also with seafood rice, salmon or grilled tuna.
Tasters' comments: "What is this, the Shirley Temple of wine? I started out not liking it, but ended up loving it."
Segura Viudas Reserva Heredad $25 ❤
Taste profile: The palate is excellent, fruity and full of flavor, with dried fruits, but very elegant, giving the drinker a delightful sense of abundance.
Food pairing: Truffle oil-drizzled pastas, white fish, traditional Mediterranean casseroles or cured hams.
Tasters' comments: "Smooth, delicate; a beer drinker's wine." "This would be wonderful with a Christmas Eve dinner."
France
France has been known as the leading wine maker for thousands of years. Its Champagne is the most famous sparkling wine, which has resulted in the term Champagne erroneously representing all sparkling wines, a name which the French fought to keep for themselves. They won. No winemaker outside the Champagne region of France can label its sparkling wine as such.
Champagne
Nicolas Feuillatte Brut $35* $
Taste profile: Fresh, fruitful flavors of apples, pears and peaches intermingled with spices (curry and turmeric).
Food pairing: Lobster with cream sauce, scallops or spicy chicken.
Tasters' comments: "A real crowd pleaser."
Louis Roederer Brut Premier $40* ❤
Taste profile: Complex, lively and frothy with tart lemon, lime and toast
flavors and a long finish.
Food pairing: Sole with mushrooms, soft cheeses like goat and Gouda.
Tasters' comments: "This one has a lot going on, great texture and vibrant mouth feel."
Moët & Chandon Imperial $50*
Taste profile: Lively and generous broad fruitiness
and elegantly mature.
Food pairing: Herbed watermelon, raw or fried oysters.
Tasters' comments: "Yeasty, minerally. I taste the green apple."
"A Champagne lover's Champagne."
Veuve Clicquot Ponsardin Brut Rosé $70* ❤
Taste profile: Pear, rhubarb and red berry flavors with a note of mineral, followed by a long finish.
Food pairing:
Filet mignon or any elegant meal.
Tasters' comments: "A good wine for date night." "This one is very special."
French Sparkling
Kraemer Blanc de Blancs Brut Vin Mousseux $9* $
Taste profile: Soft and creamy flavors combined with fine bubbles.
Food pairing: Hors d'oeuvres.
Tasters' comments: "This has an oaky, yeasty nose and nice mousse."
Francois Montand Blanc de Blancs Brut $11*
Taste profile: With tastes of freshly baked bread, Golden Delicious apples and Meyer lemons.
Food pairing: Ceviche, salads.
Tasters' comments: "An easy drinking wine, with the comforting aroma of warm bread."
Marcel Martin Tête de Cuvée, Crémant de Loire Brut $18* ❤
Taste profile: A nose with notes of white flowers and dry fruits, a well-balanced, lengthy and full-bodied flavor.
Food pairing: Alone or with pork or soft cheeses.
Tasters' comments: "Very elegant style and lingering mouth feel."
Francois Montand Brut Rosé $11*
Taste profile: Light bodied, bursting with flavor and lots of bubbles. It has aromas and flavors of dried cherries and raspberries, with a clean finish.
Food pairing: Smoked turkey or chicken.
Tasters' comments: "A good everyday wine. It's more for beginners, but what a great value."
Italy
In many upscale restaurants in Venice, customers are served a complimentary glass of Prosecco as an aperitif to stimulate the appetite. "The Italians even use it as a palate cleanser the way we use a sorbet," says Morris. It is also a base for the Bellini cocktail, a mixture of Prosecco and peach purée, one of Italy's most popular cocktails.
Prosecco
Maschio Prosecco Brut D.O.C. Treviso $13* $ ❤
Taste profile: A bouquet of peach and orange blossoms, fruit forward with peach and almond flavors.
Food pairing: An excellent apéritif, also pairs wonderfully with antipasto and hors d'oeuvres, light fish dishes, sushi and sashimi, fresh fruit and pastries.
Tasters' comments: "Nice acidity and white peachy aromas."
"Very drinkable."
Zardetto Prosecco D.O.C. Treviso Brut $15*
Tasting profile: With scents of acacia flowers, wild strawberries and ripe golden apples, this Prosecco has a delicately soft and harmonic flavor with a clean and pronounced character, which lingers on the palate.
Food pairing: Seafood dishes, pasta.
Tasters' comments: "I like the yeast and toast flavors."
Col de' Salici Prosecco di Valdobbiadene Superiore $17*
Taste profile: An aromatic, fruity, typical wine, with great elegance and personality.
Food pairing: Prosciutto, stuffed mushrooms, pasta with creamy sauce, almonds.
Tasters' comments: "This one is fat and soft with low acidity."
Moscato
Castello del Poggio Moscato Provincia Di Pavia $15*
Taste profile: This sweet wine, which means "castle on a hill," is lightly sparkling with notes of apricot and honey.
Food pairing: Salad with mandarin oranges and with a dessert, especially wedding cake.
Tasters' comments: "Very easy, soft and sweet."
Beni di Batasiolo Bosc Dla Rei, Moscato d'Asti D.O.C.G. $16* $
Taste profile: A luscious, fruity dessert wine. It is has an intense nose reminiscent of the grape and a full, lingering, sweetly soft flavor with an aromatic aftertaste.
Food pairing: Desserts.
Tasters' comments: "Excellent as an apéritif or with a fruity cheese."
La Spinetta Bricco Quaglia Moscato d'Asti D.O.C.G. $22* ❤
Taste profile: A fresh, creamy wine that surprises by its remarkable freshness and brilliant peach and honey flavors.
Food pairing: Desserts, but also as an apéritif, or with Sunday brunch.
Tasters' comments: "This has sparkle, crispness and some acidity. It appeals to a lot of wine drinkers."
A Sparkling Wine Primer
Store it — Store sparkling wine at 45-55 degrees, or 60-65 degrees if storing for longer than one year.
Chill it — Sparkling wine should be served very cold (40-45 degrees). For the perfect chill, put the wine in an ice bath (ice and water) about 30 minutes before drinking.
Open it — When opening a bottle of bubbly, remove the foil (most bottles have a tear tab), untwist the wire hood to loosen it, but do not remove it. Place a folded cloth napkin over the cork and wire hood. Point the top away from yourself and others at a 45-degree angle, bracing the bottom of the bottle against yourself and twist cork and bottle in opposite directions.
Fill it — To enjoy sparkling wine at its fullest potential, use a flute, which preserves bubbles better than wide, shallow glasses.
Pour it — Slowly pour sparkling wine gently into the flute, about halfway to three-quarters full.
Drink it — Cheers!

Sparkling Wine Glossary

Blanc de Blancs — Literally translated means "white of whites." Sparkling wines made primarily from chardonnay or other white grapes.
Blanc de Noirs — Literally translated means "white of blacks." Designated a white or slightly tinted wine made from black grapes, usually pinot noir. The tint comes from the pigments in the grape skins.
Cuvée — A blend of several still wines designed to become a well-balanced sparkling wine.
Fermentation — The action of yeast on natural grape sugars resulting in alcohol and carbon dioxide gas.
Méthode champenoise — The traditional French Champagne method for producing sparkling wines, which converts a fully fermented still wine into a sparkling by a second fermentation (or méthode traditionnelle) in the same bottle in which it's sold.
Mousse — The ring of foam around the top of a glass of sparkling wine.
Non-vintage — Refers to those sparkling wines whose cuvées or blend contains wine from more than one vintage. Often used to maintain a consistent style.
Reserve wine — Wine from previous vintages added to the cuvée for consistent quality and style.
Vintage — The year in which grapes in a wine are harvested.
Source: chandon.com
Drink like a celebrity
If you want to drink like George Clooney, Beyonce, Leonardo DiCaprio and Oprah Winfrey, try Armand de Brignac ("Ace of Spades") Brut Gold, an ultra-luxury prestige cuveé that sells for $300. Produced entirely by hand by only eight people in Champagne, France, and pressed from a balance of chardonnay, pinot noir and pinot meunier wine, Armand de Brignac Brut Gold was rated the No. 1 Champagne in the world in a blind taste test, according to Fine Champagne Magazine. Each opulent metallic Champagne bottle is handcrafted, paperless and features two "Ace of Spades" insignias and four hand-applied pewter labels. The striking bottle is presented in a black, lacquered wooden case embossed with the Champagne's royal crest. Each case is lined in velvet and fitted with an engraved nameplate, reflecting the splendor and grand style of the Champagne within. It's available at Cluster & Hops and Halftime in Tallahassee.