Brushes with Greatness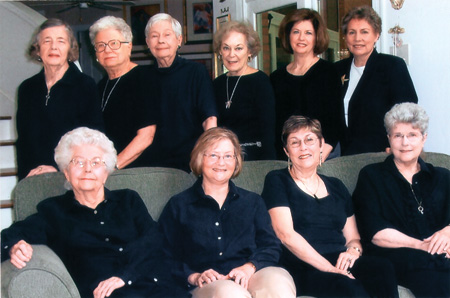 Meet Ten Artists Ltd., women painters exhibiting great passion for their artBack row: Susse Sherwood, Mary Wyatt, Fran Mathis, Emeretta Rudy, Hilda Carney and Rosemary Ferguson. Seated: Vivian Sherlock, Nina Allen Freeman, Mary Apple and Judy Nable. Photo by Scott Holstein
Brushes with GreatnessThe Women of Ten Artists Ltd. Find Strength in Numbers 
By Erin Sobel 
Critics crowd around the painting. A spotlight shines down, highlighting careful brushstrokes of reds and gold. With crossed arms, pursed lips and heads cocked to one side, they consider color, composition and style.
No, you're not in a big city gallery, but the eclectic and lively home of Mary Apple, and this is a monthly meeting of Ten Artists Ltd.
"Oh, it's beautiful!" the ladies exclaim at once. For almost 20 years, the group of 10 professional women artists has been meeting for their art. "Some of us are more professional than others of us," they tease. Members have studied with some of America's outstanding artists, are members of prestigious painting societies around the nation, and have many awards between them. Together, they have been exhibiting their work throughout Florida and Georgia for the past 13 years.
"It grew out of painting together," says one of the founding members, Vivian Sherlock. "We said, 'Why don't we organize?'" And organize they did. It wasn't long before the art community took note and started inviting the ladies to show as a group.
The talent Ten Artists Ltd. has is no secret, and throughout the years the ladies and their art have grown in popularity. They have had a rotating exhibition at the Ed Ball Wakulla Springs State Park for more than a decade and have held group shows at local banks, LeMoyne Art Center, the Thomasville (Ga.) Cultural Center and the Apalachicola Museum of Art. They are well respected in the community, and memberships are coveted.
As years go by, members leave – some pass away and others move.
"When there's an opening, we like to find somebody who will really bring something to the group," watercolorist Rosemary Ferguson says.
"Members have to be compatible." Sherlock adds. "They go through a whole lot before we pick 'em, I'll say that." While the process to decide who to invite is top secret, it is clear that the method works. Each woman's talent is matched by her enthusiasm for art and her love for the others.
When newest member Nina Freeman received her invitation phone call, she was more than surprised.
"Rosemary called me up," Freeman says. "I told her I was really busy and couldn't talk. Then I hung up on her." Freeman laughs about it now. A few phone calls later, Ferguson explained that she really needed to speak with her.
"She invited me to join this group," Freeman recalls. "I had known about it already, and I was really flattered they invited me."
When filling an open spot, it is important for each of the 10 to contribute to the mix. Each woman uses different media and techniques, brings a unique point of view and balances the group. Together, their shows are an eclectic collection, both diverse and cohesive.
Apple captures the essence of nature in watercolor and acrylic.
"I'm coming out of my vegetable period," she laughs. She spent months painting nothing but vegetables, calling her collection "Potato Salad."
"What can I say? I was inspired," she says.
Some of the women have signature style and subject matter.
"I became known as The Palm Tree Lady," Ferguson says. As an award-winning signature member of the National Watercolor Society, she explores the subtle differences of light and shadows in nature. "I can do more than palm trees. But I'm known for them, so that is what people ask me to do."
The women love to see how the other members create and appreciate how different their works can be. While labeling an artist is not necessary, the women treat it as more of a sport.
Mary Wyatt works in bold watercolors and acrylics, but don't start calling her abstract. After a long discussion, the label "non-objective" is bestowed on her works.
"My work changes regularly," Freeman says. "I'm kind of known for that. I've always thought I had a short attention span when it comes to my art because it changes every six months.
I get tired really quickly of doing the same stuff, so I go off on another tangent. Now, I've finally decided to stop saying I have a short attention span and call it experimental."
Fran Mathis paints with watercolor and acrylic as well as with gesso. Instead of realistic vegetation, she likes to portray people and abstracts. At the critique meeting, Mathis showed the other ladies her current painting. She placed the large canvas on the display board for the others to see.
"Do I need to make the boat bigger?" Mathis asked. Her painting of a beautiful woman in pink gazing over the ocean to a distant boat on the horizon made quite an impact on her peers.
The ladies agreed that her painting was finally finished. From start to finish, the piece went through a vast transformation. When she first brought it in to show the others, the painting was on textured paper. Originally in small accordion-like folds, other members suggested she flatten the paper out. Mathis used a delicate and repetitive process, making sure not to compromise the artwork.
Mathis' painting was not the only one to benefit from the suggestions of group members. According to the ladies, one of the best parts about the group is that they are equally as strong as individuals as they are as a whole. Many of the women also are members of other art organizations in the community. Studying from other masters allows them to bring new techniques they learn back to the group.
Emeretta Rudy attended a workshop where she learned the method of layering watercolor. She presented her painting of a big purple flower at the critique meeting. The others praised her for using delicate brush strokes and producing a realistic image. It was then Rudy revealed, "I didn't use any purple paint."
Layering watercolor is a very precise way of mixing a few colors to achieve brilliant new ones. Rudy never mixed colors in a palette before touching her brush to paper. Instead, she carefully coated one color over another on the painting itself. The watercolors mixed and changed on the paper, creating complex dimensional colors.
Each woman does her part to help a fellow artist.
"We are a sisterhood, so to speak," Sherlock says. "We not only enjoy the sociability of our monthly meetings but we profit immensely from helpful critiques from others. We are never competitive, because our subjects and styles are so different from each other."
They consider feedback helpful suggestions, rather than criticisms or judgments. Each woman's opinion is valued and considered.
"You all always inspire me," Freeman tells the group. "If I have a painting and I don't know what to do with it, I bring it in. This group will tell me in a nanosecond what to do."
And just who gives the best advice? All parties agree on Judith Nable. She works with rich textures to create energetic pieces. Her quilts combining gold leaf and acrylic paint with fabric were received with accolades from the group. She is extremely experimental with her own work, which helps her to think of things others do not. When a new piece is presented at a critique meeting, Nable stays quiet until everyone else finishes talking. Then group members turn to her to ask: "Alright, Judy. What do you say?"
While Ten Artists Ltd. is growing in talent and reputation, there is no sign of the group expanding its numbers.
"We stay at 10. It fits that way," Sherlock says. "We can entertain in our homes without any trouble."
The group isn't just for females, and the ladies talk of having a man join as the next member. Though, as Apple explained, "We used to have a man in the group. He probably ran scared!"
See for yourself
Interested in viewing or purchasing the work of Ten Artists Ltd.?
The group's works in oil, acrylic, pastels and watercolor are featured in the exhibit "Color Energy" at LeMoyne Center for the Visual Arts through Sunday, July 27. The center is open Tuesday through Saturday from 10 a.m. to 5 p.m. and Sunday from 1 to 5 p.m. For more information, call (850) 222-8800 or visit lemoyne.org.