Brothers Act
Jesse and Tyler Rice hone a recipe for success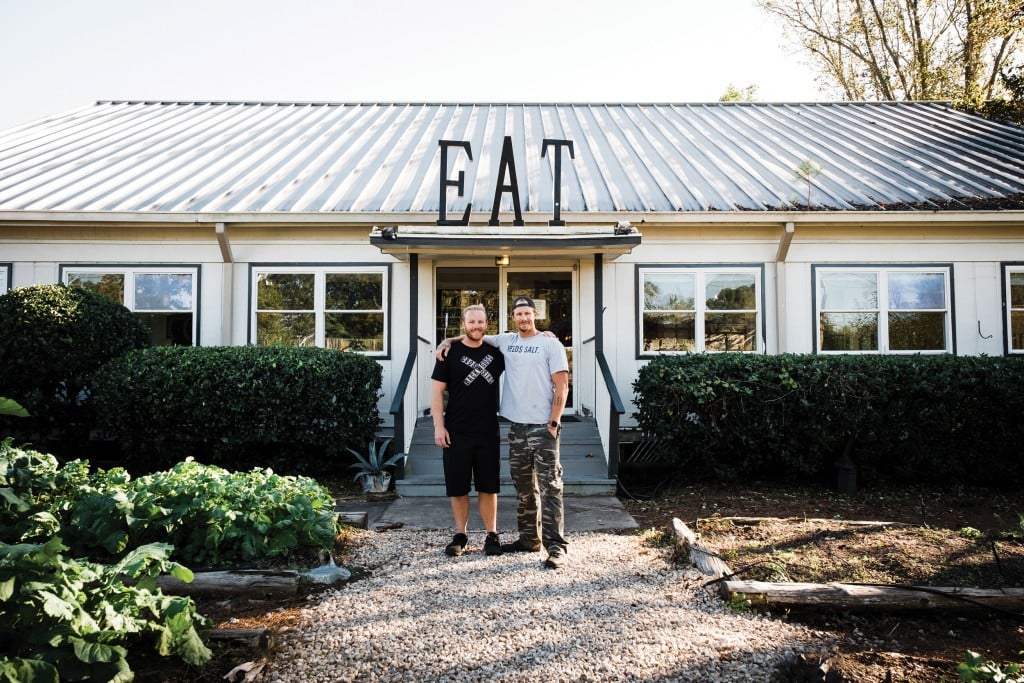 You might think of them as some kind of vine, the kind that starts out as two little tendrils, progressing this way and that, unsure which way to head, but knowing that up is generally a good idea.
Jesse and Tyler Rice, brothers from Sopchoppy, were like such a sprout. They grew strong and eager, but each took a different direction. And then, like the plants that grow in their own Backwoods Crossing gardens, they reunited, having discovered that the strongest plants are the ones that grow together and support each other's weight.
Jesse, now 35, studied business in college. His mother is an educator and his father a computer programmer, and business seemed to be a reasonable genetic fit. But, no.
Stints at a restaurant in Nashville gave him a new direction.
"The chaos of the kitchen just turned him on," said his brother, Tyler. Jesse decided to become a chef. In 2006, Jesse opened the small, but welcome, Backwoods Bistro in Sopchoppy. Master of his own kitchen, this half of the vine was putting down new roots and loving it.
Tyler, two years Jesse's junior, earned a degree in mechanical engineering
at the University of Florida, and then found adventure and money in the Middle Eastern country of Qatar where he signed on as an engineer on an offshore oil rig.
"It was an amazing place for sure," he said, thinking back on the deserts and the Persian Gulf. But the work was grueling, and after three years and with money in his pocket, Tyler wanted something different. His side of the vining plant harkened back toward home.
By 2012, Jesse knew his way around a kitchen and, he believed, the business end of running a restaurant. Only 33 miles away from Sopchoppy, Tallahassee beckoned as a site for a second restaurant. But most new establishments need backing.
As luck would have it, just such a backer was making his way back from Qatar. The brothers would support each other in the new Capital City endeavor, also called Backwoods Bistro, and somehow become a kind of intertwined stalk capable of taking on the commercial and culinary challenges new restaurants face. Eight years later, Tallahassee's Backwoods Bistro's customers have continued to show their loyalty, even as the COVID-19 pandemic scales back restaurant operations.
By 2016, the brothers sensed a shift in gustatory tastes. Farm-to-table freshness, organic produce and protein that grazed nearby became important to diners. Searching for a place where they could grow much of what they cook, the brothers found four acres, which they christened Backwoods Crossing.
With garden plots in front and three acres of vegetables and fruit trees in the back, the restaurant immediately fascinated diners. As youngsters, the brothers had experienced a small farm, and when farmers came in bringing their produce, they all spoke the same language.
"And hey, we're from Sopchoppy, so we needed fresh seafood too," Tyler said. Shrimp and grits, catfish and stuffed crab balls are Backwoods Crossing favorites.
Today, when guests stroll the gardens, they will see over 100 laying hens and 10 turkeys providing for the Scotch Egg specialty.
"And I forgot to mention the local pork chops and bourbon sweet potato mash topped with apples," Tyler said. Short pause. "And the key lime pie and chocolate tiramisu, I never tasted anything like it."
At this writing, the pandemic has limited indoor seating at Backwoods Crossing to 50 people. Patio tables accommodate another 30. But the brothers aren't just anticipating the end of restrictions.
"We're looking for another restaurant site," Tyler said. "We'll let the setting dictate the theme, but it will be in Tallahassee for sure. That's our future."
Could it be that the youthful sprouts' embrace may one day bring about a forest — of restaurants?