Bringing SoCal Flare to Homes in Tallahassee
A Tallahassee Traditional Transforms Into a Laid-Back SoCal Style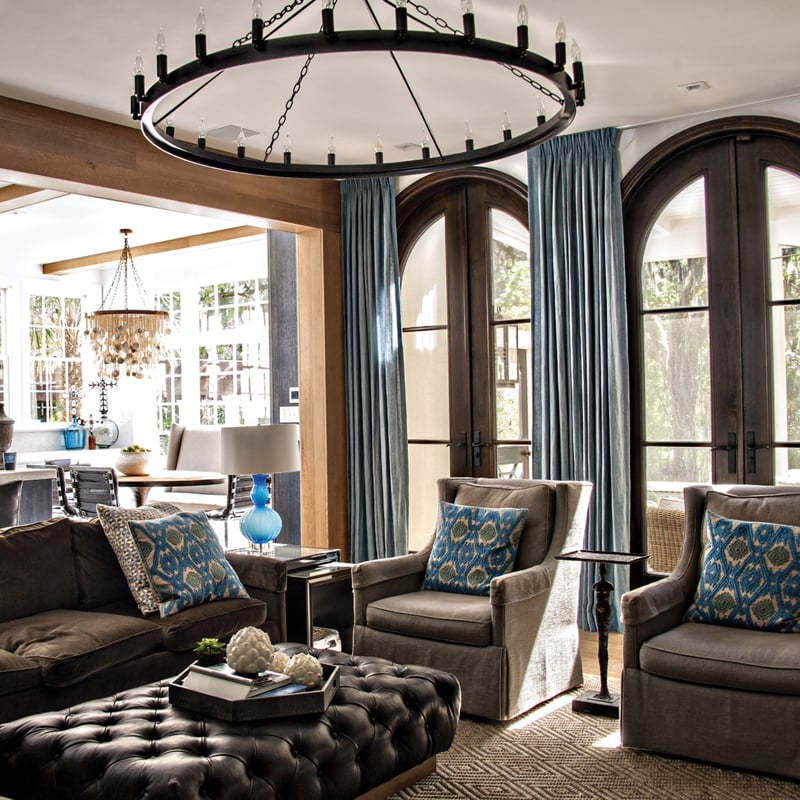 Although she was raised here, after spending two years living in the coastal town of Del Mar, California, Hollee Bollman knew she wanted to bring a West Coast sensibility to the home where her family would live when they returned to Tallahassee in 2013.
"We so loved the indoor/outdoor living in Southern California," Bollman explained. "We wanted to bring as much of that as possible to our new home in Florida."
It took more than six months and several bicoastal consultations with designer Terra Palmer, but she's gotten her wish with a completely remodeled Rosehill Plantation manse that eschews the traditional for a more "transitional" look.
BLAKE GREENE
"Transitional — it used to be called eclectic — features more modern, clean lines," Palmer said. "Not a lot of accessories. Not a lot of knickknacks. You can mix modern pieces with traditional pieces." As an example, she points out the lighting fixture in the master bedroom that starts with a classic chandelier, surrounded by a more modern-looking curtain of silver beads. In the same room, the designer combined graphic bed linens, mirrored nightstands and a black tufted leather headboard with a distressed black bureau and wooden barn doors.
"What we tried to do throughout the house was bring in the old," she said, "but twist it a little bit with something modern."
Built in 1984, the Italianate house is located on a 3-acre lot that fronts onto Lake Elizabeth. With five bedrooms, four and a half baths and 5,295 square feet, it was plenty big for the family, which includes husband Kyle, college students Cole and Hanna, and son Miles. While it had good "bones," said Palmer, the original house was dated and "choppy." By knocking down walls and expanding doorways, the Bollmans were able to take advantage of the light that shone through the home's abundant windows, the designer said.
Much of the color palette used throughout the house was based on the shades found in an oyster shell — pearlescent whites, grays and blacks — along with accents of blue, turquoise and other shades. The goal, said Palmer, was to evoke the spirit of the oceanfront without making the home look too "beachy."
Most of the walls are white.
BLAKE GREENE
"The family collects amazing artwork, and white is probably the best background," Palmer said. "We just let their artwork throughout the house stand on its own." That artwork includes two colorful contemporary paintings by Palmer using acrylics and "other stuff" to give them a dimensional and translucent look. A large, free-form canvas hangs in the dining room on a wall covered with eye-catching subway tiles crafted from beveled and antiqued glass.
The exterior got a major makeover too. The house was re-stuccoed, changing the color from salmon to white, and the concrete motor court was replaced with custom pavers. In the back, the pool deck was expanded and covered with travertine, and an outdoor fireplace and covered outdoor kitchen were added.
"The house is much more open and flows better for entertaining inside and out," Hollee Bollman said. "It now has an amazing kitchen open to the living room, much better and larger master closets, and a much more open and updated master bath. Transforming the screened porch off the master bedroom into an office for Kyle works much better for his busy schedule and lifestyle."