Bring On The Brass
Local Band Thinks It's Time for Their Big Brass Sound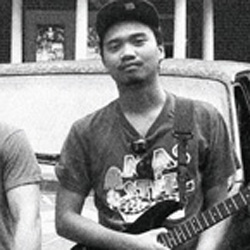 Courtesy 4:35 ON A THURSDAY
4:35 includes (from left) Will Dunaway (bass guitar, Jesse Woodall (tenor/baritone saxophone), Dylan Repasky (mellophone), Boyce Griffith (alto saxophone and E.R. Noche (guitar). Not shown are Shawn Fassig (drummer) and Tyler Duncan (trumpet).
Imagine stepping into your favorite local restaurant or bar on a Friday night. People are bussing trays and glasses, a bubbling crowd is beginning to thicken around the bar, and there's probably a trickling of twangy guitar or a heavy bass, warming up to flood your evening with some good, old fashioned jazz, pop, rock or blues.
You're expecting a couple guitars, perhaps a bass and a good pair of drums, at the most, but if you're there to watch the octet that calls themselves 4:35 on a Thursday, what comes flying at you is a cacophony of big brass energy. The stage is filled with guitars, bass, a tenor barisax, an alto saxophone, a mellophone, trombone, drums and a trumpet, not to mention eight enthusiastic and classically trained musicians with a unique vibe.
But just where can you hear this brass/rock sound? Surprisingly, right here in Tallahassee. E.R. Noche, one of the three remaining members of the original band, gives us the scoop: "My friend Dylan gave me a call, I think in 2009, wanting to know if I'd play Winterfest with him at Leon High School. It's like a battle of the bands, a fun way to give back at the end of the semester and let everyone enjoy themselves before break. So, I said sure, I'll play guitar. We were all band geeks, really." The band didn't even have a drummer until the day of the competition. "I was going to play drums," says Dylan Repasky, the band's originator. "But I didn't want to. I wanted to play the mellophone, and so I did. We found our friend Keith at lunch the day before we went on, and asked him to play drums."
On audition day, the group was still nameless, says Noche. "I got to the sign-up sheet, and I realized we didn't have a name. So I called Dylan, and he said 'Well, what time is the last audition?' I said it was 4:35 on a Thursday, and he said, 'Just put that' ". Name intact, the band came, played and conquered, tying for first place. "We didn't really think it would go very far, we just liked to jam," says Noche. "So when our friend Cody got us a real gig, we were pretty excited." Their first show was in the back of All Saints Cafe, a local coffeehouse in Railroad Square.
Since then, the band has grown and had some member changes, but the sound of their original music — no covers — remains consistent. "I'd say we started with marching band tunes, and then got a little into Ska and horn sounds shortly after," says Repasky. "Our inspiration comes a lot from bands like Streetlight Manifesto, Young Blood and Brass Band." Will Dunnaway, the band's bassist, agrees. "I've always been really into rhythm in music. I don't like to be flashy or showy. If my drummer and I are really synced up, you won't even really hear us, but that's the job; making everything else sound the way it's supposed to."
Shawn Fassig, the current drummer, is a classically trained percussionist and afterschool music teacher at Conley Elementary. "I think our sound is unique, but our band is too. We all love playing music and local shows. We obviously have the same dream as every band on the planet, that we'll get signed and tour, but we're different, too." Dunaway says the same. "What I like most about 4:35 is, of course, we're all talented musicians, but sometimes in the industry you can tell that's the only thing holding a band together. We love what we do, and it makes for a good experience with us and the audience when everything meshes."
The band plays all sorts of shows, from venues and bars to benefits and charity fundraisers. They recently played a benefit show for Refuge House at the Warehouse and opened for the Capital Press Corp Skits, and the band frequently appears at venues in Railroad Square and Midtown.
4:35 ON A THURSDAY
For more information on gigs and upcoming events, you can contact 4:35 on a Thursday through their Facebook page, facebook.com/435onathursday.
GIVE A LISTEN To hear their music, check out their myspace page at myspace.com/435thursday.
1.    Banana Coconut, 4:46 (1,109 plays)
2.    JJ The Jetplane, 5:39 (633 plays)
3.    Mr. Kothe, 3:48 (806 plays)
4.    BroStank, 5:32 (693 plays)
*As of JUNE 15, 2012