Brighten Up
Brighten Up Your Home for Sunny Days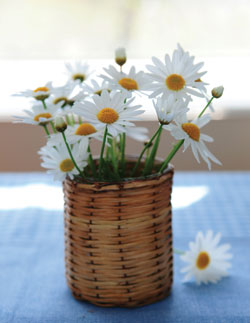 Just a few low-key changes can help put your home in a breezier, more carefree and cheerful mood to fit the bright days of spring and summer.
"People need to start with cleaning their windows and front door areas, where everyone walks in," advises Julian Mathis of Julian Mathis Interior Design. "Also, once windows are clean, bring in potted plants to help to make that mood come alive again for the summertime."
Vases of bright fresh-cut flowers will add a lively feel and make your rooms smell heavenly. You can also decorate with bowls of fruit and vegetables, or other outdoor items like birdhouses, seashells and attractive stones.
Mathis suggests bright colors for throw pillows, bedding or even paint. "With color, the thought to keep in mind is orange, which is bright and cheerful. Some people are going to cringe when they think of it, because they lived through it being dingy and drab, but colors like orange and avocado green are being recycled from the '60s and '70s as something new, exciting and fun."
Another option is to move furniture around — even from room to room — for a more fresh and open feel. And use soft-colored or sheer curtains to lend an airy look while letting in plenty of sunshine.
Amy O'Keefe of Sechrest Design Company advises white or light-colored slipcovers for couches and loveseats. "You can also find new stemware in an assortment of colors to reflect the season and brighten up your summer table," she says.