Bright Lights, Big City
Finding yourself in the concrete jungle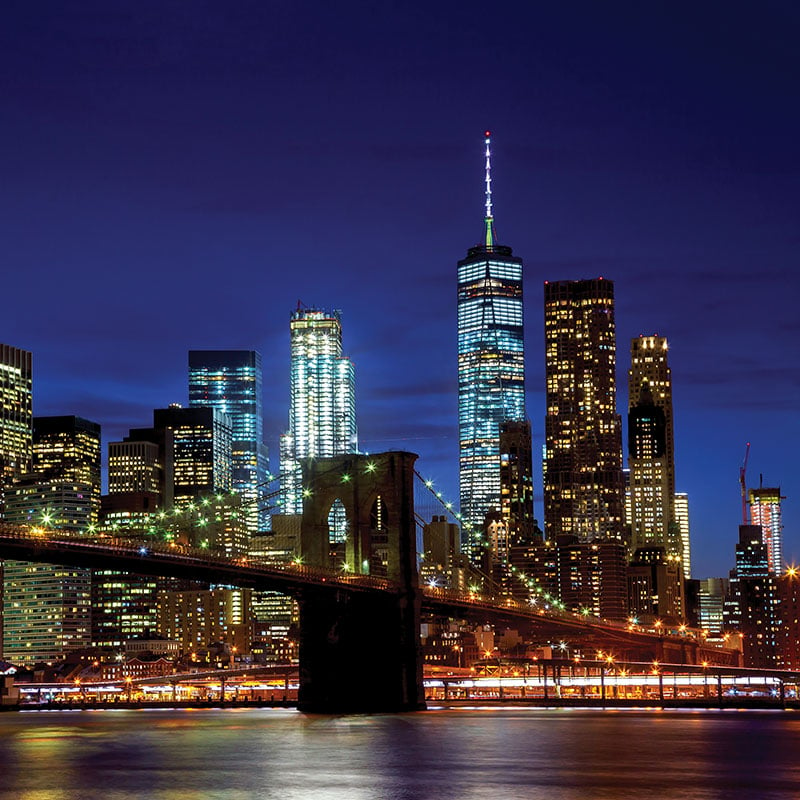 From this vantage point Manhattan was simply so improbable, so wonderful, so obviously full of promise — that you wanted to approach it for the rest of your life without ever quite arriving." — "The Rules of Civility," Amor Towles
We accelerate, braking and weaving at alarming speeds. A fellow Yellow Cab lays relentlessly on his horn and zigs to our zag. Just as my boyfriend begins to look like he's second-guessing the decision he made to join me on this trip, I am saved by our first glance at the Manhattan skyline. My breath catches a bit in that way it does when you're reunited with someone you once cared about, but didn't expect to see. My senses are immersed, enlivened, heightened. I am reminded why I wanted to spend my 25th birthday in this city.
It was not my first time in New York City, and it certainly won't be my last. It's the city that never sleeps, never runs out of activities and always changes, yet never does. Once you arrive, the transportation is readily available. There is no wondering where to dine, as the options are limitless. Nightlife is at all hours, and you could watch a different show each day of the year.
There are some destinations where I would advise splurging on a resort — usually those filled with sunscreen-scented days and cabana service — but New York City is not that place. Our humble abode for four nights was in the heart of Korea Town, specifically because a block behind it stands the Empire State Building. There are advantages to this: The rooftop bar allows ample space to walk and gawk, and it's easy to find your hotel when it's housed right in front of one of the city's most visible landmarks.
This city will cause you to experience many emotions and feelings, but boredom is not one of them. With colored lights that glow during the day and grow brighter by night, pedestrians brushing past on streets, cramped subways honks of cabbies and howls of police sirens, a sensory kaleidoscope is created.
New York City demands your attention.
Arts and Crafts
You will never see this city in its entirety, unless you're a resident — and even then, it's unlikely. What makes it the city most photographed, filmed and even talked about is the fact that it's constantly progressing, developing and evolving. The history buff, art critic, sports fanatic, nature lover, bookworm and avid shopper can all be appeased here.
As a musician and a writer, my boyfriend and I are drawn to art. (It works nicely to travel with someone who shares your interests.) The Morgan Library and Museum houses shelf upon decadent shelf of my favorite form of art: books. If you find that you are happiest with a book in hand, then the massive fireplace, ornate oriental rugs, intricate ceiling paintings, stained glass windows and tomes of all shapes, sizes, colors and genres will make you want to take up residence in Mr. Morgan's collection. From Chaucer to Whitman, the writers I studied so comprehensively in college were all there. I spent a considerable amount of time inspecting spines and attempting to memorize the smell of the space: paper and leather. I found my boyfriend buried in sheet music, nodding his head along to the classical music he listened to through museum-supplied headphones.
Of all the art museums in the city — and there are many — the Metropolitan Museum of Art is my preferred choice. The first time I visited years ago, tears unashamedly welled in my eyes upon entering the Degas room and viewing his ballerina series. In my opinion, there will never be more beautiful and intricate artistry than the French Impressionist painters. Having spent much time in this wing on another trip, we just did a quick walk-through of the highlights, instead focusing on American, Egyptian and Asian art and the Arms and Armor collection. Of these, I found myself, surprisingly, most interested in the armor.
I had planned to breeze our way through; but, of course, this exhibit was the one my boyfriend marveled over. Realizing we were stuck, I began to examine the art more closely. In truth, the armor was frightening at first: clunky metal, shielded faces and spear-tipped weaponry. Yet many were ornate and solidly constructed from the finest and strongest of materials. I imagined the intense craftsmanship behind each piece and then the fearless protectors that donned them — and how war and battles throughout history have caused action and reaction. I decided that these weathered bulks of metal were, in fact, art.
For a subculture unique to NYC, and for the best entertainment in, dare I say, the world, a Broadway show is in order. We decided The Book of Mormon because of the combination of comedy, music and dance. For most of the show I was entranced, my eyes drawn only to the stage; but at one point, I pulled my gaze away to examine my peers in the theatre. Smiles played on their lips, feet tapped to the tunes and laughs erupted. For two hours we were consumed and happy — even blissful. In a time where the funding and value of the arts fluctuates, I couldn't help but think what a wonderful gift it is to forget the outside world for a brief period.
Slice of the Good Life
It should be noted that I am a self-proclaimed foodie, while my boyfriend is not. I will say that his palette is developing. It just so happens that our two best meals during our NYC trip were both our cheapest and most expensive.
Our first evening, we walked towards Times Square, having planned to dine there. A non-descript storefront held a window display rivaling Macy's — albeit with food items displayed instead of fashionable clothing. Silver platters in varying heights showcased pizzas brimming with thinly sliced prosciutto, pepperoni the size of sand dollars, dollops of ricotta and heaps of vegetables. It was a defining moment. And we agreed that it was the most delicious looking pizza we had ever seen. Yet we proceeded to Times Square, where the options were crowded, chain restaurants. The magical pizza was still hot on our minds, so, dissatisfied with what the Square had to offer, we set off in search of it — without remembering clearly where it was located. Thirty-five minutes later, we found Bravo Pizza. We were ravenous, but it was every bit worth the walk.
I am a seafood lover and, even more so, an oyster enthusiast. To this day — and likely for many more — a meal at The Grand Central Oyster Bar is my fondest. We warmed up with the Manhattan clam chowder, a hearty red broth brimming with seafood and perfectly cooked vegetables. The appetizer of calamari was crisp and lightly fried — not the least bit oily; the bluefish was buttery with hints of lemon; and the smoked salmon's flavor juxtaposed nicely with the tangy capers that accompanied it. And even after that, the oysters stole the show. I slowly supped on each, savoring the briny sweetness between sips of champagne. A word to the wise: If Naked Cowboy oysters are available, choose them, and not just because of the name.
Other dining options I can attest to and recommend include The Smith, Serendipity, Union Square Café, Marseille, The Plaza Food Court, Eataly, Magnolia Bakery, Mercer Kitchen and anywhere in Little Italy. You will be glad the Italian man on the street corner ushered you into his restaurant for generous plates of homemade pasta, fresh bread dipped in herbs and olive oil, and tiramisu that makes licking every corner of your dessert plate worth it.
Claim to Fame
On my birthday (which is also Groundhog Day), we attended a taping of the Colbert Show. I had stood in this line outside of the theater before and knew the drill; but the last time, the name out front had read, "Letterman." While seeing Letterman was a great honor, and I respect his immense impact on the late-night TV industry, Colbert is more my speed. "Excited" was an understatement. While no one offered me backstage access or even sang "Happy Birthday," I was granted a third-row aisle seat, which suited me as a present.
The show began with Colbert's usual social commentary, Dr. Phil addressed the latest meme craze, Michael Bolton sang a Groundhog Day ode and one of my favorite up-and-coming musicians, Maren Morris, took the stage. As Colbert made his exit, he stood directly in front of me, close enough to touch. I wanted to, but didn't because staff members had warned me to resist the urge.
Family members and friends alerted me that I was on television. It's a simple pleasure that doesn't amount to much; but in one of the most crowded cities in the world, rows one through three at the Colbert show felt like stars. I was grateful for this show that so many people look forward to watching at the close of their days.
Coming Up for Air
I thrive on fresh air. After a few days between towering buildings and packed subway cars, I craved wide-open spaces. Luckily, there are a few places that provide that peace, Central Park being the most obvious. Countless statues, a scenic lake, trails and even a zoo lie within. What I enjoy most about the park are the massive rocks that erupt from the earth, protruding before glimmering skyscrapers. For those willing to climb them, they provide a prime photo opportunity as well as expansive views of some of the wealthiest neighborhoods in the city.
If you enjoy brisk walks with incredible views, the Highline, which is built on an old sky-rail track from the 1930s, is very popular. But for this Florida girl, who is drawn to the water, a sunset stroll along the river can't be beat — unless I'm actually on the river, itself.
Cruising along the river proved to be a scenic way to view the city from a unique vantage point as well as a way to learn the history of all three bridges (Brooklyn, Manhattan and Williamsburg) and see the Statue of Liberty. I waved to the mint-green lady in passing.
But for those who really crave fresh air, the cleanest and most pristine air in the city is found by going up — way up.
A View from the Top
To truly see the city, you have to go above it. Until then, you won't fully appreciate its inner workings, its magnitude, its history and its future. An array of bars and restaurants allow you to sip and dine from the rooftops while feasting your eyes on unparalleled views; but the most prized vantage points are atop the city's highest buildings.
Top of the Rock is interactive and in a bustling part of the city with plenty to do in the vicinity, such as visit the famous Rockefeller rink or tour a favorite television studio. Many prefer the Rock for its impressive view of the Empire State building.
I, for one, am partial to the Empire State building view. It might be because of the building's significance, history and symbolism; or it might be because of the experience I had there. At the apex of this shimmering silver icon, I looked out upon the inky sky pinpricked with lights in a rainbow of colors cast from every building in the city. Snow began to fall, dusting my jacket lightly. That same snow wouldn't line the ground until the following morning.
If I had to choose one view or even one moment that defines and encompasses my experiences in this city, it would be one from the observation deck of One World Trade Center. You must first stop at the memorial pools that have been placed within the imprint of the Twin Towers. It's an experience that is parallel to entering a sanctuary — a place so sacred, you don't want to dishonor it with noise. Nearly 3,000 names are etched into the pool's surfaces. I glance down at a name and then look ahead of me and know that I am seeing the very same view of the city that the man whose name I just read once saw. It is still and quiet, as if an invisible barricade to block out the city sounds was constructed. I like to think that every minute that passes here is commemorative and reflective.
In less than 60 seconds after entering the elevator of the One World Trade Center, you will ascend to the main observatory on the 100th floor. In a way that will make your breath catch, but that I will not reveal, an encompassing view becomes yours to take your time with. We took an hour just looking, barely talking. The entire city unfolded before us. Looking down was a bit disorienting at first, until I realized that I was witnessing the inner workings of the city happening below me. A truck unloading boxes into a building, doll-sized people crossed busy city streets, a hot dog vendor appeased the lunchtime masses and boats cut small waves through the Hudson.
My eyes were drawn to the Statue of Liberty. From our vantage point, she appeared tiny; but I know the power she possesses now and that she possessed in 1892, when her torch represented a guiding light for those who sought a better life in the United States. I thought of the sacrifices immigrants had to make for freedom.
"Freedom" repeated over and over in my mind as I stood atop a building that symbolizes that word.